Jiang Chuanhua (second left) and other members of the Chinese expert team inspect the operation of a Chinese-aided rice milling machine in Bobo-Dioulasso, Houet Province, on December 4, 2020 (COURTESY)
In February, the second batch of the Chinese senior agricultural expert group in Burkina Faso inspected the 40,000-square-meter of reservoir built in the village of Nariou with the assistance of the first batch of experts, to understand the local agricultural development in the village.
The experts were greeted at the entrance of the village by local officials and nearly 100 villagers. "People were beating sheepskin drums, singing and dancing, just like in a festival," Jiang Chuanhua recalled.
Since China and Burkina Faso formally resumed diplomatic relations on May 26, 2018, China has sent two batches of agricultural experts to Burkina Faso to carry out agricultural assistance work there.
Jiang, 59, who was also a member of the first batch of experts, is mainly engaged in the promotion of agricultural technology, especially for food crops.
Before coming to Burkina Faso, he had participated in three assistance missions to Africa: From 1996 to 1998 and from 2001 to 2003, he was twice sent to the Democratic Republic of the Congo as a rice expert; and from 2008 to 2010, he was in Sierra Leone to carry out rice demonstration as the project team leader and rice expert.
Thanks to his excellent agricultural operation skills, Jiang was once again entrusted with the task of going to Burkina Faso, which started his life of assistance.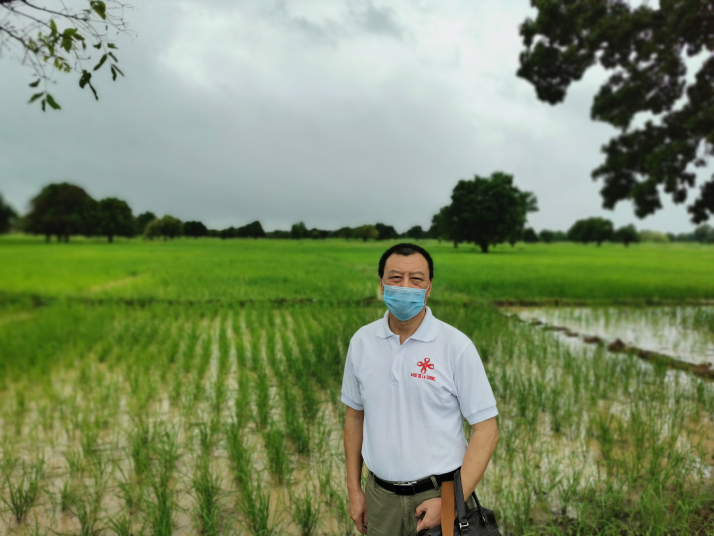 Jiang Chuanhua investigates rice production in Nariou Village on August 25, 2020 (COURTESY)
Research in the field
In order to better understand the overall picture of agricultural development in Burkina Faso, Jiang decided to carry out a detailed investigation. The group began their work on July 1, 2018, the second day of their arrival in the country.
"The unfavorable natural conditions and backward facilities and infrastructure in Burkina Faso hamper the agricultural productivity of the country," Jiang told ChinAfrica.
However, every coin has two sides. While seeing the unfavorable factors, Jiang also noticed the advantages. "Burkina Faso has more than 270,000 square km of land resources and a population of only 19 million, with high land area per capita. In addition, the government attaches great importance to agriculture," Jiang noted.
Having learned about the basic conditions, the expert decided to aim for breakthroughs in rice plantation. "The most profound impact was in Dano City, Ioba Province, where we conducted research on the Dreyer Foundation Lowland Rice Project and carefully studied and judged its funding sources, operation methods, management models and other aspects," Jiang said.
The team has carried out nearly 20 research activities nationwide in Burkina Faso, laying a solid foundation for the subsequent pilot demonstration and the development of local agricultural industry.
Pilot programs
In Bama commune of Houet Province, the team carried out a series of demonstration experiments related to rice seed, mechanical plantation, thin sowing of rice seedlings, planting density, etc., striving to explore various methods suitable for local rice production.
In terms of seed production, the group established a demonstration base for rice seed and applied advanced and practical rice cultivation techniques. "We changed dense sowing to thin sowing, cultivated thinly sown strong seedlings, reduced the original seeding density of rice fields from more than 100 kg per mu to 50 kg," Jiang said. Besides, they also changed the methods of plantation and planting density.
Through the use of the above technical measures, the rice seed production demonstration became a great success, with yields reaching 5.8 tons per hectare, an increase of 2.6 tons or 81.25 percent over the previous 3.2 tons in 2018, which was highly recognized by local officials and farmers.
In addition, Jiang also actively assisted in completing the customs clearance and handover of the assistance materials from China. With the support of the Chinese Embassy in Burkina Faso and the Center of International Cooperation Service of China's Ministry of Agriculture and Rural Affairs, planting machines arrived in batches from China.
Not surprisingly, the pilot was a great success. "In a demonstration field in the Bama rice production area, 1,500 square meters of rice was planted and 0.855 tons of rice was harvested, with the yield of 5.7 tons per hectare. "Machine-planted rice has the advantage of high efficiency and low cost, and is suitable for large-scale farming operation, which can bring real benefits to local agricultural development," Jiang said.
Skill training
In order to improve the skills of farmers and enable them to constantly master advanced and practical rice production technology, the expert group also vigorously carried out agricultural technology training.
Just in the Bama rice production area, Jiang himself held four technical training sessions, covering the basic knowledge of rice, high-yield rice cultivation, operation of planting machinery and the problems of rice industry in the local area, which were highly appreciated by local farmers.
Jiang specially recalled his impression of the first training session organized by the expert group for local officials, agricultural technicians and farmers in early 2019. Jiang was one of the three keynote speakers.
"I talked about high-yield rice cultivation technology, and the other two mainly focused on the means of water-saving irrigation technology. The training was scheduled to start at 10 a.m., but the conference room was full at 9:30 a.m. The number of people originally scheduled to attend was 50, but 98 people came, and there were many people standing outside the door and windows," Jiang recalled. "I still remember a trainee named Zongo Joseph said our training techniques were practical, easy to understand, and he would do exactly what we said."
In order to make the training more relevant, Jiang had visited rice producing areas several times to talk with farmers to understand the problems in production. "We prepared the handouts carefully with as many pictures and charts as possible to make them easy to understand. Moreover, we tried to use a combination of field and indoor training to share the knowledge, so that farmers could become more familiar," Jiang said.
"You have not only brought advanced technology, but also assisted us with a lot of agricultural machinery and equipment, improving our agricultural water infrastructure, which will play a great role in increasing rice production," Gaoussou Sanou, Director of the Rice Center of the Ministry of Agriculture of Burkina Faso, said gratefully.
Since 2018, the group has trained more than 2,000 people.
Since the outbreak of the COVID-19 pandemic, Jiang, together with other experts, has continued to carry out his work while trying to minimize the risk of the virus.
"During this period of assistance, we felt the enthusiasm and sincerity of the local people, and also saw the bright hope for the development of agriculture in Burkina Faso," Jiang said.
(Print Edition Title: Sowing Seeds of Hope)
Comments to likzh@chinafrica.cn