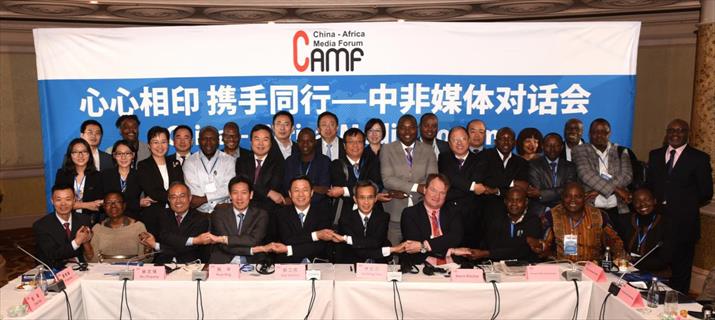 Chinese and African editors pose for a group photo (Photos by Lu Anqi)
How to tell China-Africa stories and how to report on China and the continent? Journalists from China and Africa gathered in Johannesburg, South Africa on August 14, to share their views on the topics at the China-Africa Media Forum.
More than 40 chief editors and editors from nine Chinese and 20 African mainstream media organizations took part in the forum, under the theme of Win-Win Cooperation for Common Progress," hosted by China's State Council Information Office of (SCIF) and organized by China's Xinhua News Agency and South Africa's Independent Media.
SCIF Vice Minister Guo Weimin said that China-Africa media exchange and cooperation has witnessed a great progress fueled by the rapid development of the China-Africa relations in the recent years. While Chinese media and journalists are going into Africa reporting on the continent and their African counterparts are active in reporting China.
But mutual understanding and recognition between China and Africa is far from enough and is somewhat influenced by the West media, he said, adding that there is still room for the media exchange and cooperation.
Lin Songtian, China's senior diplomat on African affairs and Chinese Ambassador to South Africa, echoed with Guo's opinion.
Lin said that as the witnesses of China-Africa cooperation, media workers in China and Africa are expected to objectively report on the cooperation and demands, advantages and opportunities of both sides, calling for the implementation of the achievements made at the Johannesburg Summit of the Forum on China-Africa Cooperation held in late 2015 in South Africa and promoting the synergy of the Belt and Road Initiative and development in Africa.
Kevin Ritchie, Regional Executive Editor of Independent Media, Gauteng, said as their duty, media organizations reporting on Africa should tell African stories starting from creating jobs and economic opportunities for small businesses.
Ritchie said that media from both China and Africa may use this opportunity the forum offered to foster bonds and to learn from one another, to discuss shortcomings they might have, and find solutions to problems, reflecting needs of the realities.
He said the most critical role of the media is to empower their fellow citizens by giving them as complete information as possible to allow them to make up their own minds, honestly and objectively for themselves.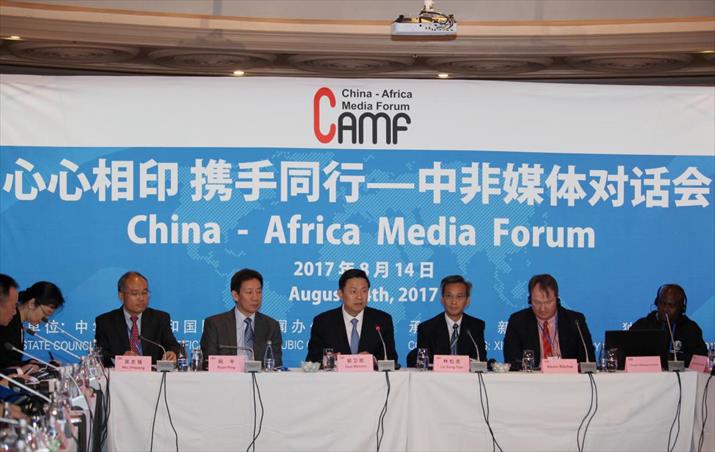 Host and organizers of the China-Africa Media Forum. Guo Weimin (third left), SCIF Vice Minister, Lin Songtian (third right), Chinese Ambassador to South Africa, Kevin Ritchie (second right), Regional Executive Editor of the Independent Media, Gauteng, Ruan Ping (second left), Consul General of Chinese Consulate-General in Johannesburg and Wu Zhiqiang (left), Deputy Director of Xinhua News Agency Africa Regional Bureau
Kang Bing, Vice President and Deputy Editor-in-Chief of China Daily pointed out that Chinese media's report of Africa cannot satisfy Chinese people's need for the information subject to their limited coverage in Africa, localization level, personnel allocation and other factors. There are even fewer African media houses operating in China. This result is that most of the China-Africa stories cited are from the West media.
He suggested more exchanges between Chinese and African journalists and hoped more African media could go to China to see with their own eyes.
Chrispin Mbanga Inambao, Chief Editor of the New Era, Namibia, said that China has involved in many projects in Africa. When having development projects of this scale and magnitude, there always be some downsides. Does Africa benefit from China? "In my view, I think yes," he said.
Pang Xinhua, Acting Bureau Chief of CCTV Africa said that established in January 2012, CCTV Africa has five columns and broadcast three hours every day, focusing on the positive reports.
Timothy Kola Olanrewaju, a journalist with the Sun, Nigeria, noticed that Chinese media are more interested in telling the African stories from the African perspective rather than the hand-down script of the Western media which see nothing good about the continent except stories of wars, conflicts, diseases, deaths, drought, famine, crimes among others. Chinese media present hope and expose the potentials as well as possibilities of the countries on the continent to attain greatness. China appears to stand for the win-win approach, he added.
Andrew Kagwa Gathaara, Chief Editor of the Standard, Kenya, said that CGTN, based in Nairobi having journalists from Africa. It shows that Africans are able to tell their own stories.
Gathaara said information overflowing is a reality and as a continent Africa must not be trapped in fake news especially when it comes to the narratives about China's engagement with Africa.
Both Chinese and Africa media wish to have more cooperation to tell better stories.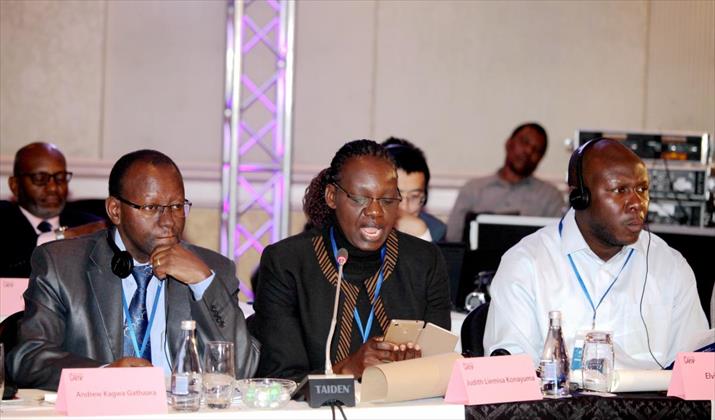 More than 40 editors and journalists from nine Chinese and 20 African media organizations took part in the China-Africa Media Forum on August 14, 2017
Jiang Aimin, Director of China Radio International Africa Headquarters proposed three suggestions to enhance the practical cooperation in content: people-to-people exchange, training and film and television production.
Li Jianguo, Deputy Editor-in-Chief of Beijing Review, China's only news weekly in English, said that the media organization welcomes all kind of cooperation.
Beijing Review also publishes ChinAfrica, China's leading English and French monthly on China-Africa affairs, which focuses on news, views and reviews of China, Africa and China-Africa engagement, as well as new ideas, measures, developments and achievements in the industrialization, agriculture modernization and infrastructure construction on the continent.
Li said that ChinAfrica also shares governance experience in China as well as in Africa, tells stories of Chinese working and living in Africa and Africans in China.
He said that Beijing Review wishes to know more African friends from the media, and discuss cooperation in the field of content sharing, joint editing, personnel exchange, training and book distribution.
Judith Liemisa Konayuma, Editor of the Zambia Daily Mail, said that media formed an important component in fostering relations between Africa and China. She said Zambian media have increased the community radio stations and television programs; these are some of the opportunities that can be used and explored by both sides to increase the media coverage.
Muluken Yewondwossen Kifle, Editor-in-Chief of the Capital Ethiopia and Elvis Darko, Editor-in-Chief of the Finder, Ghana, hope for more attention and training opportunities to the privately owned media outlets in Africa that have been increasing in numbers.