Farmer Jonathan Sitolo from Malawi's Chikwawa District spent two days crouched in a tree back in 2015. His house was submerged in water due to floods that hit the area, and if he had not acted quickly, he would not have been alive to tell his story today.
"The water level was so high and I had no choice but to climb a tree. But it kept rising and I prayed that it would not drown me. Luckily, I was safe," he recalls.
Sitolo's goats and chickens were not as lucky and were swept away by floodwaters. He was left with nothing as even the maize flour which was used to cook
nsima, Malawi's staple food, was destroyed. Fortunately, other members of his family were away during the disaster.
When the water subsided, the 51 year-old climbed down. He did not have food to eat, let alone shelter to rest in.
"There was no one to assist me since all communications like phones stopped working. So for some days, I relied on wild fruits to survive. I did not care about whether some were poisonous or not because I was too hungry," he said.
Sitolo's story was shared by many people in the area unable to get relief at that time. But officials from Chikwawa District Council said they only found out much later about the flooding.
"There are many areas in the district which are difficult to reach and assess. This results in delays in the provision of relief," said an official from the council's disaster management department who asked to remain anonymous. He pointed out that it was normally difficult for people from such area to be assisted because relief is not provided without first assessing the extent of the damage.
"When we hear that a particular area is hit by a disaster, we send people to assess the area. But if the place is impassable, it becomes a problem which results in people not accessing the place," said the official, who hoped that another way of reaching such places could be found.
Disaster-prone areas
The country's south region of Chikwawa and Nsanje districts are flood-prone areas. Every year, people are affected by floods which destroy crops, houses and livestock. These places are also susceptible to water-borne diseases which affect many people.
Karonga District in the north region is another area where disasters frequently occur, and this affects the quantity of rice production in the area.
In 2009, the district was struck by an earthquake of magnitude ranging between 4.6 and 6.2, resulting in one death and countless injuries. A number of buildings were damaged. Again, there were problems reaching some of the areas because roads were damaged.
A number of countries and organizations, including the Red Cross Society of China, offered their assistance. It was something the country could not cope with on its own. In fact, Malawi has designated 15 places as disaster-prone areas.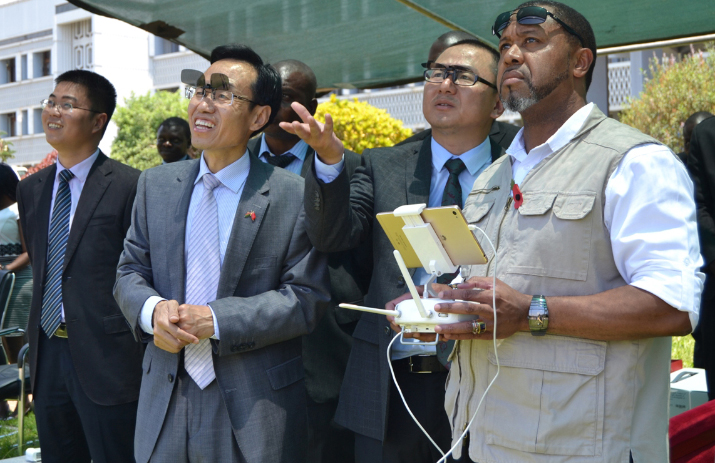 Captions Malawi Vice President Saulos Chilima (right) tests the drone at Capital Hill, Lilongwe with Chinese Ambassador to Malawi Wang Shiting (second left) PHOTO COURTESY MALAWI NEWS AGENCY
Flying high
To assist with access to these areas, on November 8, 2017, the Chinese Government provided Malawi with two drones worth $10,000, which will help to assess situations in hard-to-reach areas affected by disasters.
Speaking at the drone presentation in Lilongwe, Malawi's capital, Chinese Ambassador to Malawi Wang Shiting said the sophisticated machines will be able to collect necessary information in areas where people cannot go.
"The drones are advanced with high technology and able to fly a few kilometers collecting video and still pictures which could be used for planning purposes," he said.
Receiving the donation, Malawi's Vice President Saulos Chilima described the donation as timely.
Chilima, who is also the minister responsible for disaster management affairs, said the machines would help the Department of Disaster Management Affairs (DoDMA) to improve its operations during disaster periods.
"We appreciate the gesture the Chinese Embassy has shown to us as a department. We hope the drones will help us do rapid assessment and reach out to impassable areas by collecting video and still pictures."
"The coming in of the drones will empower us and the staff in capacity building in order to handle and operate the equipment efficiently for the benefit of the country," added the vice president.
He said eventually he would like to see drones strategically positioned in all disaster-prone areas so that the department responds quickly to any kind of disaster.
Spokesperson for the DoDMA Chipiliro Raymond Khamula said the department is already arranging with the Chinese Government to have officers trained in managing and using the drones.
"The trained officers will, in turn, train others. Our target is to have at least one drone and trained personnel in all the 15 disaster-prone areas, so that we can ease the difficulties that come with assessing the situation in hard-to-reach affected areas," said Khamula.
He pledged that the drones would be used for their intended purposes and that the department has mechanisms in place for their safe keeping.
The news about drones has brought excitement to farmer Sitolo who will expect quick assistance in future.
"I hope we will no longer be staying for days without getting relief items [after the next floods], because our area will be assessed without the physical presence of officials," he said.