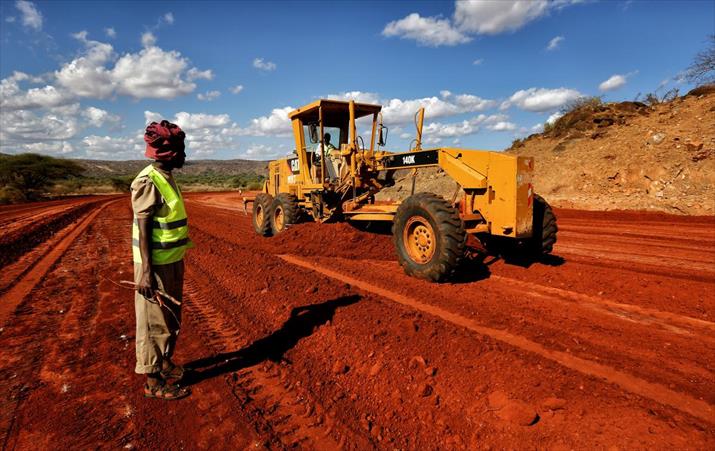 China Wu Yi on a road project in Kenya
Stars seemed to have aligned perfectly for Chinese company China Wu Yi Co. Ltd. in recent years. At the firm's Kenya Branch office in Nairobi, an eye-catching map hanging on the wall is covered with little red dots, each one representing a project undertaken by the company in the East African country.
Little known back home, the construction firm headquartered in southeast China's Fujian Province has gained popularity across the African continent, and has become a well-known brand to locals.
In June, Kenya's RWC 438 highway, one of the many projects undertaken by China Wu Yi, officially broke ground with President Uhuru Kenyatta attending the ceremony. The highway is one more sign of the increasing involvement of Chinese firms in mega infrastructure projects in East Africa.
Kenya's construction sector is also headed for a revolutionary change as a $98.6-million mega supermarket for construction materials and a modern building industrial base went into operation on June 30 in Machakos County, south of Nairobi. Both projects, undertaken by China Wu Yi, will serve as a manufacturing base, a research and development hub, and a sales and demonstration center for new building technologies.
Construction industrialization, a new technology, is set to revolutionize the construction sector not only in Kenya, but all over East Africa, according to China Wu Yi Chairman Qiu Liangxin.
Qiu, a dynamic entrepreneur, said he spends more than half of his time in Africa every year, where his company has made breakthroughs in more than 10 emerging markets such as Kenya, Ethiopia and Uganda. Its main growth engines are real estate development and international project contracting.
His efforts and time invested on the continent have paid off. In 2016, China Wu Yi was ranked among the largest 250 Global Contractors by Engineering News-Record magazine for 23 consecutive years. It also made the list of the Top 100 Recommended Chinese Enterprises in Africa in 2016, as published by China Africa Industrial Forum.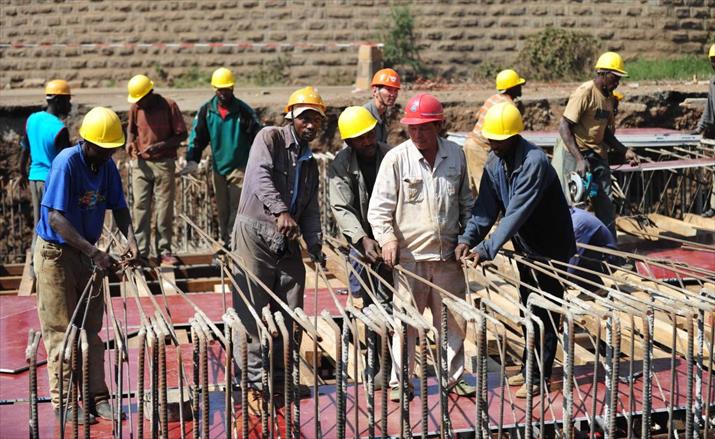 Kenyan workers on a China Wu Yi project
Key access point
Over the past decades, China Wu Yi has grown from humble beginnings to a highly professional international construction project contractor. It has chalked up remarkable achievements by implementing over 50 infrastructure projects in Kenya in the construction of highways, bridges, airports, hospitals, and installation of electromechanical equipment.
"Projects we undertook include a high-grade highway extending over hundreds of km, residential buildings of more than 400,000 square meters and the expansion of the Jomo Kenyatta International Airport," said Lin Feng, General Manager of China Wu Yi Kenya Branch.
More recently, the company has been awarded a contract for the upgrade of a 25-km section of the Nairobi-Nakuru highway, aimed at easing traffic in and out of the capital. This estimated $163-million massive road construction is the largest highway project ever undertaken by China Wu Yi overseas.
Lin, a Fujian Province native who has worked nine years in Africa, attributed this success to Kenya's economic progress.
Kenya is regarded as an important regional player because of the port of Mombasa, which is regarded as a key access point for Africa on the 21st Century Maritime Silk Road, part of China's Belt and Road Initiative.
The Belt and Road Initiative was proposed by Chinese President Xi Jinping in 2013 with the aim of building trade and infrastructure networks connecting Asia with Europe and Africa along the ancient Silk Road routes.
"Being part of the Belt and Road Initiative allows our country and the continent to move to a new platform, through which global collaboration will allow for value-addition, innovation and increased prosperity," said Kenyan President Kenyatta while attending the Belt and Road Forum for International Cooperation held in Beijing this May.
Upgrading and revolutionizing
China Wu Yi introduced new techniques to guarantee building quality and promote construction industry transformation in Kenya.
Its modern building industry base and supermarket project use advanced construction industrialization technology and equipment for the manufacturing of various kinds of precast concrete panels.
Kenya's Cabinet Secretary for Industrialization and Enterprise Development Adan Mohamed said that the new technology will help in speeding up the transformation and upgrading of the local construction industry. He added that the project is aligned with Vision 2030, Kenya's national development blueprint aimed at transforming the country into a middle-income nation.
"We will bring to Kenya high-quality, low-cost and environment-friendly housing products that will bring revolutionary changes to housing construction in Kenya and even in East Africa, while driving the regional economy and creating employment," said Qiu. These projects are also expected to provide 500 to 800 jobs annually.
Embracing social responsibility
In their efforts to realize long-term sustainable development in Kenya, Chinese enterprises also take their corporate social responsibility activities seriously, according to observers. China Wu Yi is no exception.
At the beginning of 2017, local elementary school principal John K. Rotich asked the construction company for help to improve the school's road conditions. The school is nearby China Wu Yi's construction project on D319 highway in Kenya's Nakuru County. Within one month, the company renovated the playground and paved roads, making life easier for the students.
"I was so excited and happy. For the past 50 years, we did not even have a playground; but now kids finally have a place to play," wrote the principal in a letter of thanks. China Wu Yi is but one example of many Chinese enterprises that have made efforts not only to expand their business abroad but also to win the hearts and minds of local residents.
The 2017 Chinese Enterprises in the Kenya Social Responsibility Report, released by the Kenya-China Economic and Trade Association in Nairobi this June, pointed to China Wu Yi as an example of a company that left its mark on the lives of local communities through job creation, skill transfer and ecological protection.
"We hope that every project we implement will advance local economic development and benefit local people," said Qiu. "We will continue to proactively carry out social responsibility by actively engaging in activities and public welfare projects that boost living standards of local people."