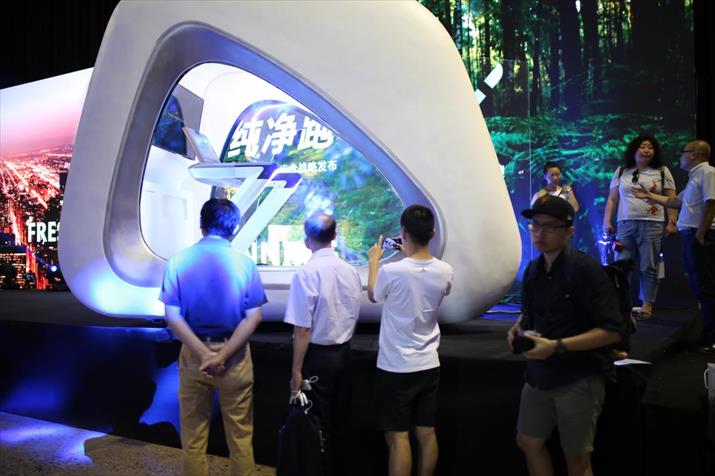 Li Tianqi, 34, was delighted to find that two shared mini-gyms were recently placed in his residential compound. As a fitness guru, he has made working out an important part of his daily routine.
On National Fitness Day, August 8, Misspao Mini-Gyms, also known as shared gyms, were made accessible throughout Beijing. Covering 5 square meters, the air conditioned gyms can be used at $1 per 30 minutes and are equipped with a treadmill, Wi-Fi and a television.
Instead of traveling outside of his residential area to use a gym, Li now has the convenience of using one on his doorstep. "The cost of using a mini-gym is far cheaper than going to a conventional gym. It is well equipped and I can listen to music or watch a film when running inside," he said.
The past years have witnessed the Chinese public's growing passion for sports and fitness activities. Mini-gyms can help the elderly and the young stay healthy, while giving the nation a kick start to exercise more.
User-gym imbalance
Gyms, health clubs, exercise classes and yoga have become part of modern Chinese lifestyles. It is believed that having a more active lifestyle creates a better work-life balance. However, whether there are enough sports and fitness facilities available is now an issue. The rising interest in healthy living and regular workout is not matched with an increase in venues.
According to Nielsen, a global data research company, in terms of gym density, China is still far behind the United States which offers one gym for every 10,000 people. However, the gym to people ratio is 1: 320,000 in China. Not only do older residential areas lack exercise facilities, but newly constructed residential communities are also found wanting.
Thus, China has a huge gap in the fitness service market. ZhiYan.org, a Beijing-based consulting service provider, said China's fitness industry output value was 70 billion yuan ($10.6 billion) in 2015. In the next five years, the sector is expected to develop steadily and maintain a 12-percent annual growth. By 2020, the value of the gym market is expected to reach 123 billion yuan ($18.6 billion).
Policy support
National fitness has been highly underlined by the
Chinese Government. After the 18th National Congress of the Communist Party of China (CPC), Xi Jinping, General Secretary of the CPC Central Committee, made "national fitness" a part of the national strategy, emphasizing that the improvement in people's overall physical health is important for the development of the country. A nation's health is the wealth of a country.
On this year's National Fitness Day, the Chinese Government launched several activities and public demonstrations of physical fitness to help create a support base for the Beijing-Zhangjiakou 2022 Winter Olympic Games.
The General Administration of Sport also published the 13th Five-Year Plan (2016-20) on the sports industry this July, and 22 other documents to support the plan. According to the plan, the value of China's sports industry will exceed $432 billion by 2020. Its added value is expected to take up 1 percent of GDP, and sports consumption will be 2.5 percent of the disposable income per capita.
In June, the National Fitness Program (2016-20) and the Healthy China Outline (2030) were also empowered to offer clear strategic directions for people's fitness and health and for the sports industry as a whole.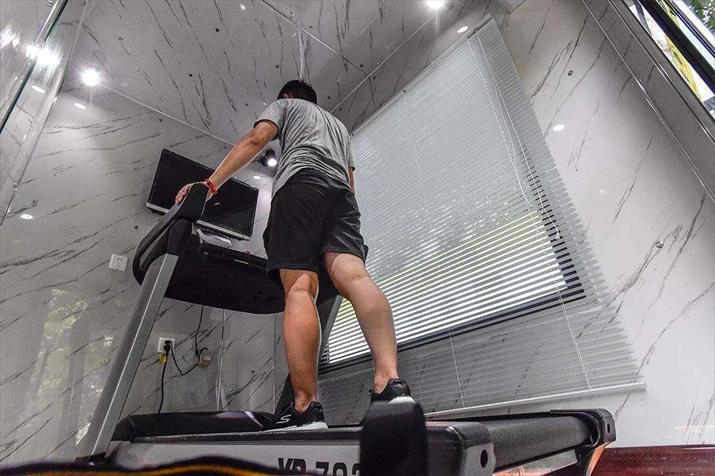 An innovative fitness model
Running is one of the most popular ways to keep fit in China, but is easily affected by the external environment, such as weather and air quality. Mini-gyms offer a new solution.
"Mini-gyms could effectively solve the problem of the lack of fitness venues, speed up the construction of a national fitness project and extend the sports industry chain, which is in line with the government's goal of promoting the nation's fitness," said Li Xiangchen, a researcher with China Institute of Sport Science.
Apart from Misspao, other mini-gym brands, Douba and Pure-Run, have also been launched in Beijing, seeing the vast potential of the market.
By registering with a mobile app and paying a deposit, users can use mini-gyms and pay as they go. "The cost is 0.2 yuan (3 cents) per minute, which is much cheaper than a fitness center. It is also safer to work out in one's own neighborhood," Xin Yi, a user of the mini-gym in Beijing, told ChinAfrica.
Tang Tian, the founder of Pure-Run, was inspired to start up a business of mini-gyms in residential communities thanks to his own outdoor fitness programs. Tang and his team set out to create "indoor sports" facilities by offering mini-gyms with "fresh air" at people's doorsteps. To realize this goal, every Pure-Run mini-gym is equipped with an air purifier. "The mini-gym is a place affordable for everyone, and offers a space for people to get healthy," Tang told ChinAfrica.
"I am for this innovation. With mini-gyms, fitness becomes available and affordable for common citizens," said Xin. "If possible, I hope more fitness facilities like the mini-gyms can be provided," she said.