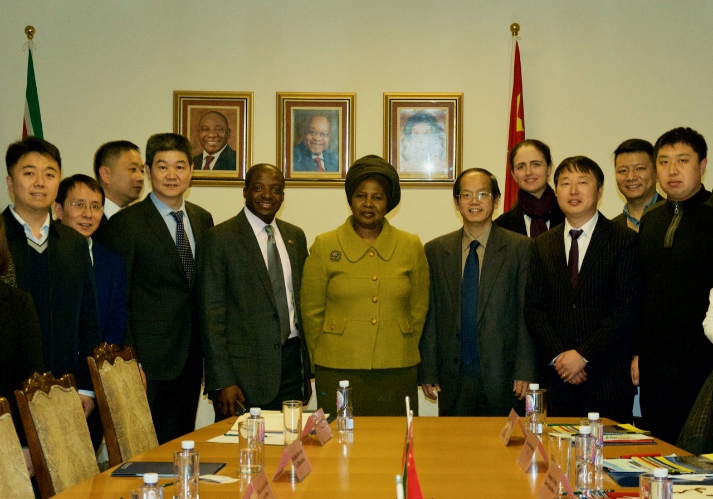 South African Ambassador to China Dolana Msimang (center) and some of the participants of the salon (PHOTOS BY FRANCISCO LITTLE)
Chinese investors attending the En Route Along the Belt and Road Salon for SOE International Communication at the South African Embassy in Beijing on December 8 were given some essential guidance on several aspects of South Africa's potential for those seeking to set up operations and also for those already in the country and would like to gain more traction.
The South African Ambassador, Dolana Msimang, welcomed leading delegates and said such events were a high priority for maintaining and growing South Africa-China bilateral ties, as well as fostering people-to-people relations.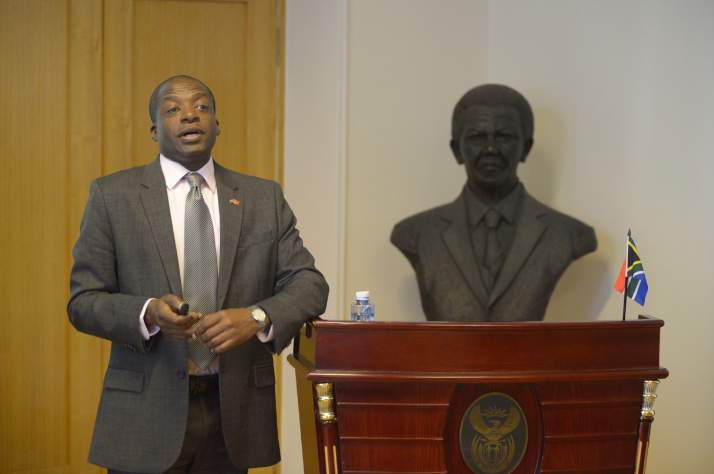 Charles Manuel, Minister Counsellor (Economic) of South African Embassy, introduces investment environment of South Africa
Charles Manuel, Minister Counsellor (Economic) of South African Embassy, told the full room of more than 30 delegates from a broad spectrum of China's SOEs that the Comprehensive Strategic Partnership between South Africa and China had a lot to offer. Manuel highlighted South Africa as having the highest spending power in Africa, highest industrial output in Africa and 24 percent of Africa's GDP, making the country prime space for investment.
He also stressed that South Africa has an open business environment with inclusive growth policies and innovative incentive schemes designed to encourage Chinese investment; South Africa also affords market arrangements with Southern African Development Community, Common Market for and Southern Africa and the African Community regions as well.
The salon comes at a time when South Africa and China are soon to celebrate the 20th anniversary of diplomatic relations in January 2018.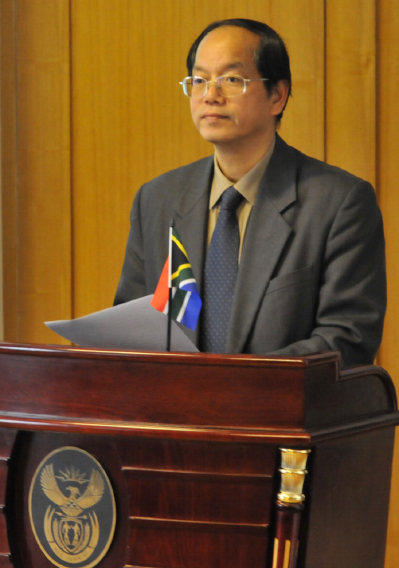 Mao Yixiang, Director of the News Center of SADAC of the State Council, speaks at the salon
Mao Yixiang, Director of the News Center of State-Owned Assets Supervision and Administration Commission (SASAC) of the State Council said since the establishment of bilateral diplomatic relations in 1998, China-South Africa relations have achieved "three leap-forwards" from partnership to strategic partnership to comprehensive strategic partnership, and both sides regard the development of mutual relations as a strategic pivot and a priority.
China and South Africa have always been in a good relationship, said Mao, adding that both countries are members of BRICS and the G20, meaning they are well placed to have an important influence in the world.
Currently, 98 central SOEs have established 9,112 overseas units in 185 countries and regions. During the more than four years after the Belt and Road Initiative was put forward, 47 central SOEs have been actively participating in the construction of 1,676 projects along the Belt and Road, involving in infrastructure construction, cooperation in energy resources and industrial parks. South Africa is one of these countries, said Mao.
Speaking on the impact of investment policies and environments of African countries on Chinese enterprises, Cheng Zhigang, General Secretary of China Africa Industrial Forum, advised investors to do better research on the investment laws and policies of African countries, so that they can know better about local opportunities and challenges.
One of the biggest challenges facing Chinese SOEs in the South African landscape is the inadequate communication with local counterparts and the media.
On this point, Ni Yanshuo, Assistant Executive Editor of ChinAfrica magazine, reminded delegates of the need to engage timeously with South Africa media queries and be active in telling the positive news about their company operations. Ni pointed out that Chinese SOEs were often slow to respond to media queries, resulting in negative reporting.
Also on the topic of media, Rhoda Adams, General Manager of GHC Asia, told the appreciative audience that the South African media landscape is changing rapidly and has fully embraced digital media, stressing the importance of this to investors in their marketing approach. With public attention span measured in seconds, Adams said SOEs needed to get their message across, quickly and in ways locals could understand.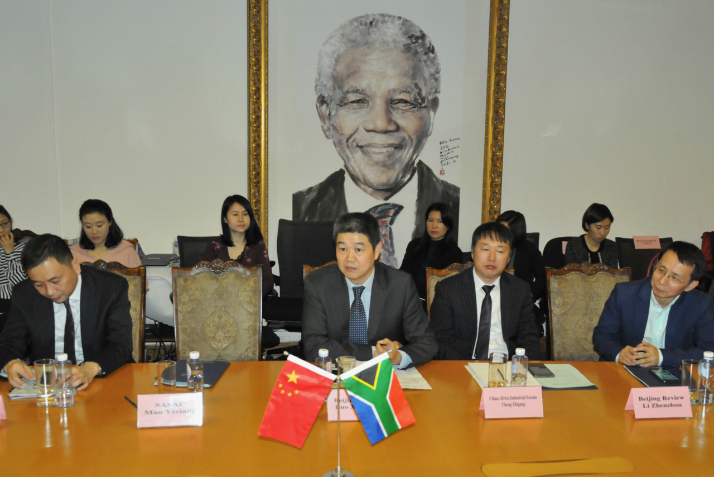 Luo Xianyong, Vice President of Beijing Review, delivers his conclusion speech
In his closing remarks, Luo Xianyong, Vice President of Beijing Review thanked the South African Embassy, News Center of SASAC and all the participating SOEs for attending the salon. Luo said the topical discussions had inspired many ideas and helped to address a range of practical problems facing current and potential investors to South Africa. He also stressed that better communication with local media and local people in South Africa was vital to any investment strategy.