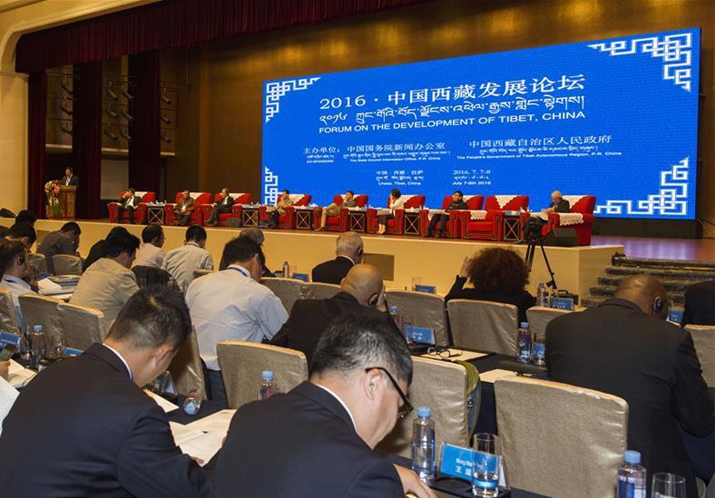 Participants attend the Forum on the Development of Tibet in Lhasa, capital of southwest China's Tibet Autonomous Region on July 7 (XINHUA)
The Forum on the Development of Tibet opened in the regional capital Lhasa.
Liu Qibao, publicity chief of the Communist Party of China, said at the opening ceremony that Tibet's development should be guided by the principles of innovation, coordination, green development, openness and sharing.
Tibet is on the cusp of a new round of development. It will continue to pursue economic and social improvement, augment people's livelihoods, encourage multiculturalism, and protect local culture and the environment, Liu said.
Christine Davies, vice president of the Asia Society, said forums like this play a very important role in generating understanding and respect. "I hope that many outside groups -- whether scholarly, business or other communities -- are invited to follow in our path this week to see firsthand both the progress and opportunities that exist for further development of this very strategic region," she said.
French writer Sonia Bressler, who has visited Tibet three times, said, "We need to put down our ignorance, pay attention to details and listen harder when in Tibet."
More than 130 researchers, officials and correspondents from over 30 countries and regions have been invited to attend the forum, which will last until July 8. It is hosted by the State Council Information Office and the Tibetan regional government.
The agenda is focused on discussion of entrepreneurship and industrial modernization in Tibet, preserving tradition, environmental protection, Tibet's involvement in regional infrastructure projects, and poverty relief, according to the regional government.
(Xinhua News Agency July 7, 2016)