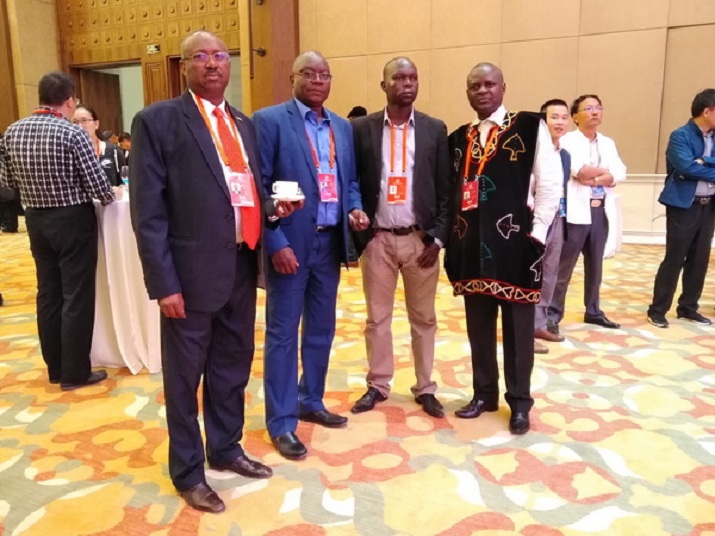 A good number of African journalists are of the opinion that the continent is not taking enough advantage of the opportunities presented by the Belt and Road Initiative. Photo: Kimeng Hilton
The 2017 Media Cooperation Forum on Belt and Road hosted by China's largest newspaper, People's Daily, held on September 19 in Dunhuang, Gansu province in northwestern China. In attendance were over 460 media practitioners from 256 media and 126 countries, including more than 160 Chinese journalists and 303 foreign counterparts.
"Who is who" in attendance
At the end of the one-day event that assembled "who is who" from the media organizations invited, People's Daily spoke to some African journalists about their thoughts on the media forum and the Chinese-driven Belt and Road Initiative. Xavier à Tiati Messe is Managing Editor of L'Anecdote newspaper in Cameroon. Concerning the media cooperation forum, he said journalists should be open to each other because the profession is universal.
"There are countries where journalism has been practised for centuries and practitioners are open, better organized and equipped. In these countries, refresher courses are organized regularly to keep journalists abreast of current practices," he noted. Messe said it was a good thing for media practitioners from Africa to meet colleagues from other parts of the world.
Sharing notes
"The forum enabled us to find out how other people practise the profession, even if we do not have the same quality equipment. It was an opportunity not to miss. It was the second time I was taking part in the forum after first doing so in 2016," Messe explained. Organisers of the forum count so much on the media to take the information back to decision-makers and the public, he said. "We discussed and shared addresses with colleagues from other nations. A year after taking part in the forum for the first time, I am already seeing positive results," Xavier Messe disclosed.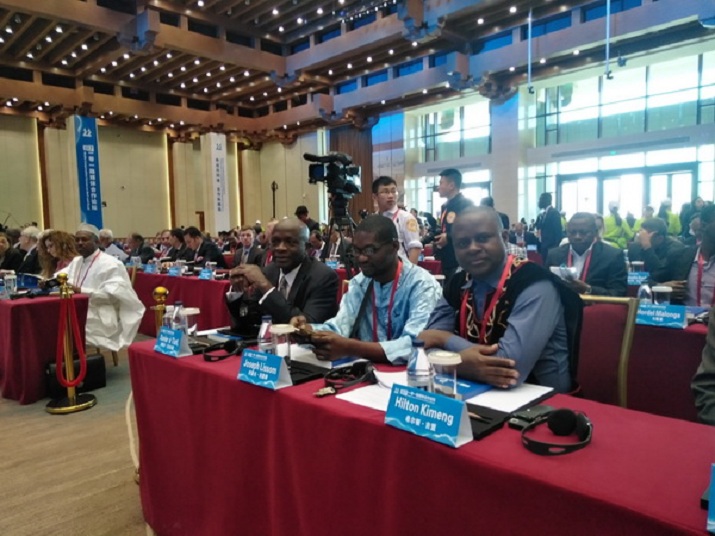 African journalists agree that their duty is to sensitise decision-makers and the public on the opportunities of Belt and Road. Photo: Kimeng Hilton
"China is opening up to the world through various methods like trade, the media and cultural exchanges. Our role as journalists is to disseminate this information so that decision-makers can take action, instead of us always depending on France. The Chinese government counts so much on journalists to play their role," he noted.
First time participation
Sylvie Banguere Panika is Director of Radio Ndeke Luka, a famous media outfit in the Central African Republic, founded in 2000 by a Swiss charity. "The Media Cooperation Forum on Belt and Road is a good initiative. It was the first time I was taking part. I was so marveled at what I saw and heard, but my concern is that it is a forum for serious countries. What becomes of a country like my own, the Central African Republic, CAR, which is often in crisis, with no initiative to develop? This is a major challenge for us," Banguere Panika pondered.
In spite of her worries, Panika had a positive message to take back home. "My take-home message from the forum is that in order to succeed, we need to work harder. The Central African Republic has to get out of lethargy and join other nations by bringing forth ideas that promote development," she underscored.
Understanding Belt and Road
Abdul Gombe, Group Managing Director, Leadership Newspaper of Nigeria, said for people who only read about Belt and Road before, the media forum was an opportunity for the Chinese government and private sector to explain what it is all about. Thus, his initial concern was to know what the initiative seeks to achieve and how Africa stands to benefit from it.
"The lectures we received and the discussions we had were quite engaging. We have understood the purpose of the Belt and Road Initiative and some of the objectives. My take-home message from the media cooperation forum is the discussions I had with other colleagues," Gombe indicated.
"I also realized that the challenges we face in Nigeria, like the huge influence of social media, are the same elsewhere. This makes it difficult for the public to distinguish between real and fake news. Moreover, the readership of mainstream newspapers has been dwindling, making it difficult for them to survive. However, the fact is that New Media is here to stay. Either we sit up, or we perish!" Abdul Gombe cautioned.
China's bridges of connection
Olusegun Adeshina, Chairman, Editorial Board of Thisday newspaper of Nigeria, said instead of building walls, China has decided to erect bridges of connection to expand an inclusive economic group. He said the Belt and Road Initiative will positively impact over 60 per cent of the world's population. "This is an investment opportunity for the world. But Africa is still not well positioned to take proper advantage of it, save for some initiatives in East Africa," Adeshina noted.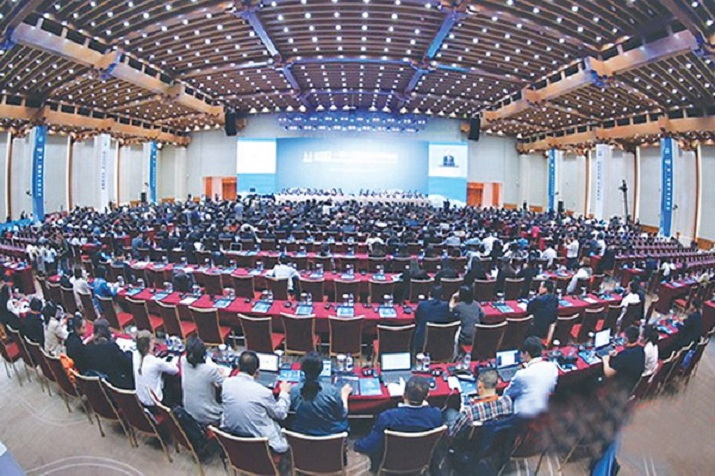 The 2017 Media Cooperation Forum on Belt and Road drew participants from 126 countries. Photo: CAPC
He called for transparency and accountability in Belt and Road transactions, adding that this is where the role of journalists comes in. According to him, People's Daily can use media tools to break barriers between the media. "After visiting Mogao Caves near Dunhuang, I realized how ingenious ancient Chinese were. This shows that there is nothing we cannot achieve if we work together as a team with a common goal. This is the message of Belt and Road," Olusegun Adeshina underlined.
Africa is not taking advantage
Xavier Messe is worried that most African leaders and media are not taking advantage of the huge opportunities offered by the Belt and Road Initiative, unlike their counterparts in the Indian Ocean, Ethiopia and Kenya, who have carried out projects with China worth billions of US dollars. "At the level of the continent, there is no real commitment amongst leaders to seek maximum dividends, except for bilateral deals signed with China. We expect African countries to open up to more Chinese cooperation so that the private sector can also draw some benefits," Messe counseled.
"As long as African leaders continue to act individually, we risk losing the opportunity. Belt and Road is a big chance that will last long and can enable Africa to develop major infrastructure. If Central and West African leaders do not act fast, they will be left behind in this march to sustainable development," he warned.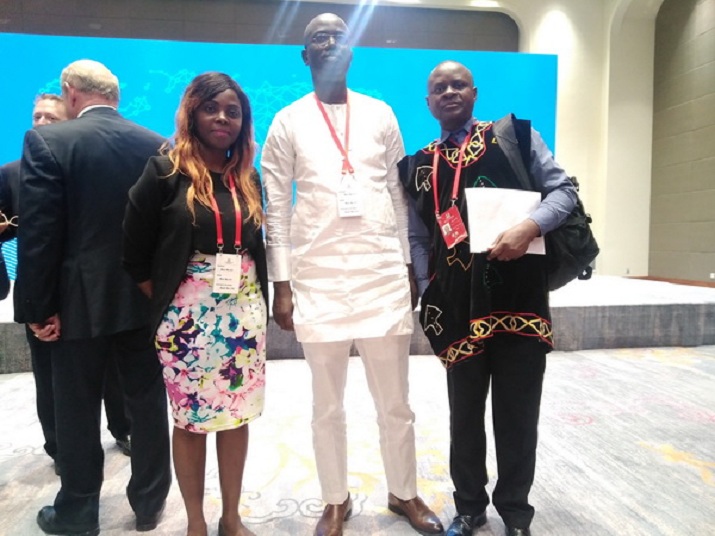 The media forum enabled first-time participants to understand what Belt and Road is about. Photo: Kimeng Hilton
Explaining China's rapid growth
Going by what I saw, Chinese people are very remarkable, commented Abdul Gombe. "Many people talk about the Chinese miracle, but I have a different opinion. China's rapid development is neither a miracle nor luck. Rather, it is the result of focused, determined and committed leadership," he clarified. "You see this everywhere you go in China. Even in simple human relationships, personal relations, you can see the commitment of the Chinese. This is what we need back home because Africans tend to make much noise, but there is little action at the end," Gombe noted.
According to him, Africa will be a much better place if the people employed half of the level of commitment he saw in China. "I truly commend the Chinese government and its people for their committed and focused leadership. China is just beginning, they have a lot great things to accomplish in the years to come," he predicted. "I hope we learn much from them and apply back home. I think China can also learn a little from Africa. By and large, in terms of development, there is much to learn from the Chinese experience," Abdul Gombe admitted.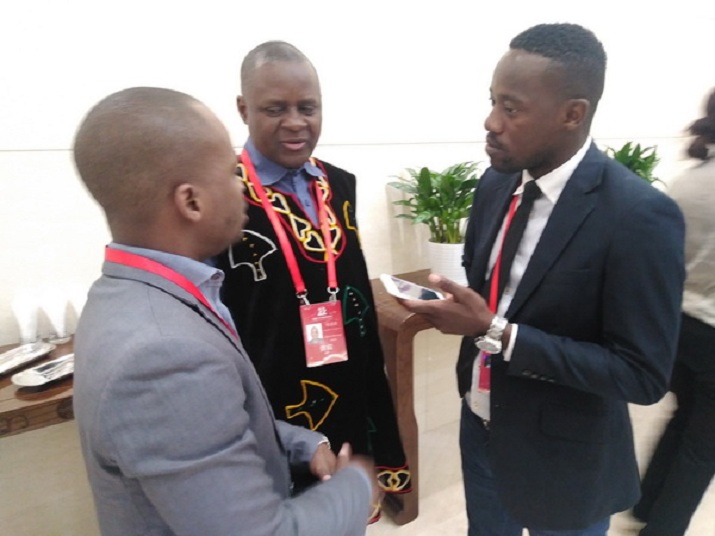 The media forum offered an opportunity for journalists to share notes on their experiences. Photo: Kimeng Hilton
Glimmer of hope for CAR
"I am so grateful to the Chinese government - through People's Daily newspaper - for inviting me to attend the media cooperation forum, though weak countries like CAR might not have brought any proposals that could interest investors. However, it was a good opportunity for us to seriously begin to consider the future of our country," Sylvie Banguere Panika commented on Belt and Road.
*Kimeng Hilton Ndukong, a contributor to People's Daily Online, is Sub-Editor for World News with Cameroon Tribune bilingual daily newspaper in Cameroon. He is currently a 2017 China-Africa Press Centre, CAPC fellow.
(People's Daily Online, September 25, 2017)