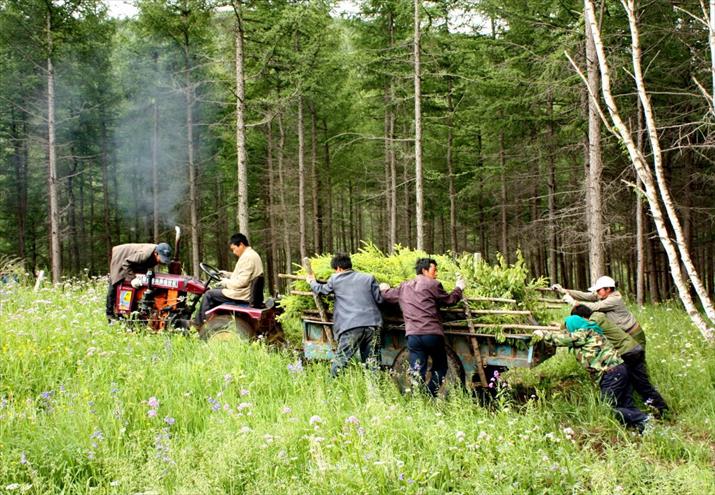 Workers transport nursery stock on June 30, 2009
A giant tree rules the large fields dotted with wildflowers in the Saihanba Jixie Forest Farm. Planted in the Qing Dynasty (1644-1911) period, the nearly 20-meter larch is said to have survived 200 years of vicissitudes. Belying its age, it still looks strong and healthy with wide spread branches and its strong trunk wrapped with red ribbons.
The locals in Weichang Manchu and Mongolian Autonomous County in north China's Hebei Province, where the farm is located, have tied these ribbons. The act is to express their gratitude. The immense tree has been the savior of the area, rekindling hope of transforming a once barren land into lush green forest.
"We call it the blessing tree. Without it, today's Saihanba would not have been possible," Zhao Yunguo, an administrator of the forest farm, said.
The Saihanba Jixie Forest Farm, lying about 400 km from Beijing, is the largest artificial forest on earth. Its forest area of 74,700 hectares means the green cover ratio has soared from 11.4 percent approximately half a century ago to 80 percent today.
It is not only a gigantic windbreaker that shelters Beijing and its adjacent areas from wind and encroaching sand, but also a popular scenic tourist destination.
Saihanba's achievements have won national recognition. On August 28, commenting on the feat of the builders of the forest farm, President Xi Jinping said that in 55 years, they have transformed a wasteland of yellow sand, where birds had no tree to perch on, into a green sea. Their story is inspirational and a vivid example for promoting ecological progress.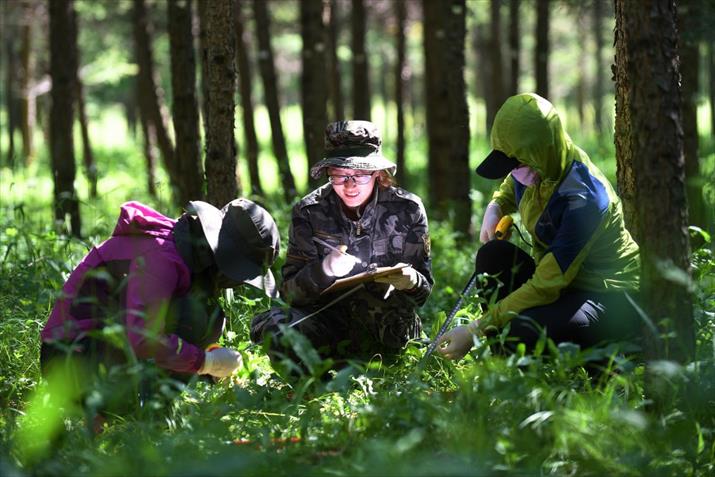 Field staff collect research data on July 16
Witness to change
The area where the giant larch tree stands was a fertile royal hunting ground during the Qing Dynasty. It is said that it was here where Emperor Kangxi (1654-1722), one of the most revered rulers in Chinese history, once welcomed triumphant soldiers returning from a victorious battle in the north.
At the end of the Qing Dynasty, the trees in the forest began to be chopped down and the land was farmed ruthlessly to produce more food. It resulted in deforestation and gradually, the fields were reduced to wasteland. With the forest having disappeared, the local weather became drier. In the 1950s, the Saihanba area was ravaged by sand. Northern winds then swept the sand farther, dumping it in Beijing. Data from the China Meteorological Administration show that during that period, Beijing suffered 56.2 days of sandstorm in a year, on an average. In the 1960s, the government decided to restore Saihanba's lost greenery. Liu Kun, then Deputy Director of the bureau administering state-owned forest farms under the Ministry of Forestry, was assigned to conduct a feasibility study for establishing a forest farm in Saihanba in 1961.
The study found that larch trees could withstand the harsh conditions, and then the Saihanba Jixie Forest Farm began to take shape. The next year, over 300 people from across the country, including fresh graduates, arrived to plant the trees. In two years, these planters, whose average age was 24, planted larch saplings on more than 400 hectares. However, to their dismay, fewer than 8 percent of the saplings survived.
"It was not because they chose the wrong species," recalled Zhang Xing, a retired worker on the farm. "The problem was that the saplings were shipped from northeast China. So after the long journey, the roots withered from water loss. How could they live?"
To solve this problem, the planters decided to grow seedlings locally by themselves. In the spring of 1964, these saplings were planted with a survival rate of more than 90 percent. Thereafter, year after year, they planted more trees, turning the whole area into forested land.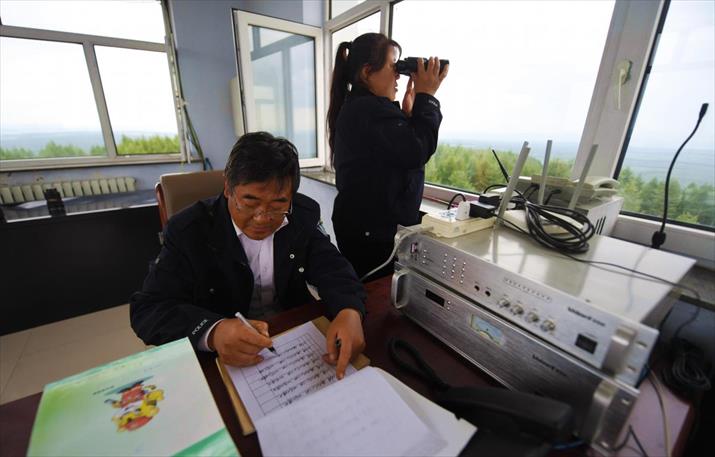 Forest fire guards on watch
A breath of fresh air
As the larch trees grew, they shed their needle-shaped leaves, which decomposed over the course of time, providing nutrients to nourish other vegetation such as shrubs and flowers. As the forest grew denser with more varieties of vegetation, it attracted wild animals such as boars, badgers, deer and birds, who settled there, filling the woods with vitality and restoring the ecological system.
Now, Saihanba has 261 invertebrate species, 660 insect species, 179 fungus species and 625 plant species, according to a Xinhua News Agency report.
"Left to nature, it would have taken at least 100 years to restore the barren sandy land, while Saihanba regained its forest ecosystem in only 50-plus years, making an important contribution to China's ecological progress," said Huang Xuanrui, Dean of the College of Forestry, Agricultural University of Hebei.
The desertification and sandification monitoring report released by the province in 2009 showed that in the previous five years, the sandified land near Beijing and Tianjin had shrank by 74,700 hectares.
In recent years, the annual average sandstorm days in Beijing have been reduced to about 7.5 days and the annual average precipitation increased by 66.3 mm, according to China Meterological Administration. The number of strongly windy days has been reduced by 30 days.
As the farm went into operation with large-scale tree planting mostly completed in the 1980s, the question was how to make it sustainable and profitable.
With logging being the traditional business model for state-owned forest farms, a hard fiberboard plant was set up in Saihanba in 1981 to process the inferior-quality trees rejected for farm use. This became a major revenue source.
But today, a more profitable business is selling saplings of spruce, larch and Mongolian scotch pine. A 15-year-old spruce tree, that is usually around 7 meters tall, can fetch the same amount of money as timber from 30 trees of the same age, according to Wang Li­ming, in charge of the farm's plant nursery.
The farm has become an important sapling nursery in north China. In 2016, sapling sales generated an income of more than 11.95 million yuan ($1.82 million). By reducing logging and expanding the sapling nursery, the farm has also increased the forest volume and area.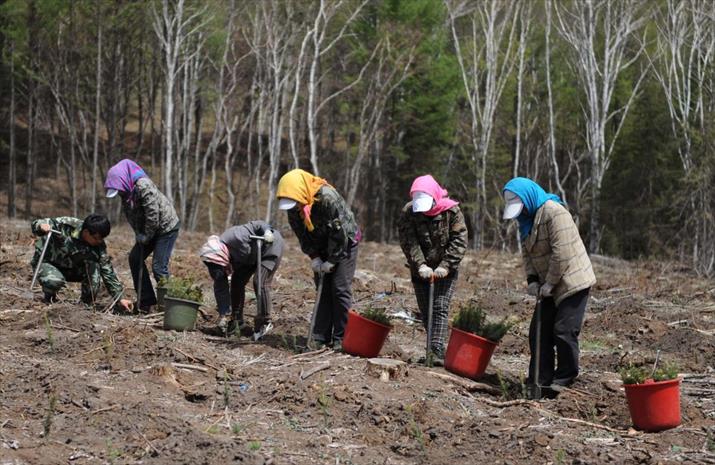 Planting the world's largest artificial forest on May 13, 2014
A side business of the farm is ecotourism. According to the county's Culture and Tourism Bureau, there are over 500,000 visits to Saihanba annually, yielding more than 40 million yuan ($6 million) in entrance ticket income and creating 15,000 direct jobs. Local residents benefit from this by providing lodging, catering and transportation services and selling artifacts and other specialty products. Every year, tourism adds more than 600 million yuan ($90 million) to the local economy.
Saihanba has also launched a carbon sequestration project. Liu Haiying, head of the forest farm, said that the farm's total volume of sequestered carbon is equivalent to 4.75 million tons of carbon dioxide. So far, 183,000 tons of sequestered carbon had been listed for sale. If all the sequestered carbon is sold, it will generate at least $15.19 million in revenue.