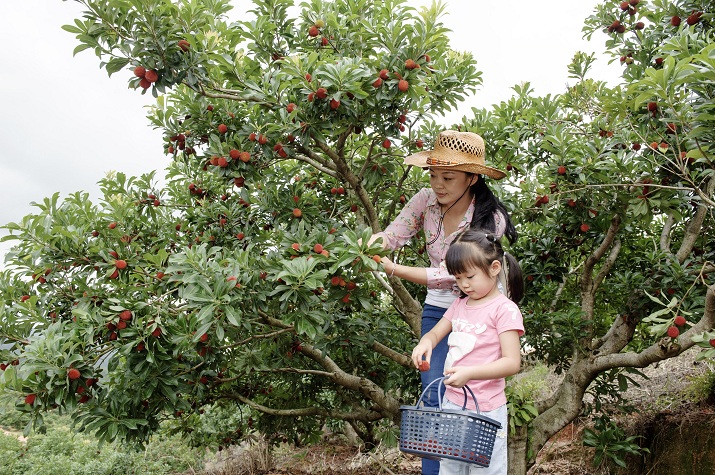 The once barren Changting in Fujian Province has been transformed into an agricultural garden producing all types of fruit
From potholed roads, polluted skies and frequent water shortages to a gold medal winner of International Garden City awarded by the United Nations Environment Program and International Federation of Park and Recreation Administration. That's the total turnaround William Brown from United States has seen in Xiamen City in just 30 years.
As a professor at Xiamen University in southeast China's Fujian Province, Brown said he had witnessed radical economic transformation in the province driven by the efforts made by the Fujian Provincial Committee of the Communist Party of China (CPC) to promote green development.
"China has learned a lot from the world about environmental protection and I think the world should also learn from China," said Brown. "What I admire about Fujian's leaders is that they made an overall and comprehensive plan for Xiamen's development based on Chinese urban development experience," he said.
Boasting magnificent scenery, Fujian is renowned as a land of great potential. On September 26, a symposium highlighting the success of green development in the province was held in Beijing.
Hosted by the International Department of the CPC Central Committee, political figures and delegates from Pakistan, Bangladesh, Myanmar and other countries gathered to exchange their experience in promoting green development.
Green growth
"The views were great. Everything was green and clean," said Charles Kayonga, Ambassador of Rwanda to China, when talking about his impressions of Fujian.
Fujian has committed itself to environmental protection through innovation and improved environmental awareness, according to the symposium. All-round progress has been made in environmental pollution prevention and control, and construction and management of nature reserves.
"Green strategy is a part of the core of the CPC. The leadership of Chinese President Xi Jinping has paid great attention to ecological progress in governing the country," Kayonga told ChinAfrica. Rwanda is one of the cleanest countries in Africa, and its leadership also focuses on green development as a core part of the national economy, he said. "I expect more cooperation among universities and industries between the two countries in green development," he added.
The Centennial Ecological Park in Changting County in west Fujian showcases the progress of the province's ecological development. The aromatic camphor trees are just one of the park's success stories.
In the autumn of 2001, President Xi, who then worked as the governor of Fujian, made an inspection tour to Changting and instructed that soil erosion control should be included in the programs of the provincial Party committee and government in addressing people's practical needs. Over the next decade, a total of 108,000 hectares of trees were planted, contributing greatly to the prevention of soil erosion.
Now the once barren land has been transformed into a lush agricultural garden producing all types of fruit, including different varieties of melon. It is also a floral kingdom with aquatics under state protection, which returns the area to its natural ecological habitat.
China has a different way to promote ecological development compared to Western countries, said Paolo Ferrero, Vice President of the Party of the European Left. "We are happy to see China's efforts to protect the environment," he said, adding that he hopes to see enhancement of cooperation between Europe and China.
The current forest coverage on mountains in Fujian is 65.96 percent. Government statistics show that in 2016, water quality of 96.5 percent of the province's major rivers reached Grade I, II and III (acceptable water quality with Grade I as the top). The air quality of all nine prefecture-level cities was improved, with average level reaching or outperforming Grade 2 (good quality) of the national standard. Last year, the province was also officially designated as the National Ecological Conservation Pilot Zone. Experts believe that this honor justifies Fujian's position as a national leader in ecological progress.
Ecological balance
The dilemma between economic development and the environmental protection is a global issue, said Song Tao, Minister of the International Department of the CPC Central Committee. "But the practices of the CPC Fujian Provincial Committee in promoting green development is a model in balancing economic growth and building a modern society of harmony between humans and the nature," he said at the symposium.
When inspecting Fujian in October 2014, President Xi said that lush mountains and clean waters are the biggest resources and assets of the province, and its most valuable brand which must be protected.
The protection measures include industrial transformation and upgrading, said You Quan, Secretary of the CPC Fujian Provincial Committee.
The local government cuts overcapacity and transforms and upgrades traditional labor-intensive industries, including clothing, food, footwear and machinery sectors. At the same time, the government bans and eliminates high energy consumption and high pollution industries, including small coal mines, small oil refining plants and backward thermal power stations. At present, the province's energy consumption per unit of GDP fell to 0.439 tons of standard coal equivalent per 10,000 yuan ($1,520), 25 percent lower than the national average level.
Additionally, efforts are made to develop the green economy, recycling economy and low-carbon economy and encourage the projects which are green, high-tech and with big market potential.
Major efforts have been made to develop the modern service industry like ecotourism and strategic emerging industries such as energy conservation, environmental protection, new energy and information technology. A group of industrial clusters worth more than $15 billion in output value have each taken shape.
In 2016, Fujian's GDP reached $42.5 billion, with the added value of strategic emerging industries accounted for 11 percent, up from 7.45 percent in 2012.
After concluding his visits to a number of sustainable and environmentally-friendly projects in Fuzhou and Quanzhou cities in Fujian, Muhammad Faruk Khan, Presidium Member of the Bangladesh Awami League, said the experiences of Fujian in green development are a shining example of the development of China, and he looks forward to sharing his experiences at home when he returns.
"The world supports and understands the green development initiative proposed by President Xi and the concept of sustainable development is important to the world," he said.