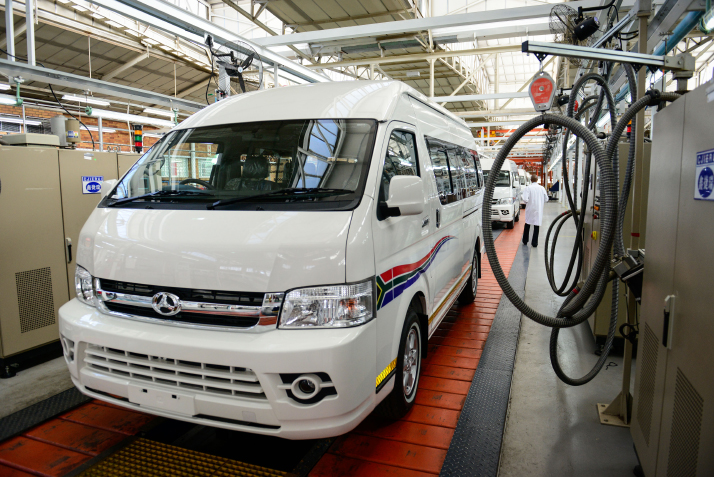 BAIC factory in Gauteng Province ZHAI JIANLAN
Hisense has grown to beco­me a household brand in both China and South Africa. Since the China-based electronics and white goods manufacturer set up opera­tion in South Africa over 20 years ago, it has grown to be the largest television and refrigerator producer in the country, fulfilling both the host country's domestic demands and those of other 13 African countries including Kenya, Tanzania, Mozambique, Zimbabwe and Malawi. The company is a game changer for South Africa's TV consumption market, turning it from one depending on imports to the current high value-added established industry that employs a considerable number of local residents.
"Chinese businesses [like Hise­nse] are boosting our vision of industrialization by strengthening our manufacturing sector," Charles Manuel, Minister Counselor (Economic) of South African Embassy in China, told ChinAfrica.
Hisense epitomizes the rapid gro­wth of Chinese businesses in South Africa, which is anchored by politi­cal relations and people-to-people friendship over the past 20 years since the two countries established diplomatic ties on January 1, 1998. Boosted by bourgeoning trade and business opportunities, Sino-South African relations are promoting both countries' development visions and spearhe­ading China-Africa cooperation as a whole.
Political foundation
Although the two countries established diplomatic relations quite late compared with the majority of African countries, bilateral relations have quickly evolved from partnership to strategic partnership and now comprehensive strategic partnership. South Africa was one of the
cou­ntries in Xi Jinping's first state visit after he became Chinese president in 2013. His second tour to the country in 2015 when attending the Johannesburg Summit of the Forum on China-Africa Cooperation (FOCAC) mapped out a blueprint for China-Africa cooperation as a whole and brought a promise of $60 billion funding support to the continent, notably ushering in a new round of investment for South Africa.
South Africa too has reciprocated. Besides President Jacob Zuma's visit to China in 2014, Manuel says the country has translated its national development strategies into specific initiatives related to China, and carried out extensive partnerships in terms of investment, trade, financing and development assistance. These partnerships benefits more than the two countries themselves.
"Apart from deepening bilateral ties, China and South Africa, both developing nations and emerging markets, are coordinating and working closely for the interests of developing nations on global multilateral arenas," said He Wenping, Senior Researcher with the Charhar Institute and Researcher of the Institute of West-Asian and African Studies of Chinese Academy of Social Sciences.
Both China and South Africa are members of the G20, the BRICS bloc and the BASIC countries in the UN climate change negotiations, while South Africa also spearheads
Africa's cooperation with China and South-South cooperation.
In addition, apart from actively responding to the Belt and Road Initiative, South Africa hosts the only African Regional Center of the New Development Bank under the BRICS mechanism. "Radiating to a broader sphere, more opportunities will be brought to the continent under the bloc partnerships," said He.
Economic interactions
Indeed, bilateral trade and economic ties have seen rapid and positive results over the past 20 years. Statistics from China's General Administration of Customs show that China has been South Africa's largest trade partner for eight consecutive years, and the most important investment source of Africa. The bilateral trade volume reached $35.3 billion in 2016, a quarter of China's total trade with Africa as a whole and over 20-fold that in 1998.
"As the country with the highest spending power and industrial output in Africa, South Africa is proactively attracting large-scale Chinese investment in capital- and technology-intensive sectors," said Manuel. In fact, these sectors have long been the priorities in Sino-South African economic partnerships. Chinese well-established businesses are eying on manufacturing industries of the country, such as automobiles and white goods. In the finance sector, the Industrial and Comme­rcial Bank of China (ICBC) purchased 60 percent of Standard Ba­nk Plc., the international commodities and foreign exchange arm of Standard Bank Group. "These engagements bolstered our efforts for industrialization and establishment of special economic zones," said Manuel.
One of these zones, established in the previously impoverished area of Atlantis outside Cape Town, has seen the Hisense factory, established in 2013, create much needed jobs and revenue for the region. Hisense employs more than 600 locals in its electronics and white goods factory and creates jobs for some 3,000 others in related industries. Correspondingly, South African businesses are investing in China. The largest shareholder of Chinese Internet giant Tencent is Naspers, a South African Internet, media and entertainment giant with a history of more than 100 years. With both the companies' shares climbing in tandem over the past years, the value of Naspers' 34 percent share in Tencent hit over $170 billion in November 2017.
Entry policies
In 2018, South Africa will host the 10th BRICS Summit as the bloc's rotating president, and China will hold the Seventh FOCAC Ministerial Conference, continuing to lead cooperation among emerging markets and that between China and Africa. To this end, both countries set inclusive and green growth as their future vision.
However, South Africa is challenged by inequality, unemployment and poverty on its path to realizing inclusive economic growth. "Due to historical reasons, colored [mixed race] people like the black people were not able to enjoy equal economic opportunities and share the benefit of social progress. Therefore, we introduced laws like the Black Economic Empowerment (BEE) Act to help them integrate into the mainstream economy," said Manuel. In reality, some Chinese businesses found such laws were thre­atening their investments. "This reflects the importance of better understanding the implication of local laws and regulations and cultural customs," said He.
Manuel explained that the BEE Act No. 53 of 2003 is not compulsory, rather it should be viewed as a business and constitutional imperative. "All companies who want to participate in government contracts or who want to do business with the South African Government and its auxiliary institutions and state-owned entities must comply with the act. Eligible foreign companies may apply to be exempted from the ownership component of the BEE codes and may apply for Equity Equivalent Investment Program," he said.
In the green development sector, South Africa provides a good example for China to learn from. As one of the frontrunners in renewable energy utilization, the country has the largest solar power plant in Africa and developed the world's first oil-from-coal technology which can play a big role in reducing fossil-fuel-dominated energy dependency.