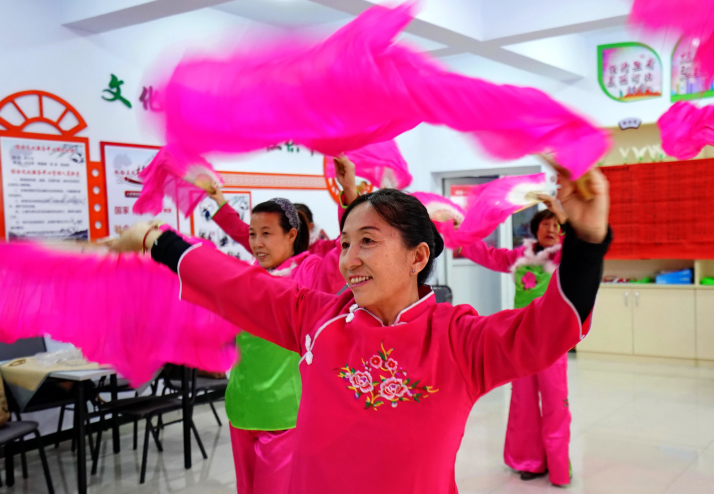 A community elderly care center in Fujian Province hosts birthday celebrations for the elderly
When Li Weiping boarded the flight from New York to Beijing in April, it heralded her independence. The 75-year-old Chinese had stayed in the United States for two years after her husband died.
Arriving at the Beijing Capital International Airport 13 hours later, Li was anxious as she stepped into the arrival hall with her two large suitcases in tow. She looked around and saw the sign with her name being held aloft by Wang Hongyu, a social worker from Jinhe Nursing Home of Beijing there to pick her up.
"My daughter settled in the United States and she wanted me to live with her after my husband's passing away," Li told ChinAfrica. "But now, I prefer life in China. As the Chinese saying goes, 'Fallen leaves return to the roots.'"
Despite her daughter's insistence that she stay in the United States, Li applied for residency at Jinhe Nursing Home online after making the decision to return to China.
How to spend later life, where to stay and who to live with are concerns that Li and millions of her peers across China face as they enter their twilight years.
According to the Office of China National Working Commission on Ageing, by the end of 2017, the number of people aged 60 or above reached 241 million in China, accounting for 17.3 percent of the total population. The UN predicts this number will exceed 480 million by 2050, and those over 80 will reach 110 million.
Pension for all
Those born between the 1930s and 1950s are called "generation that endured hardships" in China.
Like many of her generation, Li, born in Beijing in the 1940s, experienced the Shangshan Xiaxiang (Down to the Countryside), a policy mainly in the 1960s and 1970s which saw privileged urban youth sent to rural areas to work and learn from the farmers. In 1977, the gaokao or the national college entrance examination, which was resumed that year, brought her back to Beijing. "Our generation made a lot of contributions to our society, and I devoted myself to the nation, community and my family," Li told ChinAfrica. "Now, it's time for me to choose the life I want."
Observers believe that the great achievements China has made since it adopted the reform and opening up policy 40 years ago are inseparable from the contribution of the older generations who have long been the country's backbone. To provide the elderly with a better life, the Chinese Government has taken various measures to establish a sound old-age security system.
One such policy that has made a big difference in this regard is the basic endowment insurance. Sources from the Ministry of Human Resources and Social Security (MOHRSS) say the scheme had covered more than 900 million Chinese by the end of 2017, and more than 1.3 billion Chinese people, or over 95 percent of the entire population, are now covered by basic medical insurance, constituting the largest social security network in the world.
Elderly people receive free medical checks in Fujian Province
"I retired as a college professor with a monthly pension of 7,000 yuan ($1,100). I can afford living alone in a nursing home," said Li. "The pension is a financial guarantee for us seniors."
China's basic pension scheme consists of two categories - urban workers and rural residents. The scheme sees urban workers' monthly contributions of 8 percent of a sliding scale related to individual salaries, matched by a 20-percent contribution from their employers. This applies to all employed Chinese, while those unemployed can still make pension payments, but have options in relation to their financial status.
Although an ageing society puts increasing pressure on pension payments, China has raised the amount for 14 years in a row. From the beginning of 2018, the average monthly payment for pensioners of enterprises, government agencies and public institutions increased by 5 percent from the 2017 level, according to MOHRSS. This surpasses the 1.6-percent growth in the consumer price index, one of the key factors taken into consideration for the increase of pensions.
Today, the national monthly basic pension in China has reached an average of 2,362 yuan ($375) in 2017 for enterprise retirees, according to MOHRSS.
Better nursing model
Pension payouts aside, respect and love for the elderly is considered a key virtue in China. Children are expected to take care of their parents in old age.
Apart from nursing homes, more diversified forms of elderly nursing models are emerging in China. For example, the home-based approach to elderly care has become particularly popular in urban China.
Despite his father having an above average retirement payment, 56-year-old Beijing resident Yang Xing refuses to send his 83-year-old father, who suffered a paralyzing stroke two years ago, to a nursing home. "Though I am busy and have little time and energy to take care of him, I don't want us to be apart," Yang told ChinAfrica.
He chose to ask social workers in his community to provide help. The social workers come to his apartment every day and help his father with bathing, dressing, meals and transportation.
"After so many years, elderly people are not willing to leave their familiar living environments, their personal relationships and their daily interactions with neighbors," said Qian Yonghui, a staff member at Sanlihe Community Elderly Care Center.
"Affordability of home-based services over nursing homes was also an important factor for its popularity," said Qian. According to a document issued by Beijing Municipal Bureau of Civil Affairs in 2016, the rates of a public community elderly care center should be lower than other options.
The Chinese Government gives much support to home-based elderly care facilities and services in cities. Taking Beijing for example, according to a plan published by Beijing Municipal Bureau of Civil Affairs in April 2017, a total of 1,000 elderly care centers will be established in Beijing by 2020. The local government has committed to providing the premises to operators free of charge, along with financial support for operational costs.
Rural care
In China's rural areas, the previous home-based elderly care approach has changed. Older people in the countryside used to be supported by their children. But nowadays, most young people have gone to cities to work, leaving behind their elderly family members. As a result, many villages are becoming desolate.
Most elderly people in rural areas are relatively poor compared with their urban peers, and they have no extra money to pay for elderly care services. To assist with this, in 2009, the New Rural Social Endowment Insurance, a voluntary pension program targeting rural elderly population, was introduced to some regions in China. The program was expanded nationwide in 2012.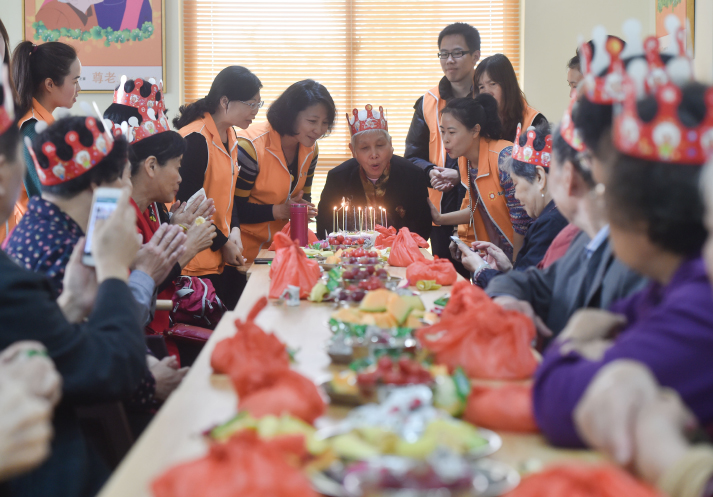 A community elderly care center in Fujian Province hosts birthday celebrations for the elderly
Pension contributions are shared by individual contributors, the local village communities, the local governments and the Central Government. Individual contributors have five different options of contribution, varying from 100 ($15.9) yuan to 1,000 yuan ($158.7) per year. Pension payouts are then determined by the individual contribution and basic benefits from the government. The minimum age at which one is eligible for receiving pension benefits is 60.
In addition to pension benefits, to solve the problem of loneliness, a rural plan which advocates elderly people caring for each other in self-help lodging within communities is also being widely promoted.
In Nalong Village of Fusui County, south China's Guangxi Zhuang Autonomous Region, village head Cai Qingyang helped establish an activity center for 25 elderly people living by themselves. Duties such as cooking, cleaning and caring for those physically challenged are shared by the occupants. This model is now being rolled out as a solution to the challenge of caring for a rapidly growing rural population. Wang Dewen, a social security economist at the World Bank, says this self-help model offers a low-cost and more streamlined alternative to rural elderly care.
Challenges
Though China has made great achievements in serving its elderly, the growing elderly population continues to create challenges, with pension fund shortages in some regions affecting the sustainability of the system. Chinese Premier Li Keqiang pointed out at this year's session of the of the National People's Congress in March that there is indeed a shortfall of pension funds in some provinces, mainly due to the decline in fiscal revenue at times of comparatively slower economic growth. China does, however, have the capacity to ensure pensions are paid in full and on time. According to Li, local governments have taken multiple measures to address the issue, including better use of existing funds, better management of state-owned assets, and relevant fiscal arrangements. The balance of China's pension funds now stands at 4.1 trillion yuan ($650.8 billion), and there is also 1.8 trillion yuan ($285.7 billion) of social security fund as a strategic reserve, enabling the pension benefits to be paid on time and in full.