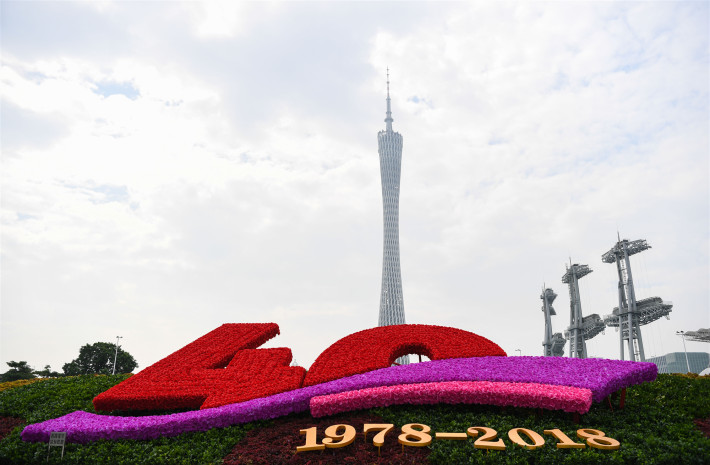 A flower bed celebrating 40 years of China's reform and opening up in Guangzhou, south China's Guangdong Province (DENG HUA)
Beijing resident Li Zhangzhe, 58, still keeps a pair of sunglasses he bought nearly 40 years ago.
"It was the most popular style at that time because of the U.S. TV series Man from Atlantis, which was broadcast in China, and every young man hoped to have a pair," recalled Li. He said the hero of the TV series, Mark Harris, usually wore the glasses on screen. "We called it Mark glasses. If you wore a pair on the street, you would definitely be the focus."
In the early stage of China's reform and opening up, it was very difficult for young people to get the fashion items that could make them look cool, according to Li. So many people went to Guangzhou in south China or nearby Hong Kong to buy trendy things such as stylish sunglasses, foldable umbrellas, electronic watches and cassette recorders, and sold them in other cities like Beijing. Li finally bought his sunglasses for 40 yuan ($26.7 according to the exchange rate at that time), which was equivalent to the average monthly salary in Beijing then.
"I was so amazed to see all these accessories from Hong Kong and I said to myself, 'What a wonderful world! Why didn't I know this earlier?'" said Li.
He is one of many who can bear witness to the changes in China as it transitioned from an industrially underdeveloped country not even able to produce a folding umbrella to the world major economy. Today "made in China" and "created in China" are popular worldwide and include products like satellites and high-speed trains.
"From when you could buy nothing to now being able to buy almost anything you want, it has taken China 40 years, and the 40 years have greatly changed our lives," said Li.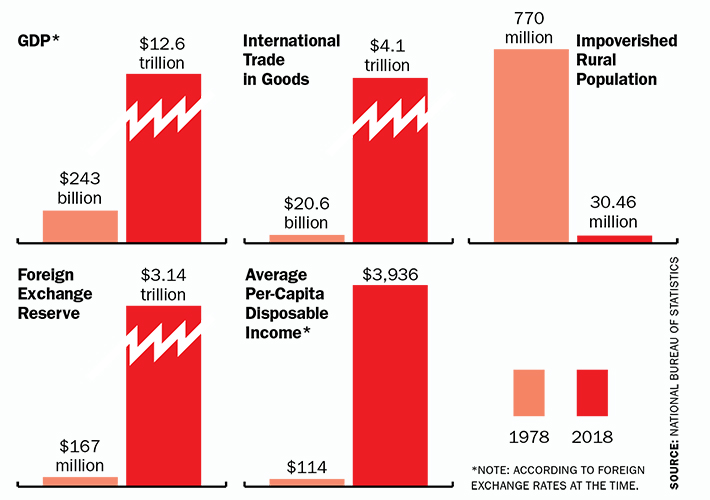 Forty years of growth
The change all began at the Third Plenary Session of the 11th Central Committee of the Communist Party of China (CPC), held from December 18 to 22, 1978. At the session, the ruling party decided to shift the focus of the Party and the state to economic development. From that point on, China's reform and opening up has thrust the country into the fast lane of development.
A series of measures were taken under the leadership of the late Chinese leader Deng Xiaoping, who was regarded as the chief architect of China's reform and opening up. From 1980 to 1988, China established five special economic zones in Shenzhen, Zhuhai and Shantou in Guangdong Province, Xiamen in Fujian Province, and Hainan Province to attract foreign investment and advanced technologies by providing preferential policies for foreign-funded enterprises. In 1984, a total of 14 coastal cities opened their doors to overseas investors. As all these places are in coastal regions, to balance geographical development, the Central Government also approved Kashi Special Economic Zone and Khorgas Special Economic Zone, both in northwest China's Xinjiang Uygur Autonomous Region, in 2010.
Abundant food production
Thanks to 40 years of fast development, China has grown into the world's second largest economy with its GDP rising from 364.5 billion yuan ($243 billion) in 1978 (exchange rate 1:1.5) to 82.7 trillion yuan ($12.6 trillion) in 2017 (exchange rate 1:6.6), up more than 200-fold based on the Chinese yuan. Last year, the average per-capita disposable income reached 25,974 yuan ($3,936), a new high in history.
Aside from figures, the greatest achievement of China's reform and opening up in the past 40 years is that the fast development has benefited its people in practical terms. In other words, the Chinese people are increasingly feeling the benefits brought by China's reform and opening up.
Before the reform and opening up, owing to insufficient food production and shortage of industrial goods, there were strict quotas introduced for the public. Without coupons, people could not buy any food or industrial products. Before China's reform and opening up, China's farmlands were owned and operated by the collectives and farmers could only work on collective lands.
In the early 1980s, China reformed the farming system and adopted a new farming system where farmers could contract the land and benefit individually. This reform greatly stimulated farmers' working enthusiasm, and the phenomenon of buying food with coupons changed soon, thanks to the increasing output of agricultural products.
On April 12, 1981, Guangzhou Friendship Store launched China's first supermarket where people could buy goods without coupons. In the first months after the supermarket came into operation, it was so crowded that entrance numbers had to be strictly controlled. In 1990, China's grain production reached 446 million tons, exceeding 400 million tons for five consecutive years. It was in this year that China first realized a balanced grain supply and demand, and the country established a special grain reserve system. Food coupons were discarded. In 2017, China's grain production exceeded 600 million tons. Today, most Chinese people are not satisfied with having enough to eat, but have adopted a more health-conscious diet and lifestyle.
These developments have served as proof of China's achievement in reform and opening up, and also echoed the governing philosophy of the ruling party. Just as Xi Jinping said when he was first elected general secretary of the CPC Central Committee in 2012, "People's yearning for a good and beautiful life is the goal for us to strive for."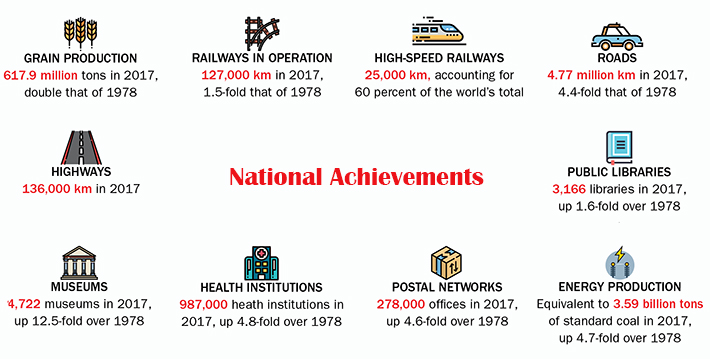 Eradicating poverty
Another great achievement brought about by reform and opening up is poverty reduction, as China has grown from one of the world's most impoverished countries into the world's second largest economy in the past 40 years.
Statistics from the National Bureau of Statistics show that in the last four decades, a total of 740 million people in rural China were lifted out of poverty, nearly 19 million a year on average. This accounts for 70 percent of the world's total number of people lifted out of poverty during the same period. In addition, the poverty incidence in rural areas also dropped by 94.4 percentage points. By the end of 2017, the number of impoverished people had been reduced to 30.46 million. According to China's 13th Five-Year Plan (2016-20), poverty will be eradicated in 2020.
To achieve this goal, in 2016, tailored measures were planned and carried out in the country's impoverished areas, including a program that allocates profits from local hydropower plants and mining projects to the locals. In addition, local governments also designated special personnel to go deep into various rural villages, helping impoverished households design development plans, obtain small loans and cultivate their businesses according to the circumstances of different households.
After the 18th CPC National Congress in 2012, new efforts have been made to improve the infrastructure in impoverished areas. In the past six years, more than 500,000 km of roads in impoverished areas have been built, more than 14 million of the impoverished population has gotten access to clean water and more than 7 million dilapidated houses have been renovated. A total of 520 billion yuan ($75.4 billion) of loans had been granted to 13 million impoverished households so that they can develop their businesses. Today, nearly all villages have access to electricity and 71 percent of the villages can access broadband Internet.
"Since the 18th CPC National Congress, China has witnessed the greatest progress in poverty reduction," said Liu Yongfu, Director of the State Council Leading Group Office of Poverty Alleviation and Development, at the International Forum on Reform and Opening up and Poverty Reduction in China held in Beijing on November 1.
Looking ahead
China has vowed to deepen reform and open wider to the outside world.
"China's economic growth over the past 40 years has been achieved with a commitment to opening up. In the same vein, high-quality development of China's economy in the future can only be guaranteed with greater openness," said President Xi at the opening ceremony of the First China International Import Expo (CIIE) on November 5 in Shanghai. "China's door will never be closed. It will only open still wider."
CIIE is the world's first import-themed expo held at the national level, which, according to Xi, is an important decision made by China to pursue a new round of high-level opening up, and is China's major initiative to widen market access to the rest of the world. A total of 172 countries, regions and international organizations exhibited their products and services at CIIE, including over 200 companies from more than 40 African countries.
"The years after the 18th CPC National Congress in 2012 marked a new phase in China's reform as it becomes more systematic, interlinked and coordinated," said Xin Ming, Professor at the Party School of the CPC Central Committee. In 2013, China launched the Belt and Road Initiative to strengthen world connectivity.
As of August, China has signed 118 Belt and Road cooperation agreements with 103 countries and international organizations, and signed or upgraded five free-trade agreements with 13 countries along the routes.
In the past five years, China's trade value with countries involved in the Belt and Road Initiative exceeded $5 trillion. China is now the largest trading partner of 25 countries along the Belt and Road routes. In 2013, China built its first free trade zone - China (Shanghai) Pilot Free Trade Zone. By the end of October, a total of 12 free trade zones had been built in China.
"Unlike Western countries where political parties work to hold back each other, thus stifling key reforms, reform in China is rolled out in a highly consistent manner with a special focus put on its implementation," said Zheng Yongnian, Professor and Director of East Asian Institute at the National University of Singapore.
---
China's Firsts in the Past 40 Years
Joint Venture with Overseas Enterprise
Beijing Air Catering Co. Ltd., a joint venture between the Chinese mainland and Hong Kong, was established on May 1, 1980.
Special Economic Zone
On August 29, 1980, China's first special economic zone was established in Shenzhen, south China's Guangdong Province.
Color TV Production Line
China's first color TV production line was put into operation in Tianjin Municipality in 1980.
Business License for Individual
On December 11, 1980, button seller Zhang Huamei in Wenzhou of east China's Zhejiang Province got her business license, the first for an individual in China.
Stocks
On November 18, 1984, Shanghai Feilo Co. Ltd. was established and released 10,000 stocks, the first of its kind in China.
Patent
On April 1, 1985, Patent Law of the People's Republic of China became effective. Hu Guohua, an engineer of former Institute 207 of then Ministry of Aerospace Industry, obtained China's first patent.
KFC
On November 12, 1987, the U.S.-based fast food giant KFC launched China's first restaurant in Beijing.
Hi-Tech Industrial Development Zone
On May 10, 1988, China's first hi-tech industrial development zone was established in Beijing, with approval from the State Council.
Highway
China's first highway, Hujia Highway, came into service on October 31, 1988. By the end of 2017, China had built 136,000 km highway.
Stock Exchange
China's first stock exchange, Shanghai Stock Exchange, came into service in December 1990. In July 3, 1991, Shenzhen Stock Exchange also went operation.
Internet Company
On September 30, 1995, China's first Internet company, InfoHighWay, came into operation in Beijing. By the end of 2017, China had 772 million Internet users.
E-Commerce Deal
China's first e-commerce deal took place between Beijing Haixing Kaizhuo Computer Co. and Shaanxi Huaxing Import and Export Corp. on April 7, 1998.
Navigation Positioning Satellite
On October 31, 2000, China's first navigation positioning satellite, Beidou, was launched in Xichang Satellite Launch Center.
Entering the WTO
China officially entered the World Trade Organization on December 11, 2001.
Manned Space Flight
On October 15, 2003, China's first manned spaceship Shenzhou 5 was launched. Yang Liwei became the first Chinese astronaut visiting the space.
Multiple Units Train
Hexie, China's first multiple units train, running at 300 km per hour, rolled off the production line on December 22, 2007. By the end of 2017, China had built 25,000 km of high-speed railway.
Olympic Games
On August 8, 2008, the 29th Summer Olympic Games was held in Beijing, the first ever by a Chinese city. In 2022, Beijing and Zhangjiakou will jointly host the Winter Olympic Games, also the first one to be held in China.
World Expo
From May 1 to October 31, 2010, the 41st World Expo was held in Shanghai, the first world expo hosted by a Chinese city.
Aircraft Carrier
China's first aircraft carrier Liaoning came into service on September 25, 2012.
Free Trade Zone
China (Shanghai) Pilot Free Trade Zone was unveiled in Shanghai on September 29, 2013, the first on the Chinese mainland.
World Internet Conference
The First World Internet Conference was held in Wuzhen in Zhejiang Province on November 19, 2014.
National-Level Big Data Pilot Zone
On March 2, 2016, National Big Data (Guizhou) Pilot Zone was unveiled, becoming the first national-level big data pilot zone in China.
Quantum Communications Satellite
China launched the world's first quantum communications satellite Mozi on August 16, 2016.
Holding G20 Summit
The 11th G20 Summit was held in Hangzhou, Zhejiang Province on September 4-5, 2016, the first time that G20 leaders gathered in China.
RMB Becoming IMF Reserve Currency
On October 1, 2016, Chinese renminbi was officially added as the currency in the IMF's Special Drawing Rights basket.
Home-Made Big Passenger Aircraft
China's first large passenger plane C919 flew successfully on May 5 in Shanghai.
Belt and Road Forum for International Cooperation
On May 14-15, 2017, the First Belt and Road Forum for International Cooperation was held in Beijing.
Internet Court
China's first Internet court, Hangzhou Internet Court, was established on August 18, 2018.
Cloned Macaques
China successfully cloned the world's first macaques from somatic cells on November 27, 2017.
China International Import Expo
The First China International Import Expo was held on November 5-10 in Shanghai, the first import-themed national-level expo in the world.
(Comments to niyanshuo@chinafrica.cn)