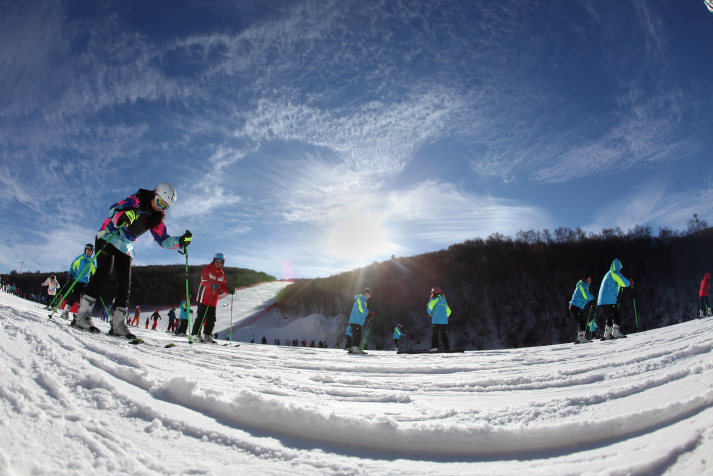 Skiers at a ski resort in Chongli, Hebei Province, in December 2015 (XINHUA)
"Welcome to Chongli, China, where you can spend a cool summer. You will find a million times more negative oxygen ions here than in Beijing." This poster on a bus in Beijing caught the attention of Wang Xinhe, Student Affairs Officer at the Emerging Markets Institute of Beijing Normal University. The 28-year-old native of Chongli would have never thought that her hometown would one day become so well-known nationally. The poster brought back memories of what Chongli was like in her youth.
Located about 220 km northwest of Beijing, Chongli is a district of Zhangjiakou City in Hebei Province, north China. Ten years ago, it was a place little known to the public. Wang was at college at the time. She remembers how hard it was to get up at five in the morning every day and ride her bike to class when the temperature was 30 degrees Celsuis below zero. It wasn't only cold outside. Inside the classrooms students would huddle together shivering as there was no central heating system. Because of the extreme cold, frostbite was commonplace.
Wang's memories are just one aspect of the poverty plaguing Chongli at the time. According to China's poverty line of 2,300 yuan ($334) in annual income at 2010 prices, the poverty rate of Chongli was 16.8 percent, and the region was designated by the government as a poverty-stricken county.
To remedy the situation, local authorities sent their staff to every household to find out the root causes of poverty, with targeted solutions being worked out. The households that lacked funds were offered low-interest loans; the unemployed residents with special skills were provided job opportunities; and for families impoverished by illnesses, 90 percent of their medical expenses were reimbursed via social security schemes.
As a result of all these measures, in 2017, the urban and rural residents' per-capita disposable income reached 29,159 yuan ($4,234) and 9,316 yuan ($1,353), respectively. By the end of November 2019, only 14 households, or 37 people, remained below the poverty line, compared to 24,000 people in 2015. "My old school now has several buildings with very modern facilities. We no longer envy the facilities our peers in Beijing schools have," said Wang.
However, lifting Chongli out of poverty is not just the result of efforts on the part of the government. It is also closely linked to the rise of the local ski industry, making Chongli a special case among other regions that have been lifted out of poverty.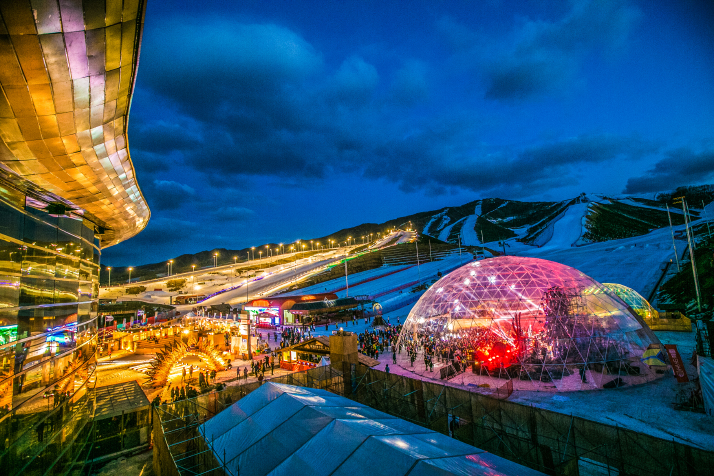 Night scene of Forlong Snow Park in Chongli, Hebei Province (FORLONG SNOW PARK)
Ski contribution
The 2019-20 ski season had just begun when Li Dike and his friends left Beijing for Forlong Ski Resort in Chongli in late November 2019. The 29-year-old entrepreneur learned to ski while studying in the U.S. Since returning to China four years ago, he has skied every year in Chongli. "I haven't tried all of the ski resorts in the U.S., but Chongli is the best I've ever seen," he said, citing some of its strong points such as the mountainous terrain and air quality. He plans to return here every month during this ski season and spend about 10 days each time. With a tablet in his hand and accessible WiFi connection, the young businessman can work from anywhere, while also having fun on the slopes.
Li hit the nail on the head - Chongli has the perfect climatic and geographical conditions for skiing. With an average annual snowfall of more than 1 meter, the region has enough snow to allow for alpine skiing. The ski season here can last up to 150 days. With a moderate slope, suitable temperature (-12°C) and average wind speed (level II), Chongli is widely considered as an ideal area for winter sports.
These advantageous selling points did not escape the attention of local authorities. As early as 1996, Chongli saw its first public ski resort open its doors. Since then, private investors have joined the government's efforts, giving rise to clusters of resorts, including Wanlong, Changchengling, Genting, Dolomiti and Thaiwoo. Each year, they attract many ski enthusiasts and professionals like Li.
The blossoming of these resorts soon helped transform the local economy. A number of job opportunities were created. According to Wang Sizhou, Deputy Secretary of the Chongli District Committee of the Communist Party of China, almost all of the local rural workforce is involved in the ski industry, via jobs in hospitality and cleaning services. "Even people in their late 60s are employed. In the past, people didn't have much to do after the harvest, but now they can earn money in the middle of winter," he said.
Ten years ago, Wang Xinhe's mother was unemployed and her father was earning about 2,000 yuan ($290) a month from his work in a mine. This was a good salary considering the average living conditions at the time. A few years later, thanks to the development of ski tourism, both her parents were hired by the Genting Ski Resort, earning a monthly income of about 20,000 yuan ($2,900). The sudden rise in the family income allowed Wang to finally realize her dream of studying abroad. Genting alone can hire up to 1,300 employees, and Chongli has a total of seven large similar resorts.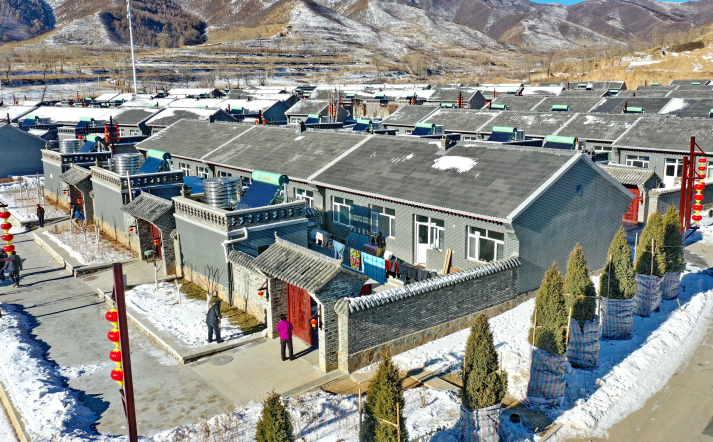 Villagers of Shangwopu village of Chongli, Hebei Province, clear snow in December 2019 (XINHUA)
Olympic lucky charm
In 2015, it was with great joy that Wang Xinhe saw her hometown win the right to be a co-host venue of the 2022 Olympic and Paralympic Winter Games. It was an historic turning point for Chongli. As Wang Sizhou said, "Without the Olympic Games, Chongli would have been able to lift itself out of poverty too, but not so fast." It was an unprecedented opportunity for local development.
The Genting Ski Resort will host the Freestyle Skiing and Snowboard events in 2022. Isaac Zhao, Vice General Manager of Sales and Marketing Center of the Genting Ski Resort, has witnessed the growing public enthusiasm for skiing since 2015. Zhao has noticed an undeniable trend. His hotel has achieved a 50-percent annual growth in turnover and every Friday, the Chongli toll station is jam-packed. As a result, since the beginning of the new ski season, almost all rooms are booked, even during the Spring Festival. In fact, foreigners working in Beijing make up the bulk of visitors at the hotel during the Chinese Lunar New Year holidays as locals head for home to be with their families.
According to statistics published by the Chongli Tourism Office, 1.6 million people visited the district during the 2018-19 ski season. And this figure is expected to grow to 6 million on the eve of the opening of the Olympic Winter Games in 2022.
This goal is all the more attainable after the new high-speed train line linking Beijing and Chongli was put into service at the end of 2019. Winter sports enthusiasts can now travel between Beijing and their favorite ski resort in Chongli in less than an hour. Moreover, another expressway will soon be open to visitors: the highway linking Chongli and Yanqing, a district of Beijing, which is also a venue for the 2022 Olympic Winter Games. Its opening will reduce travel time from three hours to one hour.
Tourists are not the only ones to have turned their attention to Chongli after the news that it will be co-hosting the Beijing 2022 Games. Investors from all over China and abroad have rushed to seize what they see as a great opportunity. In 2019, 18 projects were launched in the Zhangjiakou Winter Sports Industrial Park and 30 new projects were signed. A national production site for winter sports equipment is also nearing completion. Intellectual resources such as Beijing Haidian Foreign Languages Experimental School have also set up branch offices there.
According to Zhang Jianchen, Director of the Strategic Development Department at the Emerging Markets Institute of Beijing Normal University, the co-hosting of the Olympic Games is acting as an accelerator for the urbanization process in Chongli. This will not be based solely on the ski industry, but will also be driven by the input of quality resources from all over the world, the development of the local environment and the modernization of infrastructure.
Private sector's participation
While the measures taken by the government have been essential for lifting Chongli out of poverty, the private sector also played an undeniable role. The development of Shangwopu Village is a good example.
In April 2019, Gao Junsheng, a 60-year-old villager, left the mud hut where he had lived with his family for 28 years and moved into a brandnew house. "Before we moved, we had to burn cow dung for heating. But here we have almost everything - electricity, drinking water, heating and natural gas," he said.
Like Gao, a total of 80 households have benefited from this housing renovation program, a result of a public-private partnership. In collaboration with the authorities, Forlong Holdings Group, which began its investment in Chongli in 2008, financed the program to the tune of 70 million yuan ($10.15 million). While improving the housing conditions of local villagers, the company also aims to increase their income.
"We are trying to turn it into a tourist site by showcasing its historical and cultural wealth," said Guo Weihong, Forlong's Vice President, who sees the project as being in line with Chongli's booming ski industry. "Every year we welcome millions of tourists. But their only goal is to go skiing. So, we need to create more off-ski and after-ski activities to help them make the most of their stay," she said.
She appreciates the government's support for the private sector. In her view, the mutual trust between the authorities and Forlong is the guarantee ensuring the success of this project. "For us, our social responsibility is the most important. So, it's a mutually beneficial project," she said.
Gao Junsheng is optimistic about the future. He expects more and more tourists to visit his village as the date of the Beijing 2022 Games approaches. "We are already setting up a mini-market. In the future, we will be able to diversify our sources of income by opening a restaurant or even a bed and breakfast. I'm confident things will keep getting better," he said.
(This article was written in collaboration with the International MBA Program of the Emerging Markets Institute of Beijing Normal University)
(Comments to lixiaoyu@chinafrica.cn)