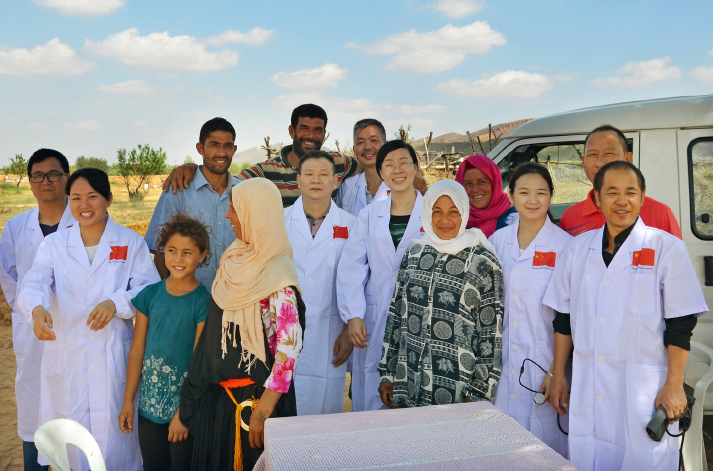 Members of the 21st Chinese medical aid team to Tunisia pose for a photo with local people in Sidi Bouzid, Tunisia (XINHUA)
Solomon Ayele, a nurse at an Ethiopian hospital, is on the frontline of the war against the COVID-19 pandemic, as Africa braces for the peak of the pandemic.
On July 12, confirmed cases of COVID-19 surpassed 570,000 on the continent, according to the Africa Center for Disease Control and Prevention, and along with rising figures, an equally worrying factor is the lack of medical supplies.
Fortunately, African countries have already proactively implemented prevention and control measures. And to their credit, the international community has also stepped in to help.
More and more medical supplies from China and other countries have been distributed to health workers like Ayele, to help them combat the virus. Part of the cooperation includes a 12-member Chinese medical expert team that arrived in Ethiopia's capital Addis Ababa on April 16.
The arrival of Chinese experts gave Ayele hope. "The materials [they brought] will help fill the existing gaps in terms of the pressing shortage of preventive materials and testing kits in Ethiopia and beyond, while the guideline and suggestions from Chinese experts will also help us respond to the epidemic with the latest knowledge based on China's experience," he told Xinhua News Agency.
China and Africa have had cooperation in the field of health over the past 57 years. On April 6, 1963, China's first medical team set off for Algeria, marking the beginning of the country's international medical assistance program. The presence of Chinese medical teams is now a common sight in many African countries, where they are saving the lives of tens of thousands of people. Since the outbreak of the COVID-19 pandemic, China-Africa health cooperation has stepped up and the two sides are cooperating through greater solidarity.
Feng Yong, Deputy Director of the International Cooperation Department of China's National Health Commission (NHC), said China-Africa cooperation in the field of healthcare embodies the spirit of humanitarianism and internationalism, calling the medical expert teams messengers of peace and friendship.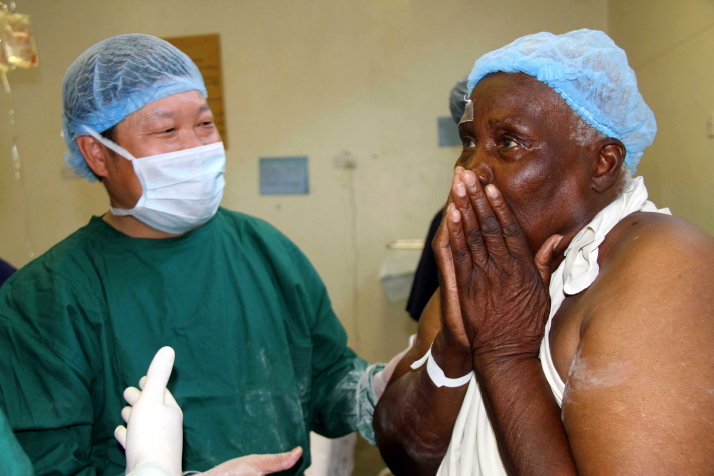 On November 23, 2010, at a hospital in Harare, capital of Zimbabwe, an old man is excited to find his sight recovered after a free cataract surgery offered by China's Brightness Action program in Africa (XINHUA)
Generational legacy
Li Jiahui, who turned 100 in 2020, called himself a "witness of history."
In 1963, China dispatched its first medical team to answer the call of the Algerian Government for medical assistance, after the withdrawal of French medical workers from the country that just gained independence. Li, who was deputy director of the Bureau of Foreign Affairs in the then Ministry of Health (now the NHC), was a member of the team.
"There were many difficulties at that time, but the Chinese doctors successfully fulfilled their tasks with a strong sense of mission." Recalling the turbulent years, she said, "It's still heartfelt."
Since then, according to statistics from the NHC, around 243,000 Chinese doctors and nurses have served in African countries and more than 220 million African patients have been treated in the past 57 years. Tragically, more than 50 members of Chinese medical teams lost their lives while on duty in Africa, such as Mei Gengnian.
Mei led the first Chinese medical team to Ethiopia in 1974, serving the local communities in Jimma City and died there in a car accident in 1975.
Local residents keep his memory alive by cleaning his tomb every year. Zewdie Haile, a resident of a Jimma suburb where Mei was laid to rest, is one of the second-generation voluntary protectors of Mei's tomb. Haile was about 3 years old when Mei died. She inherited the tomb caretaker duties from her late father, who was a respected leader in the town.
Today Mei is still fondly remembered, and his living legacy is regarded as a core manifestation of health cooperation between Ethiopia and China.
At present, 100 Chinese medical stations in 45 African countries are providing free services to local communities. In addition, the Chinese Government pairs up Chinese provinces and municipalities, with African countries, and dispatches medical teams accordingly, making the aid and cooperation more sustainable and targeted.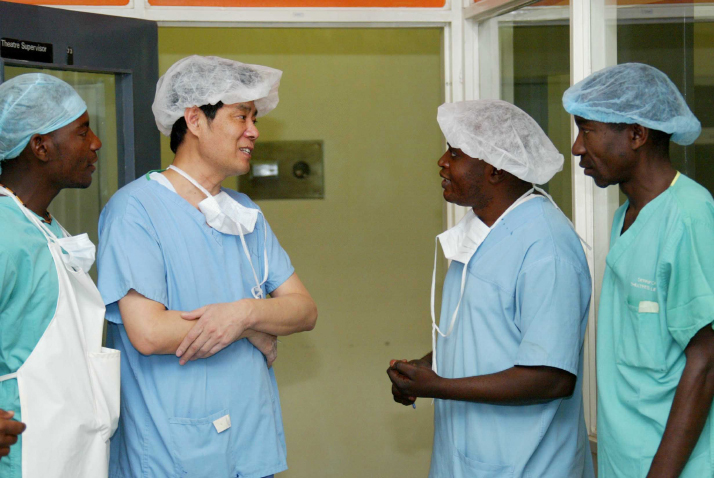 Wu Weiguo (second left), a member of a Chinese medical team, exchanges surgical anesthesia experience with local medical staff in Zambia on August 15, 2007 (XINHUA)
Fighting side by side
After two years, in 2020 Wang Junhui met up with his old friends at Sino-Congolese Friendship Hospital in the Democratic Republic of the Congo (DRC) capital of Kinshasa in May. But they couldn't hug each other as before.
"We must keep social distancing to avert the risk of infection," said Wang, who led a 12-member team of medical experts from Hebei Province in north China to the DRC from May 12 to 23 to help with the country's combat against COVID-19.
"I worked at the hospital from 2016 to 2018, so I was familiar with the country and its people," said Wang. At that time, he was a member of a Chinese medical team sent to help the country combat Ebola, a deadly infectious disease.
Chinese medics have always been ready to help when African countries are faced with major public health emergencies such as AIDS, malaria, Ebola and COVID-19. The sense of solidarity has become a model of cooperation for major public health emergencies.
When the Ebola struck in Western Africa in 2014, China sent more than 1,200 medical workers to 13 African countries, including the countries affected and their neighbors, to support containment efforts. This played a key role in helping Africans overcome the disease.
After the outbreak of the COVID-19 pandemic on the continent, China had sent 148 medical experts to 11 African countries who had asked for help in combating the pandemic by June 2.
Cooperation between China and Africa is conducive to improving the medical and health level of both sides. Chinese medical staff have gained experience in combating infectious diseases during their aid missions in Africa.
Among dozens of medical teams and technical experts assisting Hubei Province and its capital city Wuhan – where the first COVID-19 cases were reported in China, many were former medical team members who helped Africa in the fight against Ebola.
Chen Hong, a 57-year-old military doctor who participated in the anti-Ebola mission in Liberia in 2014, applied to treat COVID-19 patients in Wuhan's Huoshenshan Hospital on her own initiative in March.
"I accumulated rich experience in fighting the Ebola virus, so I am confident in treating infectious diseases," Chen said. "My participation will bring more hope and reduce risk."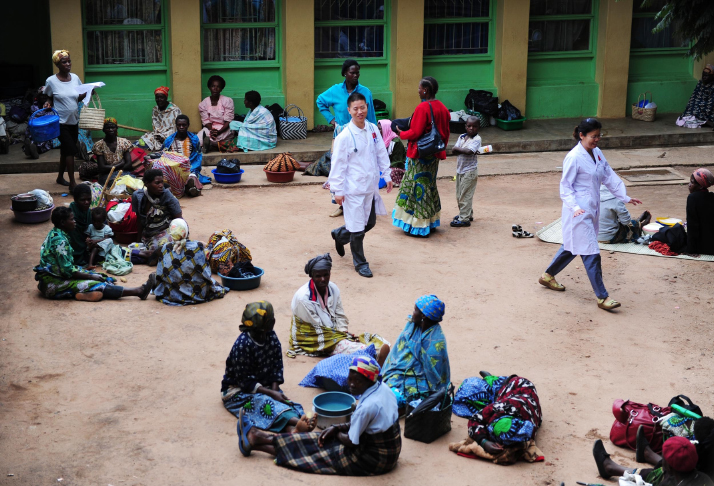 Two members of a Chinese medical team from Shaanxi Province are busy treating patients at a hospital in Lilongwe,capital of Malawi, on April 3, 2012, (XINHUA)
Gift of sight
In 2019, having struggled with his eye-sight for almost a decade, Charl Van Niekirk emerged from the operation theater with a smile, following a successful cataract-removal surgery conducted by a Chinese ophthalmologist in Windhoek's Central Hospital in Namibia.
Over nine years, eye problems had constantly hampered his life. But thanks to China's Brightness Action program that offers free cataract surgeries, he was fortunate to be one of many in Namibia to have his eyesight restored and hope injected into his life.
Since 2010, Chinese medical teams have offered free surgeries under the Brightness Action program in more than 30 countries in Africa, bringing the gift of sight to thousands.
Liu Hua, 57, still remembers the smile of her little friend Nshimirimana Thierry from Burundi, after the cataract-blind boy had his eyesight surgically restored in 2016.
At the time, Liu, together with four other senior eye-doctors from Qinghai Province in northwest China, performed nearly 200 cataract surgeries within a week in Burundi. Fifteen-year-old Thierry was Liu's youngest patient.
Thierry's grandmother begged for help, saying that the boy was her only family member as his parents and grandfather died years ago. "The old lady told me that Thierry had to drop out of school because of blindness, and she could not imagine what would happen to his life as a poor blind boy," said Liu.
Liu was as thrilled as Thierry after the successful surgery. "Even his neighbors were moved to tears," she said.
In Southern Africa, Malawi's Minister of Gender, Children, Disability and Social Welfare, Cecilia Chazama, highly appreciated the efforts of Chinese medics. "They have truly taken the suffering of African people to heart, and the free services of the Chinese medical team are a vivid presentation of China-Africa friendship and the spirit of international humanitarianism," she said.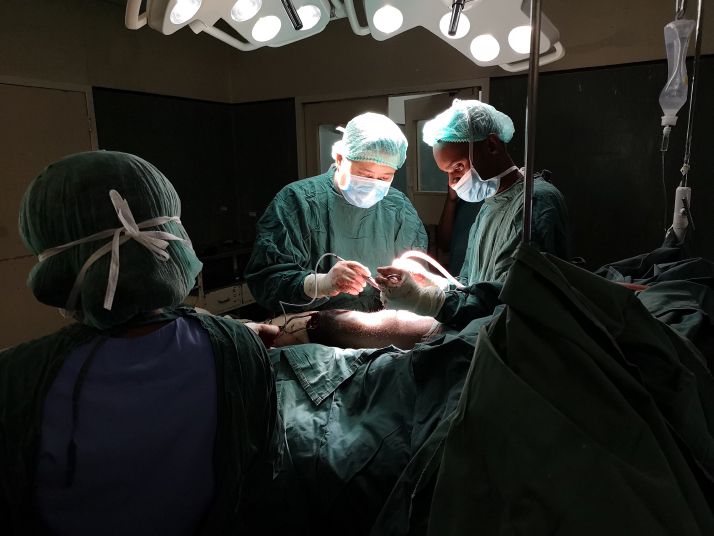 On July 26, Ai Yuan (middle), a member of the 16th Chinese medical aid to Zimbabwe, and two local doctors conduct an orthopedic operation at a hospital in Harare, Zimbabwe (XINHUA)
Capacity building
The shortage of trained medical personnel is one of the bottlenecks in the development of medical and health services in Africa. China's medical assistance to the continent has also undergone great changes over the past decade, with medical teams not only aiding Africa, but also training a large number of medical and health professionals.
"China-Africa medical cooperation has been expanded from sending medical teams to training local medical personnel; from building hospitals and providing free medical facilities and medication to conducting joint medical research," Ren Minghui, Assistant Director General for Universal Health Coverage/Communicable and Noncommunicable Diseases of the World Health Organization, told ChinAfrica.
"What we can learn from Chinese doctors are not only medical skills, but also diligence and dedication," Ghanaian doctor Joyce Kanol told Xinhua. According to the NHC, since 1963, Chinese medical teams have conducted training for tens of thousands of local personnel in African countries.
To strengthen the sustainability of Africa's healthcare services, China also offers vocational training for local youth to strengthen local medical capacities. In Mali, for example, a Chinese project called the Luban Workshop was jointly built by the Tianjin Medical College, Tianjin Red Star Vocational School and Bamako University of Science and Technology in 2019. Established to facilitate improved and healthier lifestyles in the region, the workshop offers practical courses about traditional Chinese medicine (TCM).
In the workshop's TCM specimen display area, Sade Konaté, a student at the university, found artemisinin (an aromatic plant effective in the treatment of malaria) among over 200 exhibited specimens. After stopping and observing it for some time, he took out his mobile phone and photographed the plant. "I have to remember it well, because it saved my life," he said.
At present, the COVID-19 pandemic is sweeping the world, including African countries. Chinese medical experts have held 14 video conferences with their African counterparts and the 46 Chinese medical teams in Africa have conducted nearly 400 training sessions for local medical workers regarding epidemic prevention and control, benefiting over 10,000 people, according to Chinese Foreign Minister Wang Yi.
Challenges ahead
The 57 years of Sino-African cooperation in health has seen much success, but still faces challenges ahead, according to Guo Jia, an assistant research fellow with the Institute of West-Asian and African Studies, Chinese Academy of Social Sciences.
"The COVID-19 pandemic has exposed the challenges of the China-Africa cooperation, highlighting the urgency of strengthening the construction of a global public health prevention and control system," Guo told ChinAfrica.
Therefore, in the future, promoting the modernization of public health-related software and hardware, as well as human resources development and training should be strengthened particularly in China-Africa public health cooperation.
In terms of hardware, Chinese President Xi Jinping said at the Extraordinary China-Africa Summit on Solidarity Against COVID-19 in June that China will vigorously support the construction of the headquarters of the Africa Center for Disease Control and Prevention, and continue to build hospitals for African countries. And the two sides will strengthen the cooperation between Chinese and African partner hospitals. Moving from general medical aid to cooperation in key specialty areas, this approach is more targeted and effective, and will be helpful in improving Africa's clinical specialty treatment capacity.
In terms of software, much importance should be attached to the application of technology in the provision of medical services and healthcare, Guo suggested. More training of management and medical staff along with additional transfer of technology will help African countries improve their self-reliance in public health, said Guo.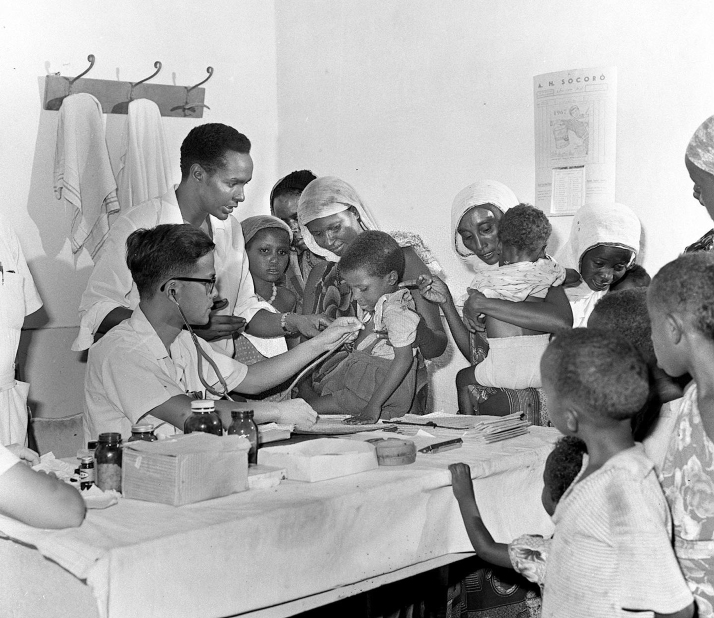 A member of a Chinese medical team provides medical care to children in Somali in 1968 (XINHUA)
------
China-Africa Health Cooperation Timeline
1963 China sent its first medical team to Algeria.
1978 China had sent medical teams to 27 African countries including Algeria, Tanzania, Somalia, Guinea, the Republic of Congo and Mauritania.
2006 At the Forum on China-Africa Cooperation (FOCAC), officials introduced measures to broaden bilateral cooperation in areas such as medical care and public health.
2010 Brightness Action team went to Africa for the first time, treating over thousands of cataract patients in Zimbabwe, Mozambique and Sudan.
2014 China sent over 1,200 healthcare professionals and experts to help African nations to fight Ebola.
2015 The FOCAC Johannesburg Summit listed public health cooperation as part of the 10 China-Africa cooperation plans.
2018 China upgraded 50 medical and health aid programs for Africa, with a focus on flagship projects, such as the headquarters of the Africa Center for Disease Control and Prevention and China-Africa Friendship Hospitals.
2020 China has sent 148 medical experts to 11 African countries who had asked for help in combating the COVID-19 pandemic by June 2.
(Printed Title: Caring About Health)
Comments to xyy@chinafrica.cn