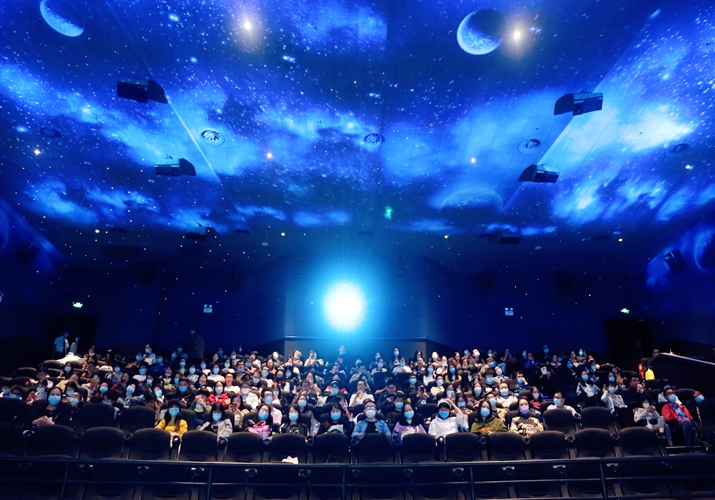 Moviegoers watch a movie
in a cinema in Shanghai
on October 16(
CNSPHOTO
)
Zou Menglei felt a great relief when the release date for her company's big-budget disaster film The Rescue was finally set for December 18, 2020. The film was originally intended for screening in January 2020 and had to be rescheduled due to the COVID-19 epidemic.
Zou is an accountant at Bona Film, a leading film producer and cinema operator in China. The company experienced a difficult time when cinemas across the country were shut down as a measure to control the epidemic. For over half a year, Zou and her colleagues at Bona, who had their salaries and work hours reduced, spent all that time worrying about when the big screens would ever light up again and if they would still have jobs.
The Rescue, directed by Hong Kong director Dante Lam, tells the story of a Chinese Coast Guard rescue unit that must put aside their personal differences to sort out a crisis situation. Zou was optimistic about its box-office prospects, considering the fact that viewers were returning to cinemas.
Big box-office revenue was raked during the eight-day National Day holiday starting on October 1, 2020. The total takings of about 3.7 billion yuan ($565 million) represented the second-highest figure for the period since comparable records began, only behind 2019's 5 billion yuan ($764 million). However, overall takings for 2020 were about 70 percent down from that of 2019 when it was 64.3 billion yuan ($9.2 billion) .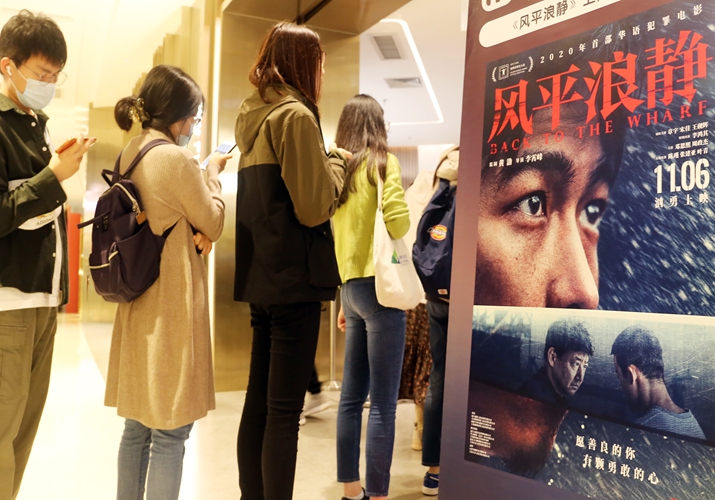 People line up to buy tickets in a cinema in Shanghai on October 16(CNSPHOTO)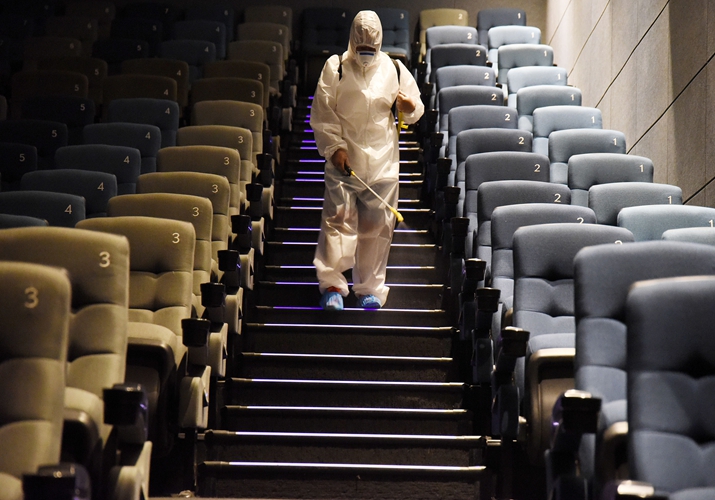 A staff member of a cinema in Handan, Heibei Province in north China, disinfects a screening
room on July 19
(CNSPHOTO)
Hard-earned recovery
On July 16, 2020, the China Film Administration announced that cinemas in low-COVID-19 risk areas were allowed to reopen on July 20, 2020, as long as all the prevention protocols were in place. On the same day the announcement was made, Alibaba Pictures and Enlight media, two major film makers, each announced their schedule for new movie releases.
The initial health requirements for cinemas were tight. All tickets had to be booked and sold online with no physical contact with customers, moviegoers were to be seated with at least 1-meter distance between them and no more than 30 percent of the seats could be occupied during each screening. Food and beverage sales, which are an important source of income for cinemas, were also prohibited.
In addition, the time for each screening was limited to no more than two hours, and longer intervals were required between screenings to ensure adequate time for cleaning and disinfection.
The first movies screened to test market response included previous blockbusters such as Wolf Warrior 2 and The Wandering Earth sourced by the China Film Group from their copyright owners. Agreements were made to give all profit generated from the screening to the cinemas.
The first ticket was sold by the Heping Cinema in Chengdu, Sichuan Province in southwest China. On the afternoon of July 17, 2020, the 60-year-old cinema started preselling tickets at an online booking platform and all its 165 tickets available for the first day of reopening were soon sold out.
The tickets were sold for 3.1 yuan ($0.47) each, of which 3 yuan ($0.46) was the surcharge paid to the booking platform. The cinema earned only 16.5 yuan ($2.5) from the tickets, but the staff were happy to be back and working.
"We were happy not because of the money earned, but that our customers didn't give up on us," said Bai He, Manager of the cinema, in an interview with the local media. He said the staff were working during the lockdown period cleaning and maintaining equipment, which allowed them to immediately resume operation.
The first new movie hitting screens was A First Farewell, the debut feature film of 32-year-old director Wang Lina and winner of the best film award at multiple film festivals. It contributed to around 44 percent of the day's box-office earnings across the country on July 20, 2020, which was around 3.6 million yuan ($550,000).
The real blockbuster emerged on August 21, 2020, when war epic The Eight Hundred began screening. The film depicts Chinese soldiers' defense of a warehouse against the invading Japanese army during the Battle of Shanghai in 1937. With marvelous visual and sound effects and a strong cast, it took in over 805 million yuan ($110 million) in its first week of release.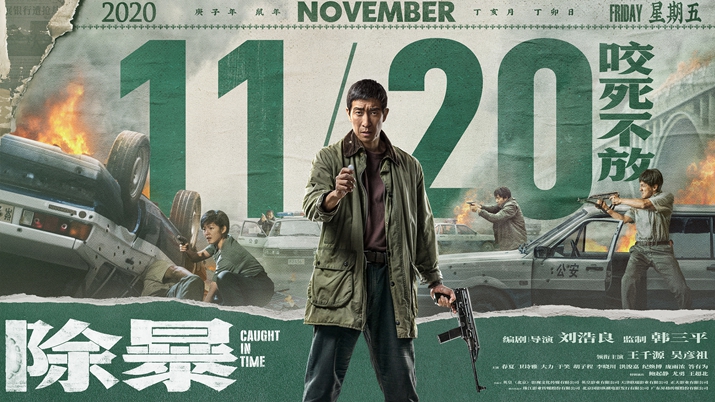 A poster of Caught in Time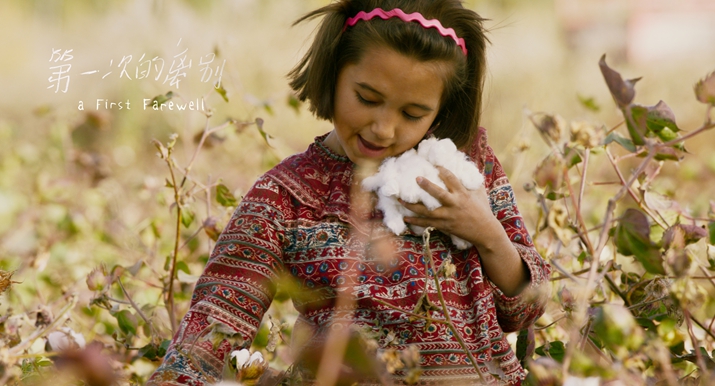 A still of A First Farewell
Challenges remain
Although the reopening of cinemas is allowed nationwide, with increasingly higher seat occupancy rates, sporadic COVID-19 cases in some regions scare off audiences.
Following the reporting of multiple cases of infections in Chengdu in early December 2020, the number of moviegoers dropped sharply.
In Mengla County, Yunnan Province in southwest China, all cinemas were shut down on December 7 after two imported cases were identified.
Apart from concerns over the coronavirus, the lack of high-grossing movies made it difficult for cinemas to maintain consistent box-office income. For example, on November 11, 2020, cinemas across the country pulled in only 30 million yuan ($ 4.6 million), less than the performance of a single romance movie Love Is Not Blind on the same day in 2011.
The week that followed generated less than 400 million yuan ($61 million) in revenue, the lowest in 12 consecutive years. Cinemas had to wait for the release of Caught in Time on November 20, 2020 for a shot in the arm. This crime film earned over 50 million yuan ($7.6 million) on its first day of screening.
Traditionally, a large part of November revenue is contributed by Hollywood blockbusters. Due to the coronavirus pandemic, however, many big-budget Hollywood movies were suspended last year. The highly anticipated Hellboy: Rise of the Blood Queen, released on November 9, didn't live up to expectations.
Challenges also came from fast-growing online streaming platforms, which are showing ambitions of competing with cinemas for big-budget movies.
One case that triggered heated controversies was the online release of Lost in Russia, the latest of a comedy series directed by Xu Zheng. When the screening was suspended due to the epidemic, its major producer announced that the movie would be first streamed online from January 25, 2020, the Chinese New Year.
The deal was beneficial to multiple parties. Netizens had a free movie to watch during holiday, the producers secured a considerable profit, and the online platforms involved won greater public recognition. The only party unhappy about it was the cinemas, calling the deal a betrayal under a difficult situation.
But similar trends are also showing in the international market. Due to poor cinema performance, U.S. film maker Warner Bros announced on December 3, 2020, that its 17 films for 2021 would be streamed online at the same time they hit screens, instead of several months later.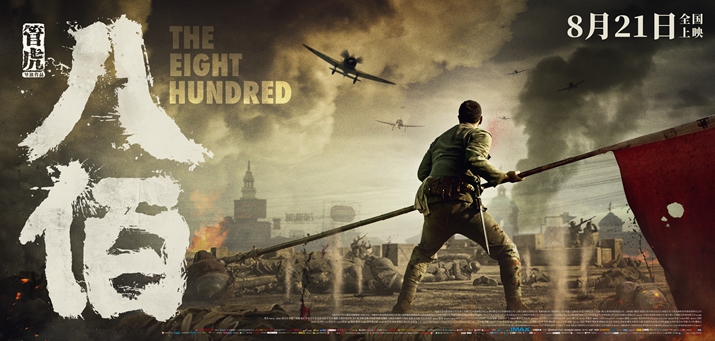 A poster of The Eight Hundred
Quality-oriented solution
For the film industry, the epidemic brought not only challenges, but also the drive for them to make better films. Yu Dong, President of Bona, predicted at a forum during the Beijing International Film Festival on August 26, 2020, that 2021 would see a substantial lack of Hollywood movies in Chinese cinemas.
"High-quality domestic movies are needed to make up for the shortage," he said, calling on Chinese moviemakers to mobilize the best resources possible to meet market demand.
Feng Wei, Vice President of the Asia-Pacific Region and President of the Greater China Region of the Motion Picture Association of America, said at the forum that although online streaming platforms have brought great challenges to cinemas, good films are welcome.
"Films that perform well in cinemas also perform well on online platforms, and conversely frequent cinema visitors are also frequent visitors to online platforms," he said.
(Print Edition Title:

Big Screen Return

)
Comments to hufan@chinafrica.com