Samantha Miyanda, a student at the University of Lusaka, Zambia, still speaks with emotion of the moment when her fellow Zambian athlete Sydney Siame won the gold in the athletics 100-meter final at the 2014 Youth Olympic Games in Nanjing, east China's Jiangsu
Province. And for good reason: She was there in the stadium when her idol stepped on the podium and the Zambian national anthem was played. "Being given the opportunity to be at the Nanjing Olympic Games is the experience I will never forget. Having everyone stand up with our national anthem being played was amazing. We never get to hear our national anthem played at international competitions, so experiencing that for the first time meant so much for me," said the 25-year-old.
Miyanda attended the games not as an athlete, but as the Young Change-Maker (YCM) representative from Zambia. One of the major activities listed in the strategic roadmap of the International Olympic Committee (IOC), the YCM program aims at fostering young leaders between the ages of 20 and 30. Under the program, explained Miyanda, YCMs can volunteer their time and passion to leverage the power of sport for a better world. Three years later, Miyanda continues to embody and carry forward the Olympic va­lues and spirit she experienced in Nanjing. Since returning home from China, she has focused on putting in place a mentorship initiative in her community with a special attention to empowering young Zambian girls like herself.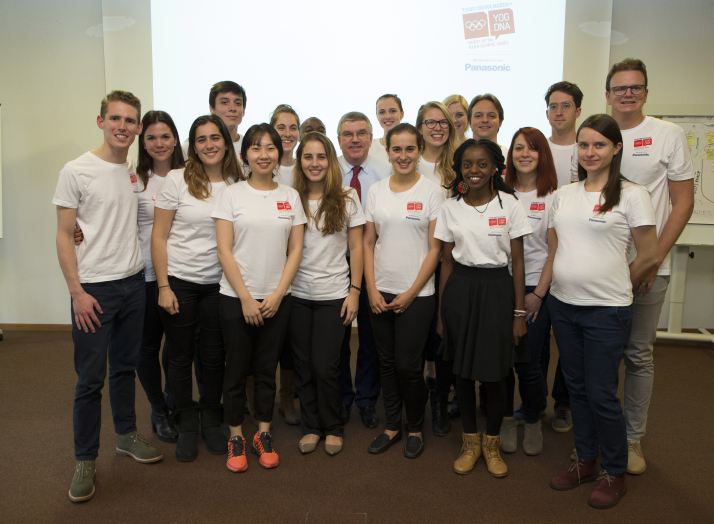 Last November, Samantha Miyanda (first row, third right) went to Switzerland to present her project to the IOC President Thomas Bach (center)
First kicks
Although Miyanda was a latecomer to sports - she joined her first football team at 18 - that did not stop her from becoming the passionate advocate she is now. When not busy with her studies at University of Lusaka, she works tirelessly to convey the joy and pleasure of sportsmanship to her fellow Zambians.
"I have always loved football, but I grew up in an environment where education was top priority and sport was just for recreation purposes. Besides, we didn't even have sports centers around my neighborhood," she recalled. "In 2010, the Olympic Youth Development Center (OYDC) was opened in Zambia and with a boost from my grandma, I went to join a football team."
For the first time, Miyanda kicked a ball and played as part of a team. "The experience of making new friends daily and playing was fascinating. From then on, football became my second love," she said.
Miyanda's involvement with the OYDC led her to apply to represent Zambia in the YCM program. Despite fierce competition, she was selected for the role with a clear mission in mind.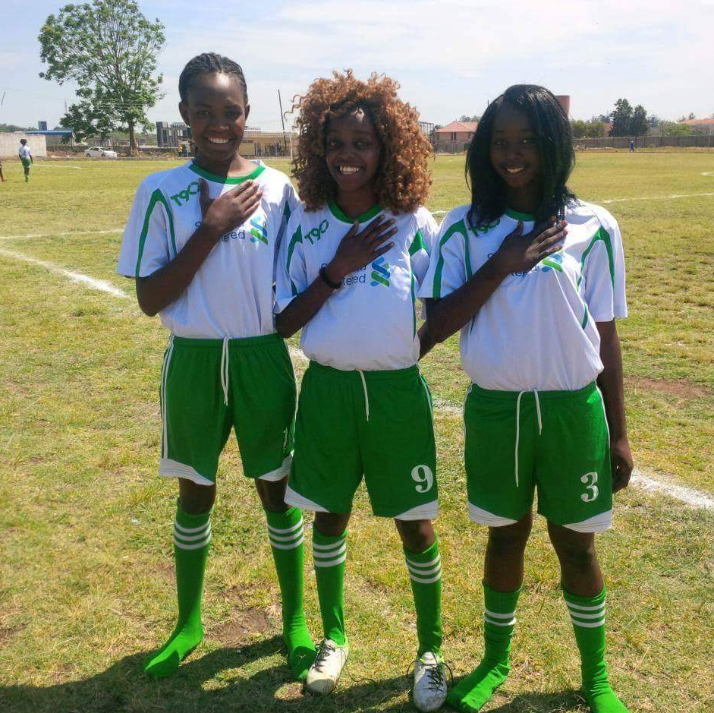 Although Miyanda (center) was a latercomer to sports, that did not stop her from becoming the passionate advocate she is now
"Ever since I joined sports, the only thing I wanted to do was to create more opportunities for girls because I realized girls in my country are not given the platform to excel in sports. Being at the Youth Olympic Games in Nanjing showed me how far determination, focus and discipline could take me," she said.
As part of the YCM program, athletes, students and young sports professionals can submit a project combining social entrepreneurship and sports to improve their community, with areas of focus including health, inclusion, sustainability, peace and development. The best projects are awarded a seed funding of $5,000. According to the IOC, there are now more than 100 YCM ambassadors from every continent.
"YCM is centered on young people who have great ideas to improve their communities through sports. When you look at the values of the IOC, we want to build a better world through sport, and these are young people who are on the ground doing just that," said Eric Mitchell, former Olympic athlete and YCM ambassador from Canada.
Improving life
Miyanda's focus has always been on bringing equal education and work opportunities to young girls in Zambia.
Her project, called Girls Mentorship Sports Program, now involves 20 young girls who are active in sports. It aims at helping them achieve their goals by establi­shing mentoring relationships with successful women from different fields in Zambia.
"I picked this program because for a long time, I have always wanted to create an educational opportunity to better equip girls to excel in the sports industry, which is often male-dominated," she said. "The development of peer leaders, coaches and educators is a key outcome of this project."
Sports, she added, can help Zambian women solve some of the issues they are facing, such as low literacy levels, gender-based violence and poor knowledge of reproductive health and rights.
"For example, we engaged with leaders in sports in Zambia who have all stressed the importance of education for their success in the field. This has been an eye opener for girls involved in the program and most of them returned to school to further their studies," she said.
As part of her mentorship program, the girls are trained in HIV/AIDS prevention, nutrition, the Olympic values, entrepreneurship and leadership.
"Some will go on to become qualified coaches, and some will pursue other careers. The program taps into the expertise of influential women in my country, who are sharing their ideas and experiences to inspire these girls to reach their maximum potential," she noted. "Some girls involved in the program have also been offered internships. This will equip the girls with skills that make them employable."
Her project has received the active support of a number of leading sports figures in Zambia, including Director of Sport at Ministry of Youth and Sports Bessie Chelemu, and Enala Phiri, head coach of the country's women's national football team. In November 2017, Miyanda even got an opportunity to travel to Switzerland and introduce her project to IOC President Thomas Bach.
As a core element of her project and of the entire YCM program, Olympic values, said Miyanda, extend far beyond the playing field and can play a leading role in people's daily lives.
"Olympic values are human values. Friendship, pursuit of excellence, balance between the body, will and mind, fair play and respect are values that, if embraced and applied, can help individuals achieve more, become better and live in harmony with each other," she said.