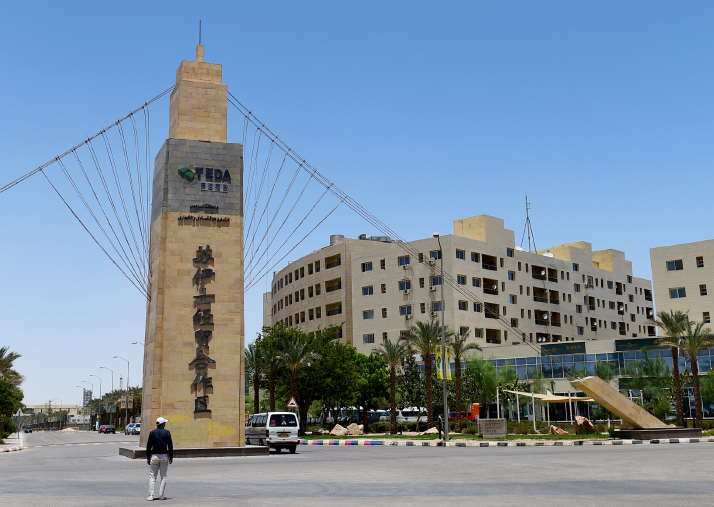 Sino-Egyptian Suez Economic Cooperation Zone in Egypt XINHUA
Ethiopia has been a shining light in Africa for the past decade with its impressive annual GDP growth rate of nearly 11 percent. Seyoum Mesfin, Ethiopia's Ambassador to China, said that his country is drawing important lessons, such as investment-driven development, establishment of special economic zones and attracting investment, from the ways in which China has achieved its globally recognized economic miracle. "[The fact that] more than 600 million people have been lifted out of poverty in over 30 years is enough to prove the success of China's development model. It is a good example for us," he said. "We would also like to achieve comm­on growth with other African countries through China's model of development."
Development model
Driving approximately 30 km out from Bole International Airport in Addis Ababa, the Eastern Industrial Zone (EIZ) comes into sight. Started construction in 2007, it is the country's first industrial park built and officially operated by foreign investment. The zone is conveniently situated beside both rail and road connections that can transport goods to the port at Djibouti. Currently, the vast area is home to some 20 Chinese-invested companies, ranging in diversity from shoemaking, textile and garments to automobile, steel, cement and packaging. Far behind the gate, a well-groo­med landscape surrounds dozens of new factories. Car maker Chongqing Lifan Group is among those Chinese companies that have established their brands in Africa. The group's auto factory in the EIZ has an annual production capacity of about 3,000 vehicles.
"Lifan has overtaken Toyota as the biggest in new car sales in Addis Ababa, and you can see our sedan, the Lifan 520, everywhere in that city," said Mu Gang, President of Chongqing Lifan Group. "Our next move is to make our brand better recognized locally."
A short walk from Lifan is Chi­nese shoemaker Huajian Group's Ethiopian subsidiary, which was launched in January 2012. Currently, shoes made by this factory account for more than 50 percent of the Ethiopian footwear export value, totaling over $80 million in 2016, which also facilitates such viable spin-offs as leather processing, transportation and logistics. The factory now creates thousands of jobs for locals.
Jiao Yongshun, Deputy Director of the EIZ Administrative Committee, who witnessed the robust development of the zone, said that by the end of July 2016, the total output value of the zone reached $550 million, generating more than $41 million in tax revenue for the host country and creating over 8,000 local jobs. China's investments in light industry and processing trade in Africa generates increasingly more spillover effects, boosting local employment and advocating the entrepreneurial spirit, said Professor Lu Feng with Peking University's National School of Development.
Cluster development
EIZ's successful experience has been highly praised by the government. Arkebe Oqubay Metiku, Special Advisor to the Prime Minister of Ethiopia, has, on many occasions, said that the EIZ set a good example for Ethiopia, which plans to develop more industrial zones in the nation's modernization drive.
That optimism is echoed by Ethiopian Prime Minister Haile­mariam Desalegn, who said his government has made great efforts to carry out agriculture reform and build a manufacturing base.
Industrialization has been incorporated in basic national development strategy by building industrial zones and strengthening industrial capacity cooperation with China, said the prime minster.
The country is building 14 industrial parks, allowing foreign investment to create jobs, especially in textile and garment manufacturing, equipment manufacturing and pharmaceutical industry, according to La Yifan, former Chinese Ambassador to Ethiopia.
In 2016, Chinese companies built Africa's first modern electric railway, which links Ethiopia's capital, Addis Ababa, and the port of Djibouti, significantly reducing transport time, something that has come as good news for the Chinese enterprises involved in agro-products that need their produce kept fresh. To enhance the profitability of the line, the Ethiopian Government will work with the Chinese Government to build a number of industrial parks along the route, according to Mesfin.
Industrialization spreading
The second China's African Policy released at the Johannesburg Su­mmit of the Forum on China-Africa Cooperation held in South Africa in 2015 includes the policy support for building a new strategic positioning for China-Africa relations. The paper clearly stated that China is supportive of African countries' development of special economic zones, industrial parks and science and technology parks to attract investment and skilled personnel. It will guide, encourage and support the efforts of Chinese enterprises to jointly build economic and trade cooperation zones in Africa to serve as important platforms for promoting China-Africa industrial capacity cooperation.
Statistics show that in Africa, the­re are now more than 20 trade and economic zones invested in and built by Chinese enterprises, attracting more than 360 Chinese companies, ranging in diversity from manufacturing, textile and garments, machinery manufactur­ing to household appliances and electrical equipment, with total investment of nearly $4.7 billion. The total output value reached $13 billion, generating more than $560 million in tax revenue and creating 26,000 local jobs, with a promine­nt industrial agglomeration effect. As an integral part of important initiatives of China-Africa cooperation, a China-Africa industrial capacity cooperation fund, which was established in 2016 with an initial capital input of $10 billion, was designed to strengthen the bilateral cooperation in the construction of economic zones and industrial parks.
"China's experience shows that the industrial park will not only enhance local economic growth, but also promote social modernization and improve government's governance capacity," said Tang Xiaoyang, Associate Professor in the Department of International Relations at Tsinghua University.
Tang was amazed at the changes taking place in EIZ within a few years. When he visited the zone in early 2009, he found dozen containers scattered in the open space, some of which were used as temporary offices. Only two years later, when he set foot on the park again, he was met with a secure area with good roads and neat rows of factories in an area of about 130,000 square meters, fully equipped for modern manufacturing with a guaranteed power and water supply, an efficient sewage system, and landscaping.
"Inspired by the successful experience of China's model of special economic zones, in recent years, many African countries, such as Uganda, Zimbabwe, Tanzania and South Africa, have also started similar construction," said Tang, adding that industrialization is returning to Africa. Evidences proved that the construction of industrial zones can meet the demand of attracting foreign investment of the host countries, said Chen Zhong, Director of the Department of Outward Investment and Economic Cooperation of China's Ministry of Commerce. "The industrial zone model has become an important platform for boosting the Belt and Road Initiative and carrying out international capacity cooperation," he added.