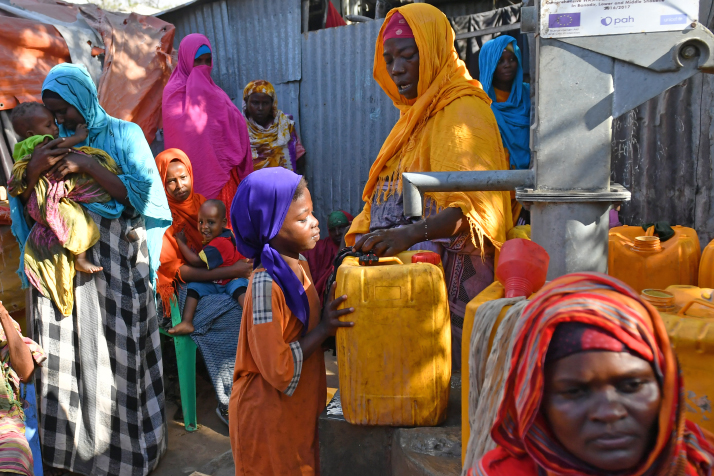 A girl in Mogadishu, Somalia, gets her daily ration of water in March 2017 (Sun Ruibo)
The socioeconomic growth and development in Africa cannot be overemphasized as the continent moves into the future. Africa has, over the last decade, become one of the fastest growing and attractive regions in the world, with a $1.96-trillion economy growing at about 6 percent. Yet there are also undeniably daunting challenges facing the continent. These are most notable in the areas of industrialization, water and sanitation, technological advancement, conflict and food security.
The growth has, therefore, called for a critical need for the continent to develop a strategy to address the situation holistically.
The McKinsey Global Institute, the business and economics research arm of global management consulting firm McKinsey&Co., in a study called Africa at Work, summed up Africa's impressive economic potential and prospects by noting that the continent "is poised to reap a demographic dividend." It's sad to note, however, that in this growth process, water remains a critical area as yet untapped and unattended to. The continent is bedeviled with the menace of a water crisis and the situation will get worse if proactive steps are not taken to mitigate the crisis.
More than half of Africa's population is aged under 25, and in 2050, Africa's population is estimated to double, reaching 2 billion, according to the U.S.-based Population Reference Bureau (PRB). In this decade, Africa will add a further 122 million people to its workforce.
This revelation calls for building a solid socioeconomic infrastructure vital for sustaining the population boom and critical needs and demands the continent is faced with. Water remains top on the list to serve as a necessary catalyst needed for championing the projected socioeconomic, industrial, political and technological growth of the continent.
Growing water demand
Africa's rising population is driving demand for water and accelerating the degradation of water resources in many countries.
Sub-Saharan Africa has a relatively plentiful supply of rainwater, with an estimated average annual precipitation of 815 mm, according the Food and Agriculture Organization, but it is highly seasonal and unevenly distributed across the region, and there are frequent floods and droughts. The greatest amount of rainfall occurs along the equator, especially in the area from the Niger Delta to the Congo River Basin. The Sahara Desert has virtually no rainfall. In West and Central Africa, rainfall is exceptionally variable and unpredictable.
The water problem in Nigeria has reached crisis point. In Lagos, about 90 percent of the residents do not have daily access to clean and safe water. Researches show that for an average family of four in Lagos, a sizeable portion of their income is utilized to meet water requirements.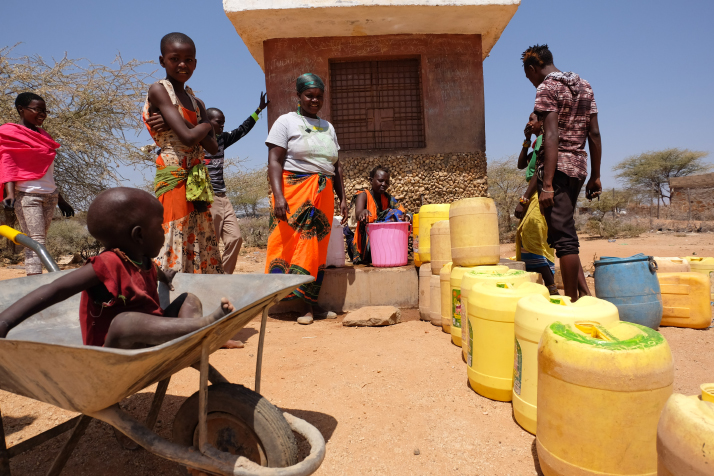 People in drought-hit area of Kenya wait to get water (Pan Siwei)
To adequately address the issue of water scarcity in Africa, the United Nations Economic Commission for Africa emphasizes the need to invest in the development of Africa's potential water resources to reduce unnecessary suffering, ensure food security, and protect economic gains by effectively managing droughts, floods and desertification. Ongoing efforts to achieve this include an emphasis on infrastructural implementations and improvements of wells, rainwater catchment systems and clean-water storage tanks. In addition, one area where there is much to gain in solving the water crisis is through the use of technology. With the growing number of mobile users on the continent, there is much to gain through technology, right from the billing systems to the water distribution and the entire value chain.
Key interventions
Africa, for all these years, has benefited from loans and grants from development organizations, other countries and donor agencies toward the provision of safe and clean drinking water. Notwithstanding, more investments are needed for this sector to meet the exponential growth of other sectors across the economy. The contributions of the African Union, the World Bank, the United Nations, African Development Bank (Water Facility), China, the United States, among others, cannot be overemphasized. Corporate organizations and non-governmental organizations have also played critical roles in addressing the water menace.
The water situation in Africa can only be mitigated if all the stakeholders in the value chain could develop a strategic roadmap with needed investment and priority focus, in addressing it as global security threat to humanity.
Key areas of focus should include, but not limited to the following:
• Reevaluating available water resources, both surface and underground;
• Putting in effective and efficient water management system;
• Analyzing the entire demography and necessary factors propelling the growth, especially in the area of housing, consumer attitude, industrialization and culture;
• Encouraging technological advancement - water recycling, reverse osmosis and desalination technology;
• Improving water harvesting technology;
• Strengthening water treatment and quality control;
• Putting monitoring and evaluation at the center of the actualization of government plans;
• Increasing government budgets in this regard;
• Implementing a proper water and sanitation costing project, tagging it to the expected growth of population and industrial activities; and
• Drilling and repairing boreholes, implementing water restriction systems, awareness campaigns, and facilitating disaster funding.
Conclusion
In the above reflections, Africa's problem is not unavailability of water, but rather unavailability of safe drinking water. To solve the problem, good leadership is important. In that light, putting in an effective and efficient governance system would go a long way to harness the water resources and add value not only to human dignity, but also to the entire ecological system.
There is the need, therefore, to enshrine best practices in quality control, water management, water conservation, and policy frameworks and directions to address this issue. Investment in this sector should remain a top priority across every spectrum of life.
Above all, stringent measures are needed to drastically reduce and fight corruption in the water value chain. Corruption remains one of the greatest underpinning variables negating access to clean and safe drinking water. If this is managed well, many Africans would have access to clean drinking water, which is a basic requirement for human health, and the deficit in this sector will be drastically reduced.
(The author is president of Water for Rural Africa, an NGO in Ghana)