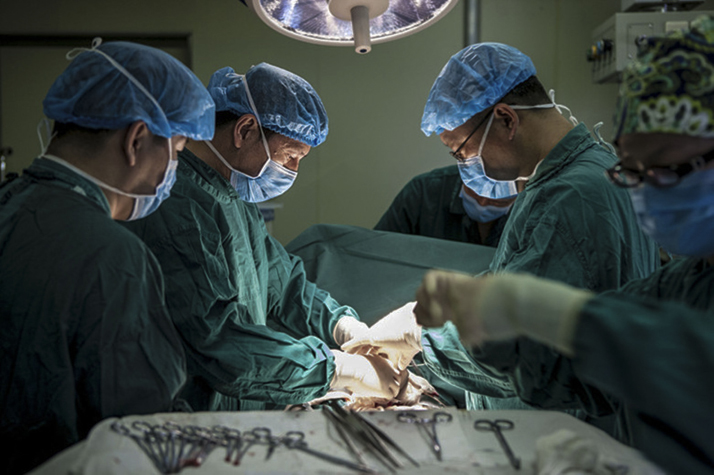 At present, there are a total of 173 transplant hospitals in China basically covering all the organ transplant categories
Wu Yue, a lung transplant recipient, now regards August 31, the day she underwent surgery, as her re-birth day.
In the eyes' of many people, the 30-year-old woman is an embodiment of love, diligence and intelligence. However, five years ago, her world came crashing down and she was on the verge of death after being diagnosed with advanced pulmonary lymphangioleiomyomatosis, a rare lung disease. She wanted to survive, and although the doctor suggested a transplant surgery, donated organs were rare.
On August 31, 2013, the turning point came, when she received a donated lung from a deceased boy. "When I heard the news, I was so grateful for him and his family. I have to survive, for myself and also for him," she said.
Wu said that while many people see her circumstances as unfair and sympathize with her, she sees herself as very fortunate to have had the transplantation.
Wu is not the only one lucky enough to get a new lease of life through organ transplantation. In March 2010, Red Cross Society of China (RCSC) and Ministry of Health of China (predecessor of National Health and Family Planning Commission of China) started the current organ donation system to raise public awareness of the importance of organ donation to extend another's life. From 2015, voluntary donation became the only legal source of organs in China. Today, the remarkable achievements made have seen tens of thousands of patients get a new life through organ transplantation.
Second life
Li Haochen, a terminally ill six-year-old boy, wiped away his mother's tears after she signed a document allowing organ donation for him. In China, every post-death organ donation must be approved by relatives.
"Mom, do not be sad. I want to be with you all the time; but if I leave, I would donate my eyes so I can continue to see the world and there will be another me around you," Li said, consoling his mother.
In September 2017, Li and his family decided to donate his corneas after his death as he was diagnosed with aplastic anemia, a serious blood disease, in 2015. There was one way to save Li. His mother later gave birth to a girl, hoping to save her son's life with the blood found in the newborn's umbilical cord. The blood could be injected into Li to restore the stem cells that give rise to blood cells. Unfortunately, the boy's age meant he had missed the optimum time for this transfer. It was then that the whole family decided to donate his cornea after he passed away.
Naturally, Li's parents are heartbroken at their inability to save their son, but they also see the importance that his life can be extended in another way. Every registered organ donor is awarded a certification which will be kept by their families.
Previously, not all Chinese had the same attitude toward organ donation as Li's parents, as traditional Chinese customs call for deceased people to be buried or cremated with their organs intact.
Public understanding of organ donations has significantly improved over the years since China started the organ donation system, and the number of people registering for organ donation is also on the rise. According to RCSC, more than 370,000 people were registered as organ donors in China with 41,509 organs being donated by the end of 2017.
Well supported
The rising public awareness of organ donation in China has contributed to the emergence of a new profession - organ donation coordinator. By May, 2017, China had more than 1,500 organ donation coordinators acting as liaisons with frontline staff at the country's hospitals to build a bridge of life between the deceased and the patients. Their main tasks are to approach families of potential donors and clear the way for the donation procedures.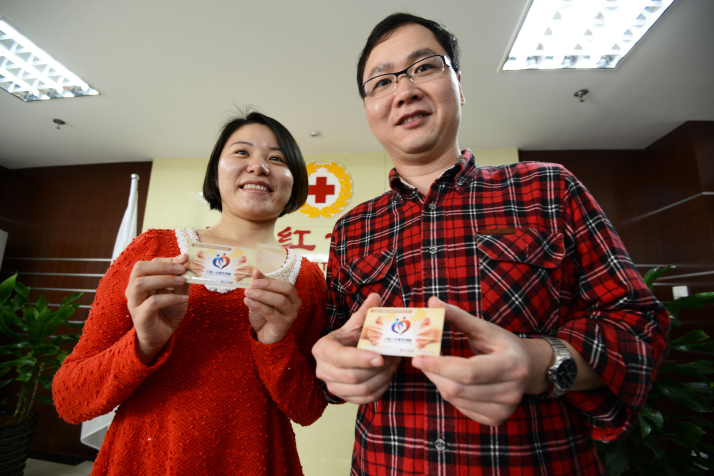 A couple get China Organ Donation Card after they sign to agree to donate organs after death
Wang Lu has coordinated and witnessed over 70 cases of human organ donation since she became an organ donation coordinator in 2010, the year the profession came into being.
"What we are doing is to popularize and let more people know about organ donation instead of persuading people to donate," Wang said.
China's great strides in this field cannot be separated from government support and a thorough medical care system.
In recent years, the Chinese Government has made a lot of efforts in drawing up and improving laws in management of human organ transplants, organ donation, organ acquisition and distribution, organ transplant clinical services and organ transplant supervision. At present, there are a total of 173 transplant hospitals in the country, basically covering all the organ transplant categories. The waiting time for transplants has been significantly shortened, and the service capability and quality have reached an international level, while the cost is far lower than that of developed countries.
Besides, there are many supporting policies for families of organ donors. In 2012, east China's Zhejiang Province took the lead in issuing a series of policies on humanitarian aid to organ donors. The government provides subsidies for medical expenses that need to be paid by donors. In Nanjing of east China's Jiangsu Province, and Chongqing in southwest China, organ donors receive a free funeral service. By July 2016, the RCSC branches in most provinces in China had set up organ donation funds to provide medical subsidies to family members of donors.
Convenient channel
The Internet has also helped promote organ donations in China.
In December 2016, China Organ Transplantation Development Foundation cooperated with Alipay, the online payment platform of Chinese e-commerce company Alibaba, and established an online platform for the public to register as an organ donor.
The platform provides convenience for the public. In the past, registering as an organ donor was a time-consuming process. However, the real-name users of Alipay are able to register to become organ donors on the payment platform in less than a minute.
Huang Jiefu, Chairman of the China National Organ Donation and Transplantation Committee, said the concept of organ donation should be promoted using Internet technologies.
"Such methods can help promote the idea of organ donation among the public, particularly the younger generation, who are major Internet users," Huang said.