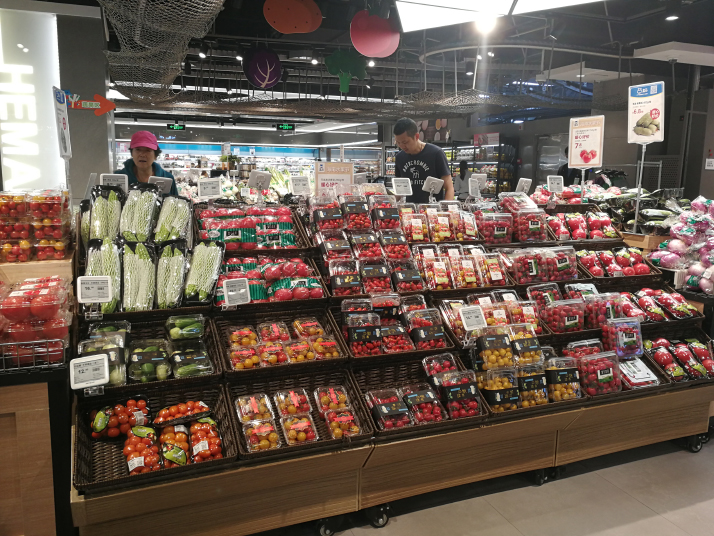 Customers buy fresh vegetables in one of Hema's grocery stores in Beijing
For Hao Xufeng, a 25-year-old young woman living in Beijing, shopping for clothes online has already become a habit.
"It's a lot cheaper, but it also creates new problems," she told ChinAfrica, adding that she often has to browse online shops for many hours before finding clothes to her liking. More often than not, she said, the clothes she found do not fit her.
She is not the only one. In the current era of e-commerce, many customers spend a lot of time carefully selecting products that they eventually return to vendors. Moreover, Hao said she never buys fresh food products online. "When it gets home, it's already musty. I prefer to see meat and vegetables in front of me in the store when I buy them," said the young woman.
It is precisely to solve these problems that New Retail was born, a concept first proposed in October 2016 by Jack Ma, founder and CEO of Alibaba Group. "In 10 or 20 years, e-commerce will have made way for New Retail," he said.
According to AliResearch under Alibaba, New Retail revolves around building a sales ecosystem merging online and brick-and-mortar channels by leveraging big data, cloud computing and artificial intelligence, while always putting the focus on consumers. Rather than trying to convert online users into offline customers, or vice versa, e-commerce giant Alibaba wants to use data and technology to enhance the retail experience, including offline.
Alibaba is not alone in wanting to "revolutionize" the Chinese retail trade industry. Tencent, a Chinese Internet giant, JD.com, the second biggest e-commerce platform in China, and Baidu, the biggest Chinese search engine, have become dynamic players on this new front. In 2017 alone, Alibaba and Tencent invested at least 100 billion yuan ($15.9 billion) in brick-and-mortar businesses.
If so many great players are shifting their focus to offline businesses, it's because of the bottleneck that is currently building up in the virtual domain. "According to available data, the number of online consumers active on a daily basis was around 500 million in 2017. The market is saturated, and it is no longer easy to maintain growth. We must, therefore, turn our attention to offline," said Wang Youwei, Associate Professor at Shanghai's Fudan University.
Among new initiatives, Hema, Alibaba's only offline brand, can be considered a great success. Its first store opened in January 2016 in Shanghai, and encompasses three functions: supermarket, restaurant and vegetable market. According to Hou Yi, Hema's CEO, all Hema stores have turned profits since they opened six months ago, even though prices are relatively low.
"Our low prices are due to the fact that we buy directly from the source, which eliminates intermediaries," said Hou. This procurement method guarantees the freshness of the products, which benefits both consumers and farmers.
Emerging opportunities
During the 2018 Two Sessions of the National People's Congress and the National Committee of the Chinese People's Consultative Conference in March, New Retail was very much the talk of the town in Beijing. Li Jun, Deputy to the 13th National People's Congress visited a Hema store in Beijing. From a village in Sichuan Province in southwestern China, he was very interested in understanding how New Retail could allow city dwellers to have access to better quality agricultural products at a lower price.
Indeed, New Retail goes hand in hand with agricultural industrialization. With its direct procurement method in the producing region and zero intermediary supply chain, it enables operational standardization, brand building and traceability.
"This innovative retail mode offers new opportunities to agriculture businesses and villages," said Li, who hopes that New Retail can engage with more farmers in a new mode of cooperation to revitalize and enrich the countryside.
Such growth also means new and more job opportunities. According to a report of the Labor and Human Resources Department of Renmin University of China, Alibaba created 36.81 million jobs in 2017, an increase of 6 million compared to 2015. Such growth is due in a large part to New Retail, according to experts.
In addition, brick-and-mortar stores opened by Internet companies also contribute to job creation. For example, to date, Hema has opened 40 stores in 10 Chinese cities, which has also given rise to a demand for more talents in training, sales, logistics and data analysis. According to the 2018 Report on the Work of the Government, China will seek to develop new types of jobs by leveraging Internet Plus. To this end, New Retail has the potential to play a major role.
As early as November 2016, in fact, the Chinese Government published a document on offline business innovation that mentioned the emergence of New Retail. Later, in September 2017, the Ministry of Commerce conducted a survey on New Retail and praised Hema's experience in this area.
"When a new type of industry emerges, the government can play an important and positive role. As New Retail advances on the road of development, it must not miss out on the government's guidance and support," concluded Zhang Jian, an expert from the China Electronic Commerce Association.
The Major Features of New Retail Stores Include:
* A connection to an online payment system is established when you enter the store.
* Price tags are electronic, and prices vary in real time based on certain factors.
* Facial recognition technology is used to track customers. Discounts are offered on items they smile at or that they have searched for online.
* Items can be purchased for later delivery. The system already has the purchaser's home address on record. Delivery in major cities in China takes from 15 minutes to three hours.
* Customers can receive location-based store recommendations and discount notifications on their mobile devices, as well as driving traffic to offline stores.
* Customers can "try on" apparel and makeup items virtually, with the help of RFID (radio-frequency identification) and AR (augmented reality) technologies.
* Customers can scan images using AR technology to visit product listing page and collect coupons.
* There are also innovative technologies like a cloud shelf that stores purchasing behavior data, facial recognition information, etc.