On May 16, Chinese Ambassador to South Africa Lin Songtian accompanied Ebrahim Rasool, ANC election campaign leader in the Western Cape and former Premier of Western Cape, for a site visit at the Hisense South Africa household appliance factory in Atlantis, Cape Town.
They visited the fridge and television assembly lines and were briefed about the company's operation, sales, localization rate, excising of the corporate social responsibility, and in particular, its contribution to the local social and economic development.
Ambassador Lin said that the project of Hisense South Africa is an important achievement of China-South Africa comprehensive strategic partnership and the friendly relations of peoples of the two countries, which is attributable to South Africa's sound investment environment and the strong support of the government and people of South Africa.
Lin said that this project has brought tangible benefits to the South African people. With only 35 Chinese employees, the factory has created over 2,700 local jobs, and generated large sums of taxation revenue and foreign exchange reserve for the South African Government.
Lin pointed out that the factory's modern assembly lines, pleasant working environment, and harmonious investor-labor relations epitomize the mutually beneficial and win-win nature of China-Africa cooperation.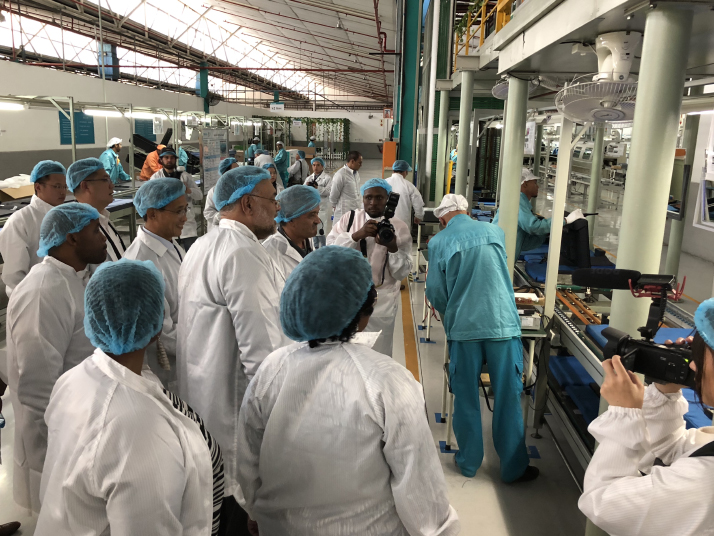 Visiting Hisense SA factory
He said that China highly appreciates South African President Cyril Ramaphosa's plan to develop the economy, attract investment, create jobs, and improve people's livelihood, and China is willing to comprehensively deepen friendly and mutually beneficial cooperation with South Africa across the board, and to intensify its support for South Africa to become the locomotive for Africa's industrialization and a production base for Africa's modernization drive.
China is ready to be the most important partner of the South African Government in its pursuit of economic and social transformation, the ambassador said, adding that China is willing to encourage more quality companies like Hisense to invest in South Africa, so as to continue to strengthen the economic and social foundation of China-South Africa comprehensive strategic partnership.
Rasool expressed his high appreciation for China-South Africa relations and the success of Hisense South Africa project, saying that it is a great opportunity to see Hisense's efforts in offering skill training and know-how transfer to South African communities.
He noticed that the company has a localization rate of 98 percent, and enjoys harmonious investor-labor relations and beautiful production environment, and hailed the project an excellent and highly impressive showcase of China-South Africa mutually beneficial cooperation.
Rasool said that he personally involved in the Hisense project over 10 years ago when he was the Premier for Western Cape, and he felt very happy and proud to see that it has achieved such great success.
Entering South Africa in 1996, Hisense has now become a household brand across the country, being ranked first in the market share of televisions and second in fridges in the country. The company is currently planning for further investment in the country.