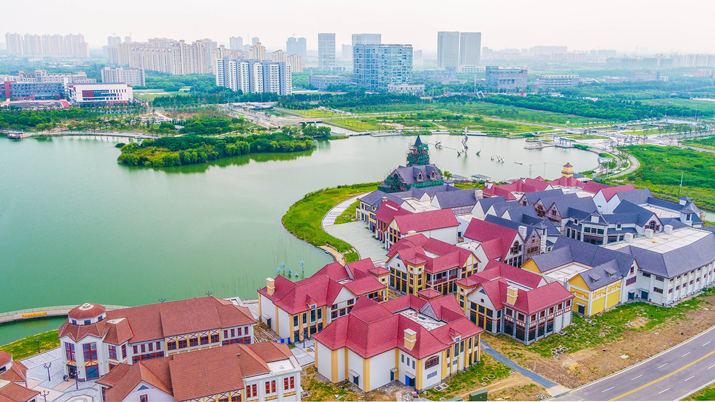 A bird's-eye view of Kunshan New&High-tech Industrial Development Zone
Elaborate local opera of Kunqu, whitewashed walls, endless alleys and a gathering place for high-rises and new high-tech enterprises feature a county-level city in east China's Jiangsu Province. For Boyd Ng'Andu, an economist from Zambia, it's hard to imagine how this city of Kunshan became No. 1 in overall economic competitiveness among the 2,000 county-level cities throughout China. The city was consecutively impoverished far back in the 1980s.
In April, Zhang Yuelin, Deputy Secretary of the Kunshan Municipal Committee of the Communist Party of China, introduced his city to Ng'Andu and his 44 classmates, 26 of them from African countries. These students participated in the International Masters of Business Administration (IMBA) program sponsored by the Chinese Government in Beijing Normal University. Most of them worked in various business-related government departments in their respective countries before studying in China.
The goal of the program was to share with students from developing countries China's experience in economic development.
"The Chinese economy exhibited exceptional performance in the past four decades. This can be attributed to its opening-up policy," Hu Biliang, Dean of Emerging Markets Institute with Beijing Normal University, told ChinAfrica.
"Kunshan is the epitome of China's economic takeoff. For people who want to understand China's economic success story, Kunshan is an optimum place to visit," Hu added.
Open to market
Chance favors only the prepared mind. Lying in the southeastern region of Jiangsu Province, Kunshan covers an area of 931 square km and has a population of 2.55 million. The city borders Shanghai to its east and Suzhou to its west.
Historically, Kunshan was a farming area on the plain in the southern part of Jiangsu. Its agricultural and aquatic produce generated a major portion of the city's revenue.
In 1978, the Chinese Government announced the adoption of the reform and opening-up policy to readjust the country's economic structure and promote economic growth. Taking advantage of this opportunity, the Kunshan Government set up industrial zones and strategically introduced an open policy to attract overseas investment.
Its unique geographical conditions and investment incentives attracted a large number of overseas investors, especially enterprises from Taiwan.
Yang Teng-hui was one of the earliest Taiwanese businessmen who relocated his business to Kunshan. He never forgets the hardships of his initial venture in the city.
During his first visit in 1989, he wore rain boots because the then underdeveloped city was merely a large accumulation of paddy fields, with only a few streets. Most restaurants were closed at 5:30 p.m.
"It was totally a backward agricultural county," Yang recalled.
Although the industrial base of Kunshan was poor, the Taiwanese entrepreneur was impressed by the enthusiasm of the local government and local people for economic growth.
"The local government is still highly organized and efficient. I remember during the early years, all phone numbers of government officials were open for investors to make sure problems were solved timeously," said Yang who started his business in the local industrial zone. He now owns over six enterprises based in the city.
"Over the years, although government officials of Kunshan have changed, their concept of creating 'Cordial, Secure and Profitable Environment for Investors' has never changed," said Yang.
In 2017, the city's GDP stood at 350 billion yuan ($46.8 billion), and the trade volume reached $82.77 billion. Up to 2016, the number of overseas enterprises in Kunshan reached 7,700, and domestic enterprises reached 70,100, according to Zhang. Locally nicknamed "Mini Taipei," 4,855 Taiwanese enterprises settled in the city by the end of 2017 with a total investment volume of $58.2 billion.
The sizable overseas capital inducement, along with the large amount of immigrant residents, has also driven the city's regional demand and greatly contributed to the local development in retail, food and beverage industry as well as other services.
Open to innovation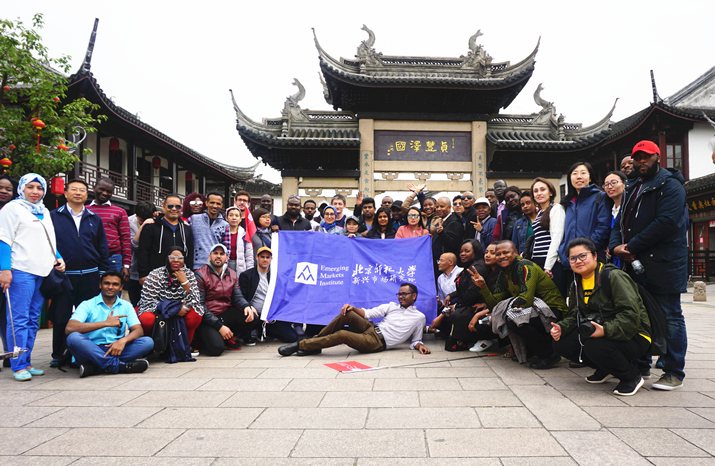 Students on Beijing Normal University's international MBA program visited Zhouzhuang, a watertown in Kunshan
Kunshan has its eyes set on fostering a "created-in-Kunshan" brand.
As the local government came to realize the importance of self-reliant innovation, Kunshan decided to transform from external drive into internal force for economic growth at the beginning of the 21st century. With this in mind, the government managed to make the Kunshan New & High-Tech Industrial Development Zone (KSND) upgraded to a national high-tech zone in 2010. It gave out various incentives to increase the influx of high-tech enterprises and emerging industries to the zone.
Located in the downtown of Kunshan, the high-tech zone is also a pioneer nationwide in producing digital equipment and biopharmaceutical products, with specific emphasis on robot and small interfering Ribonucleic Acid (siRNA) manufacturing.
In March 2017, Ribo Biotech, a leading siRNA drug development company in KSND, celebrated the receipt of 270 million yuan ($42.5 million) in a series B funding from venture capital.
The company started the research and development (R&D) of RNA interference (RNAi) technology in 2008 in a nationwide attempt to efficiently inhibit the target of gene expression.
"At that time, people's understanding of RNAi was still rather vague. Developing the RNAi industry at a county-level city sounded rather contrived back then," said Jin Hongjian, Deputy General Manager of Kunshan Industrial Research Institute.
The bold attempt got support and encouragement from the local government, which then formed the strongest R&D team in that field to support local project development. In 2014, the first application for clinical trial of siRNA drug (QPI-1007), an anti-NAION (Non-Arteritic Anterior Ischemic Optic Neuropathy) siRNA drug which helps cure optic neuropathy disease, was produced by the company. It was approved by the then China's State Food and Drug Administration in 2015, but unfortunately achieved no breakthrough in the clinical research of RNAi drugs.
In less than 10 years, Kunshan has provided 90 percent of RNAi drugs nationwide and established the largest RNAi drugs production line in Asia, which has reached an international R&D standard.
The dependence of RNAi technology is a vivid portrayal of Kunshan's openness to innovation. In 2016, KSND completed a total GDP of 80 billion yuan ($12.6 billion) and a total industrial output value of 172.4 billion yuan ($27.15 billion). The biopharmaceutical industry was included in a pilot project for the national innovation industry cluster.
Getting inspirations
Demosco Kamara, a government official from Sierra Leone in the IMBA group, was impressed by what Kunshan has achieved. "The local government has the right strategy as it is open to the world. Its leadership is strong and well-organized," he said. "African countries should also seize every possible opportunity to realize growth."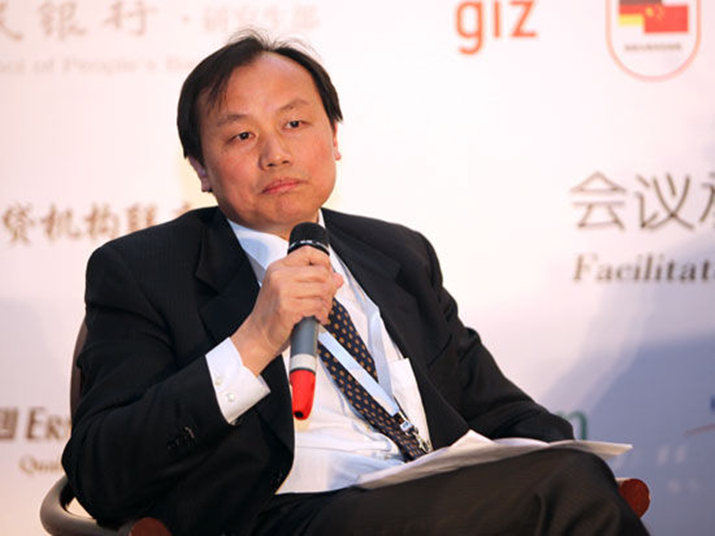 Hu Biliang, Dean of Emerging Markets Institute with Beijing Normal University
According to Hu, that opportunity has arrived.
"African countries should be open to the China-proposed Belt and Road Initiative for their own development," he said. "Opportunities exist for Africa to secure Chinese financing for infrastructure development, which is the basis for its economic takeoff."
So far, the development of the Belt and Road Initiative has brought tangible benefits to some African countries. For example, the Mombasa-Nairobi Standard Gauge Railway in Kenya has created 176,000 direct and indirect jobs. According to statistics from the Kenyan Government, after the completion of this railway, cargo transportation costs in East Africa dropped by 79 percent, and Kenya's economy has grown by 1.5 percent.
This article was written in collaboration with the International MBA program of Beijing Normal University