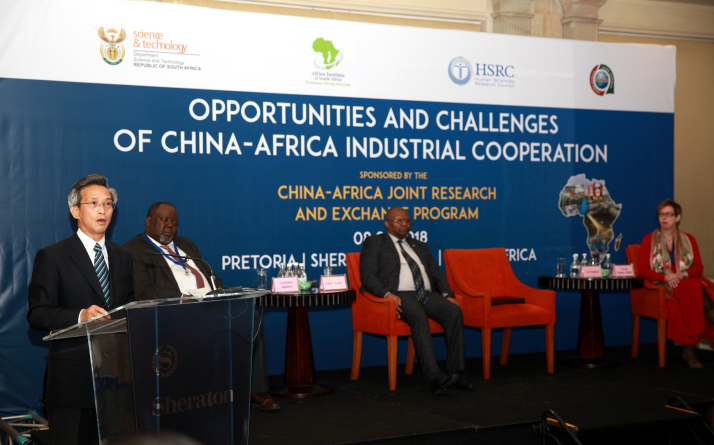 Chinese Ambassador to South Africa Lin Songtian speaks at the seminar on June 8 (Photos by Li Jianguo)
African countries are developing rapidly, and many countries on the continent have taken up leading roles in promoting industrialization, Chinese Ambassador to South Africa Lin Songtian said during a keynote speech delivered at a China-Africa research joint exchange seminar held on June 8, in Tshwane (Pretoria), South Africa.
Focused on the opportunities and challenges of China-Africa industrial cooperation, the seminar attracted more than 200 officials, experts and scholars from China and Africa.
Extensive discussions were held on how to push forward the industrialization process on the continent and how to enhance China- Africa win-win cooperation in the field of infrastructure building, manufacturing and skill development.
Deputy Minister of the Department of Cooperative Governance and Traditional Affairs of South Africa Obed Bapela was also present at the seminar, saying it was held at an opportune time as South Africa prepares itself to host the BRICS Summit in July.
Bapela said that the Forum on China–Africa Cooperation (FOCAC) Summit in Beijing in September will focus on industrialization in Africa, and this seminar also aimed to explore best industrial practice, job creation, using industrialization as a tool for poverty reduction, and the opportunities that exist for China and Africa to cooperate more beneficially.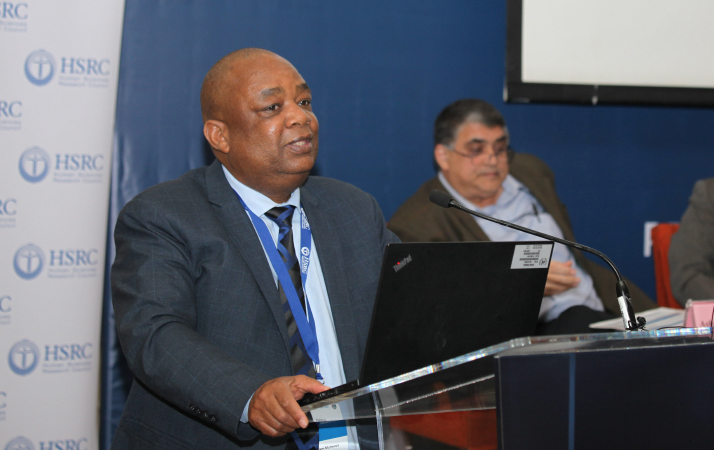 William Muhwava, Chief of the Population and Youth Section in the Social Development Policy Division of the United Nations Economic Commission for Africa, speaks at the seminar
Lin said that China-Africa industrial cooperation projects have helped accelerate the industrialization process on the continent.
"With support from FOCAC, China-Africa industrial cooperation is picking up speed, and a large number of flagship projects are emerging across the continent, including railways, seaports, airports, industrial parks, and maritime industrial areas," said Lin, adding that those projects have been extremely instrumental in accelerating African industrialization.
He said it was encouraging to see more and more African countries have come to realize that if Africa is not independent economically, it is hard to be independent politically; and without economic development, Africa can never shake off poverty and conflicts.
Africa is confronted with challenges in its pursuit of industrialization and self-sustainable development, and those who can help overcome those challenges are Africa's true friends and reliable development partners, said Lin.
He revealed that the FOCAC Beijing Summit to be held in September will focus on China and Africa jointly promoting the Belt and Road construction and building China-Africa community with a shared future.
"We have every reason to be confident that as the Belt and Road construction continues to reach Africa, more and more opportunities will emerge for China-Africa industrial cooperation," said Lin.
He expressed China's willingness to join hands with South Africa and other African countries to synergize the Belt and Road Initiative with the UN 2030 Agenda for Sustainable Development, the AU Agenda 2063, and the national development strategies across the continent to support Africa to accelerate industrialization and agricultural modernization, so as to help achieve self-sustainable development and durable peace.
More than 20 officials, scholars and researchers spoke at the seminar which was sponsored by the Chinese Embassy in South Africa and the Human Science Research Council.