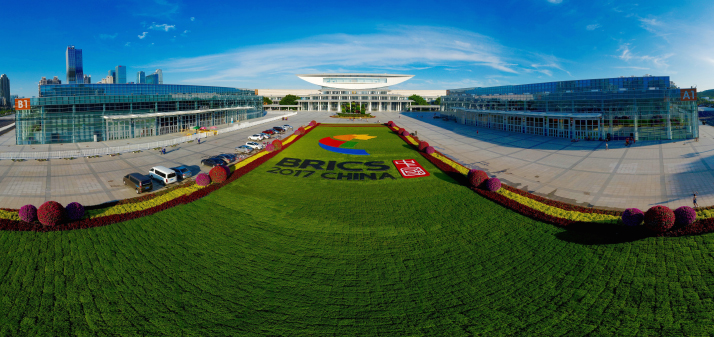 Xiamen International Conference & Exhibition Center, the venue for 2017 BRICS Summit (JIANG KEHONG)
In July this year, South Africa hosts the 10th BRICS Summit in Johannesburg. The venue for the summit returns to South Africa after it was hosted in Durban in 2013, and BRICS now enters its second decade as an influential group.
BRICS cooperation was established as a response to the 2008 international financial crisis. South Africa joined BRICS in 2010. Since its establishment, BRICS has associated itself with Africa, the continent with the largest number of developing countries, and has become an emerging powers cooperation mechanism that reaches across Asia, Africa, Latin America and Europe. After 10 years of development, BRICS cooperation has shed the outdated practices of political and military alliance, and instead established a new type of partnership. BRICS cooperation has walked a path of mutual respect and common progress. It is also the cooperation that has transcended the old idea of a zero-sum game and the winner taking all, and has implemented the new concept of win-win cooperation for common development. Today, BRICS has established itself as a major force in shaping the modernization of international governance.
Driving economic growth
BRICS cooperation has become the main engine driving the world's economic growth. The combined population of Brazil, Russia, India, China and South Africa accounts for 40 percent of the world's total. Together, BRICS countries contribute over 50 percent to the world economic growth, which exceeds the contribution of all developed countries combined. BRICS countries' voting share in the World Bank and the share quota in the International Monetary Fund (IMF) have respectively increased to 13.19 percent and 14.84 percent.
BRICS unity and cooperation have helped strengthen the force for fairness and justice in the international community. The member countries hold high the banner of peace, development and cooperation, while maintaining effective coordination and collaboration in the United Nations (UN), G20 and other major international fora.
As regards the implementation of the UN Millennium Development Goals and the Sustainable Development Goals, BRICS countries are actively involved.
On contentious issues and major global challenges such as climate change, the five countries have demonstrated BRICS wisdom, contributed BRICS plans, and expressed BRICS voices, upholding the fundamental principles and authority of the UN and international laws, effectively safeguarding the common interest of all developing countries.
In addition, the BRICS Plus initiative, proposed during last year's BRICS Xiamen Summit, has opened up a new prospect of broadening the BRICS' circle of friends, and has gained extensive attention and popular support.
Results oriented
BRICS cooperation has produced remarkable results and brought concrete benefits to the peoples of BRICS member states. Over the past 10 years, BRICS' total GDP has grown by 179 percent, trade expanded by 94 percent, and urban population increased by 28 percent, bringing the sense of achievement to over 3 billion population across the member states. With increased progress in the Strategy for BRICS Economic Partnership, BRICS mutually-beneficial economic cooperation is expected to produce more fruitful results. The New Development Bank (NDB) established in 2015 has already reserved sufficient capital to support member states in infrastructure development and production cooperation. A contingency reserve with $100 billion offers member states a robust line of defense against financial risks.
These milestones mark major steps of emerging countries to jointly tackle global challenges through the establishment of a collective financial safety net. By doing so, the BRICS mechanism has been operating in a fundamentally different way from the global financial system long held by the West, and offers a new choice for all the developing countries in their pursuit of self-sustainable development. Unlike the World Bank and the IMF, the capitalization of the NDB is equally shared among five BRICS countries and accordingly, the decisions of the bank are on consultation on an equal footing and on the rules of the market. Consistent with the trend of times, the NDB fully encapsulates the principle of equal partnership, mutual benefit, and win-win cooperation, and has become an accelerator and an engine for the financial stability of BRICS countries and of the whole world.
For the BRICS, South Africa is a major participant, contributor and beneficiary. More importantly, South Africa is a leader and a bridge in connecting BRICS' development and cooperation with Africa. China is South Africa's strongest BRICS partner. In 2017, bilateral trade between China and South Africa increased by 11.65 percent year on year to reach $39.17 billion. Today, China is South Africa's largest trading partner and a major source of foreign investment and overseas tourists. In 2017, the NDB opened its Africa Regional Center in Johannesburg and committed to approve $1.5 billion of loans within 18 months of its opening. It is certain that BRICS cooperation will create more strength for the development of South Africa and Africa as a whole.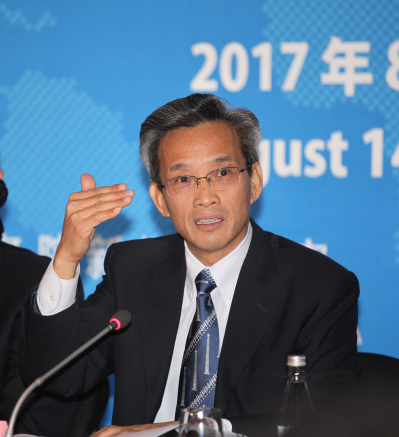 Lin Songtian (LU ANQI)
Creating unity
The five BRICS members are like the five fingers of a hand, each one is different, but they all complement each other. The shared strategic interests of BRICS offer robust and constant strengths of cohesion, making the hand well-coordinated and flexible. The world has been going through profound changes in terms of the global structure and shifting strengths between the North and the South.
As protectionism and exclusivism makes its way into certain major powers, the world is increasingly confronted with the willful acts of a trade war, challenges against economic globalization and multilateral trade regime, and increasing instabilities and uncertainties in international political, economic and security domains. Against such complicated and acute challenges, stronger unity and cooperation among the BRICS and the developing countries are the inevitable and the only correct path forward.
As the BRICS chair for this year's BRICS, South Africa has proposed the Fourth Industrial Revolution and inclusive growth as priorities for this year's summit, along with concrete measures to deepen BRICS Plus cooperation. These proposals have been warmly welcomed and actively supported by China and other BRICS members. China will give its full support to South Africa for a successful BRICS Summit, and will work together to inject new momentum into fully deepening BRICS strategic partnership, and creating a new chapter for BRICS cooperation.
This year marks the centenary of the birth of former South African President Nelson Mandela. The BRICS' open, inclusive, cooperative and win-win spirit is highly consistent with the Mandela spirit. It is also the long-cherished wish of Mandela and all other revolutionary leaders of the African National Congress to fight for a more fair, just and equitable international order. We are fully convinced that, as long as the BRICS countries strengthen unity and commit to win-win cooperation for common development, BRICS cooperation will embrace new vigor and dynamism in its second golden decade of development.
In this way, BRICS will become an example and make new contributions to the establishment of a new type of international relations featuring win-win cooperation and a community with a shared future for humanity.
(The author is the Chinese Ambassador to South Africa)
(Comments to niyanshuo@chinafrica.cn)