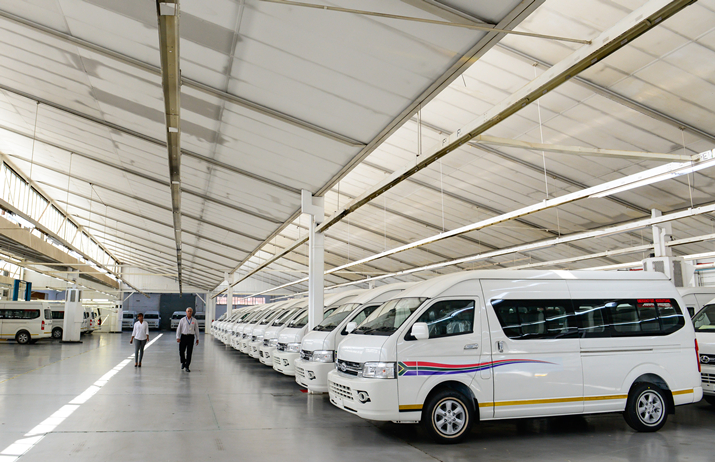 A line of Sasuka minibuses by BAIC South Africa awaiting delivery
With 29 million vehicles manufactured just last year, and a 3.2-percent year-on-year growth, China remains the world's largest car manufacturer. For the past five years, Chinese auto makers have been picking up speed. Local brands now account for 60 percent of all sales of sports utility vehicles in the country. Overall, homegrown automakers now sell nearly 50 percent of all vehicles sold in China, according to statistics released by China Association of Automobile Manufacturers (CAAM). But as the Chinese automobile industry is struggling with an increasingly saturated market at home, car makers are looking abroad for new opportunities.
A growing number of Chinese indigenous brands have sought to set eyes on the African automobile chessboard. From Great Wall Motors to Chery and Geely, there is a long list of Chinese car manufacturers that have launched car and truck assembly lines on the continent. The most recent announcement, from BYD Auto, is one of the most emblematic. China's giant electric car builder launched an ambitious project in Casablanca to manufacture electric vehicles last December. Ultimately, an industrial facility will be established on a 50-hectare area near Tangier, in north Morocco, which will produce batteries, electric cars, buses and trucks, as well as electric monorail wagons.
This development was recently confirmed by international marketing research company Nielsen. Its global consumption survey on car brands shows that more than 40 percent of car consumers in Mexico, Chile and Egypt will consider buying Chinese brands within the next two years. Africa is, therefore, poised to become one of the most promising markets for Chinese automakers, said Zhang Zhenhua, Vice President of the automotive division for Nielsen Greater China, during the Eighth China Auto Forum held recently in Beijing.
A new promised land
Major Chinese automakers are rushing to Africa because the continent has a number of advantages over other more competitive markets, said Zhang Zhiyong, an independent auto industry analyst. "In Africa, the automotive industry is still in its infancy. Leading car multinationals' foothold in the region is not as complex as in the Chinese market, which has already matured. Investing on the continent is, therefore, a reasonable choice for Chinese car manufacturers," he told ChinAfrica.
Lower intensity competition goes hand in hand with a potentially large market. According to an analysis by the French Institute for Demographic Studies published in September 2017, the African continent's population, which was 1.2 billion in 2017, will reach around 2.5 billion in 2050. The United Nations Children's Fund forecasts that by the end of the 2030s, Africa's urban population is expected to outpace the number of rural dwellers. Such demographic trends and the continent's economic growth fuel the hope that a middle class of consumers will emerge, says Zhao Ren, an independent investment advisor on the African market. The numbers seem to support this idea: According to a report from consulting firm IHS Markit, the volume of car sales in Africa is expected to double by 2027.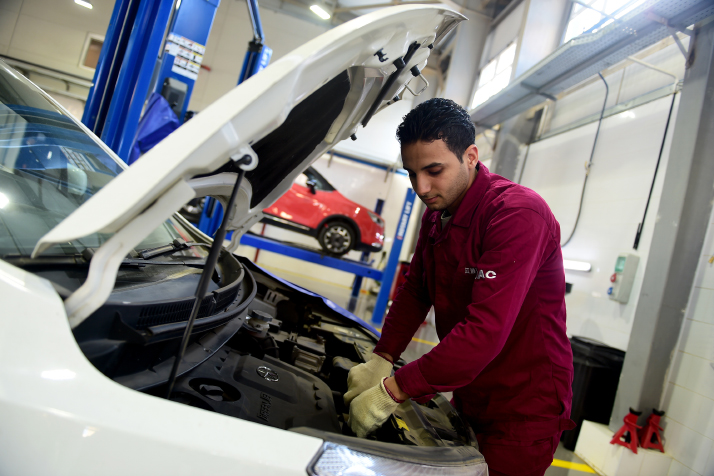 A technician works on the Chinese brand
Political support is also picking up pace. The Egyptian Government, among other measures, has subsidized gasoline consumption and continuously reduced road transport tariffs and customs duties on imported cars and auto parts. For its part, the South African Government, which sees the automotive industry as a pillar of the country's economic growth, has been pursuing policies that favor the development of the domestic auto market. One of the key measures is to ban imports of second-hand vehicles that fail to meet basic safety and environmental standards.
Another major opportunity presented was at the signing of an agreement in March which was expected to pave the way for the creation of the African Continental Free Trade Area. Tariffs on intra-African trade will gradually be phased out in order to facilitate trade for African companies on the continent, said the African Union. Previously, due to its dissuasive customs barriers, Africa remained an overly fragmented market unable to put forward a global strategy. The free trade area means this problematic situation is coming to an end.
Not without a few caveats
Every opportunity presents a challenge. African customers often complain about the lack of after-sales service of Chinese brands. Analyst Zhang Zhiyong finds this quite normal.
"These are the prevailing challenges in the Chinese electric car market: When the size of the market is small, the after-sales service network will not be as developed as you'd expect it to be," he told ChinAfrica. He suggested that as the market matures, Chinese auto manufacturers intend to gradually establish new after-sales service networks or strengthen existing ones to improve customer satisfaction.
Other challenges emerge from the competition of traditionally predominant brands, mostly French and Japanese ones. To cope with this, Chinese manufacturers often try to leverage their value-for-money advantage. Zhang Zhenhua pointed out that as compared to the same car models produced by well-established multinationals, Chinese-branded cars perform better in terms of appearance, interior decoration and configuration, with a lower price tag.
A good market adaptation strategy, therefore, has a role to play. Chinese brand Beiqi Foton Motor discovered that different markets have different needs. For instance, when it comes to buses, Chinese passengers are more demanding in terms of comfort and air conditioning, while in South Africa, consumers prioritize capacity. Given this difference, the Chinese manufacturer took out air conditioning systems and installed luggage racks instead to improve baggage capacity. This modification was well received by its African consumers.
Another trump card is the development of electric vehicles, which meets the needs of many countries in terms of environmental protection. In this respect, BYD has set a good example. The firm has invested heavily in Morocco as part of the government's initiative to build industrial ecosystems in automotive and aeronautics sectors. Needless to say, such investment was welcomed with open arms by local authorities. As Moulay Hafid Elalamy, the Moroccan Minister of Industry, Investment, Trade and Digital Economy, said, "This project enables Morocco to develop new forms of transport combining the efficiency and respect for the environment, putting the country's dynamic work force at the core of the global market."