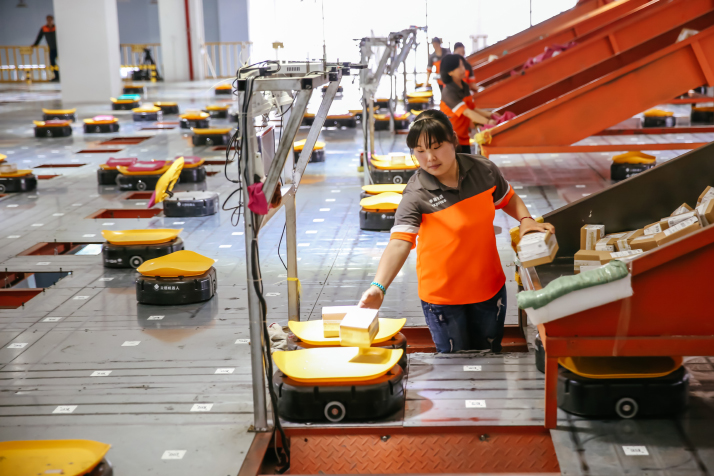 STO Express use intelligent robot to sort parcels (XINHUA)
Retail and E-Commerce
Al's application in the e-commerce industry could enhance the personalization of products and services, make demand forecasts, and manage supply chains. FashionAI, developed by China's e-commerce giant Alibaba, could provide a recognizable interface for customers to use while trying on clothes. It's a basic screen interface that uses machine-learning to make clothing and accessory suggestions to customers based on the items they are trying on. There's no camera; it uses information embedded in the item's tag to make the recommendations. Using the system, customers can virtually try clothes on, receive fashion tips and suggestions from the AI, and then make choices on the screen.
Transportation
A recent report on public recognition and social attitudes toward AI technology, released by Shanghai-based Fudan University in May, reveals that autonomous cars are the best-known example in China of AI's huge impact on life today. Chinese tech giant Baidu announced in July that it has begun volume production of China's first commercially deployed fully-autonomous bus. Powered by Apollo 3.0, the latest version of Baidu's open autonomous driving platform, the Apolong bus will take to roads in China and abroad in the coming several years. The bus will initially be put to use in last-mile travel scenarios in tourist spots, airports and other enclosed areas.
Translation Service
Chinese AI giant iFLYTEK has been providing real-time Chinese-to-foreign-language translation and interpretation services for government organizations and companies both in China and abroad. Its latest machine, which can translate Chinese to 33 languages, and vice versa, uses world leading voice recognition, machine translation, and voice synthesis technologies.
Financial Service
AI could promote process automation and improve the security of financial industries by identity authentication. Onlyou.com, an enterprise intelligent service provider established in 2013 in China to process financial data and digital tax reports online by AI tool for small businesses, has become one of the largest automatic financial and taxation data process service providers in the world. In addition, China's major tech giant Baidu cooperated with the Agricultural Bank of China and built an intelligent bank that uses big data, AI and cloud computing on financial products. This could provide intelligent services in customer profiling, evaluation of customer credit, risk monitoring, and intelligent equity financing and investment services.
Healthcare
Spurred on by the Chinese Government, AI has been widely used in medical care sector in China in recent years. BioMind, developed by researchers from the AI Research Center for Neurological Diseases of the Capital Medical University, made correct diagnoses in 87 percent of 225 cases in about 15 minutes. The AI system also made correct predictions in 83 percent of brain hematoma expansion cases. Though the use of AI is still in its infancy in the medical field, and the accuracy of diagnoses by AI still lags behind that of senior professionals in most cases at the moment, it can make proposals to a doctor and help the doctor diagnose.