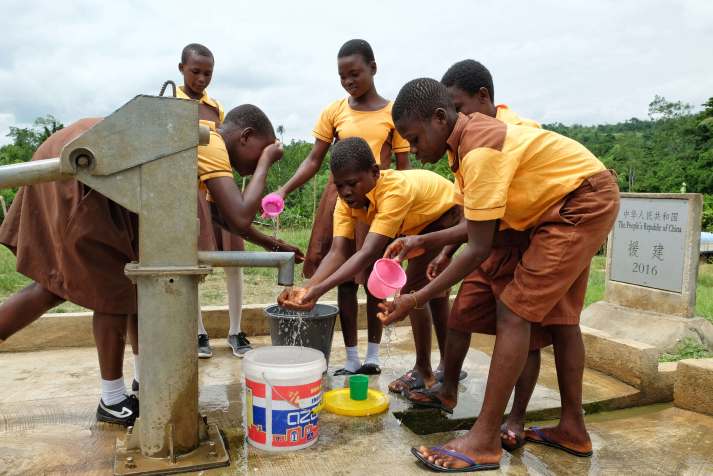 Students in Eastern Region of Ghana get water from a well constructed by a Chinese company (ZHAO ZHUTING)
ChinAfrica: What do you think will be some of the important outcomes of the FOCAC Beijing Summit in September?
Wang Shiting: With the FOCAC Beijing Summit expected to be held in September, this is going to be a big year for China-Africa relations. It will surely propel China-Africa relations and cooperation forward in sync with our times.
The FOCAC Beijing Summit will reinvigorate our joint efforts to build a community with a shared future for mankind. The overarching vision of China's diplomacy is to build a new model of international relations and a community with a shared future for mankind. China and Africa have shared weal and woe together and see our future as interwoven. At the summit, the two sides will work for an even stronger China-Africa community for a shared future by laying out a master plan, seeking the guidance of our leaders, building consensus and coordinating our actions.
The Beijing Summit will also catalyze our joint efforts to advance the Belt and Road Initiative. The summit provides an excellent opportunity to align this initiative with the 2030 Agenda for Sustainable Development, AU Agenda 2063 and the development plans of African countries. The summit will bring together Chinese capital, technology, equipment and talent and Africa's natural resources, demographic dividends and market potential. New measures of cooperation are expected [along with] measures that will deliver more win-win results to both sides.
African leaders have responded enthusiastically to the invitation, and many have confirmed their participation including the president of Ghana. We have no doubt that, with close China-Africa collaboration, the Beijing Summit will go down in history as another milestone in China-Africa relations. Surely, this is also a great opportunity for the China-Ghana relationship and it will deeply strengthen the relationship between two countries.
China is the leading investor in Ghana in terms of number of projects. How do local Ghanaians benefit from these projects and what new projects are in the pipeline for the next years?
The Belt and Road Initiative of China, which encourages Chinese enterprises to invest overseas and seek cooperation on industrial capacity, shares the same idea with the One District, One Factory initiative of the Ghanaian Government. Right now the main area of Chinese investments includes energy, communication and manufacturing. These investments have benefited a large number of Ghanaian people, provided a huge amount of jobs, shared the technologies and experiences of China, as well as made contributions to the industrialization of Ghana by improving the value chain. The Chinese enterprises in Ghana like Twyford (Ghana) Ceramics Co. Ltd., Sentuo Steel Ltd. and Wynca Sunshine Agric Products and Trading Co. Ltd. provide thousands of jobs to local people and help Ghana speed up its industrialization process. Agriculture is also an area of great potential. As I know, some Chinese agricultural companies are seeking investment opportunities in Ghana. I firmly believe the Chinese investments to Ghana will keep increasing in the coming years, and the bilateral cooperation between the two countries has a promising future.
There are many Chinese businesses thriving in Ghana. What advice do you have for Ghanaians who wish to do business in China?
The bilateral trade between China and Ghana has been increasing vastly in recent years. In 2017, the volume of bilateral trade achieved $6.68 billion, with an 11.69-percent growth year on year. Especially, the exports from Ghana to China had an incredible year-on-year growth of 41.3 percent. For the Ghanaian businesspeople, we suggest they take advantage of the platforms such as China International Import Expo and China Import and Export Fair (Canton Fair). In addition, it is important to find reliable Chinese partners through regular contact, learn more about Chinese market culture and do business that abides by the law of both countries. The Chinese Embassy in Ghana will also help businesspeople from both sides know each other and provide necessary assistance.
Recently, you welcomed the 28th Escort Task Group of the Chinese PLA Navy to Ghana. Can you tell us a little about their visit?
From June 4 to 8, the 28th Escort Task Group (ETG) of the Chinese PLA Navy composed of Plans Yancheng (FFG-546), Plans Weifang (FFG-550) and Plans Taihu (AOR-889) paid a friendly visit to Ghana. During the visit, Commanders of ETG and commanding officers of the warships paid courtesy calls on the Ghanaian military and government officials.
They also visited the Kofi Annan International Peacekeeping Training Center and the Ghana Armed Forces Command and Staff College, held public activities, donated computers, stationery and footballs to the Naval Base Primary School in Tema and held a joint military exercise at sea with the Ghanaian Navy.
The visit of the Chinese PLA Navy is a journey of peace, friendship and cooperation. It fully demonstrates the good image of China as a responsible country. The visit has greatly inspired the national pride and confidence of overseas Chinese in Ghana. It will certainly have a significant and positive impact on the development of relations between the two countries and the two armed forces.
What attractions do you think Ghana has for Chinese tourists and are there plans to increase Chinese tourism to Ghana?
Ghana has beautiful coastlines, lush tropical rainforests and a wide variety of wild animals. Ghana also has a long history, fantastic culture, and warm and friendly people.
China is willing to further strengthen bilateral collaboration in the construction of tourism and cultural facilities and in the exploration of tourism resources, to continuously enhance mutual understanding between the two countries.
We would encourage more Chinese tourists to visit Ghana and more Chinese enterprises to invest in Ghana's tourism industry. We will further strengthen cooperation in the fields of tourism and culture between the two countries.
What are your thoughts on the future of Sino-African relations in general?
China and Africa is a community with a shared future and solidarity. As a continent where developing countries are most concentrated, Africa is the "foundation of the foundation" of China's diplomacy.
When visiting Africa in 2013, Chinese President Xi Jinping proposed sincerity, real results, affinity and good faith as the guideline for China-Africa relations, and offered to pursue the greater good and shared interests in relation to Africa. According to this guideline, China and Africa will forever remain good friends by developing together, good partners with equal cooperation and good brothers through thick and thin. China will put itself into Africa's shoes, provide financial, technical and personnel support to Africa's industrialization process. Not only by achieving poverty reduction and improving people's livelihood, but China will also help improve Africa's independent development capacity and enhance Africa's own "hematopoietic" function. With the joint efforts of both sides, China-Africa cooperation will climb the peak and forge into a new era.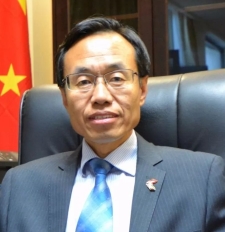 (Chinese Ambassador to Ghana Wang Shiting)
(Reporting from Ghana)
(Comments to niyanshuo@chinafrica.cn)