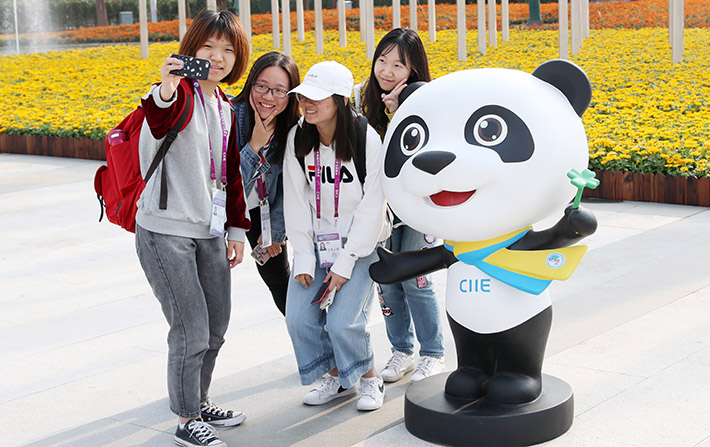 Volunteers take a selfie with the CIIE mascot Jinbao (XINHUA)
A significant amount of attention has been paid to the China International Import Expo (CIIE), to be held in early November in Shanghai. It has been touted as an unprecedented opportunity for producers and exporters around the world to access the colossal Chinese import and consumption market. While China's intentions to reorient toward import and consumption-led growth have been made clear, it is necessary to examine how, in practice, African governments and businesses may position themselves to participate in and benefit from this opportunity.
It is firstly necessary to understand that the opportunity represented by CIIE is neither arbitrary nor transitory, but is rather a manifestation of China's future trajectory, which will be characterized by an increasing number of opportunities for transnational trade.
China's increasing desire for imports is underpinned by the growing incomes of its citizens (liquidity is fairly high), coupled with increased selectivity among Chinese consumers. It is projected that China's annual imports will grow from around $2 trillion in 2017 to around $8 trillion in five years in a diverse set of sectors. The implication here is a steady double-digit growth in imports into China over the short to medium term.
The opportunity is self-evident. It is therefore important to ask: How do various role players in Africa harness it?
Government organs involved with facilitating market access for their enterprises must begin by informing themselves of the economic and political dynamics in China, also referred to as "doing their due diligence." Following this, it is necessary to formulate a China-specific strategy, guided by clear objectives. Such a strategy may include the establishment of bilateral trade-enhancement working groups, advocating for the fast-tracking of market access for key growth-promoting HS codes and arranging buying trips of Chinese importers to African countries.
Export councils and industry associations must be proactive in their efforts to bridge the information gap that exists between African exporters and Chinese importers. This should be attempted through the strategic, targeted and aggressive promotion of key growth-promoting African goods, as well as efforts to improve Chinese perceptions of Africa and the goods it produces.
Other role players like shipping lines and supply-chain operators must work to streamline freight processes, particularly for fresh produce. E-commerce platforms must be utilized to expand and deepen market access. Research institutions and cross-border experts must participate in the facilitation of initiatives for African CEOs and producers to ensure they understand more about China.