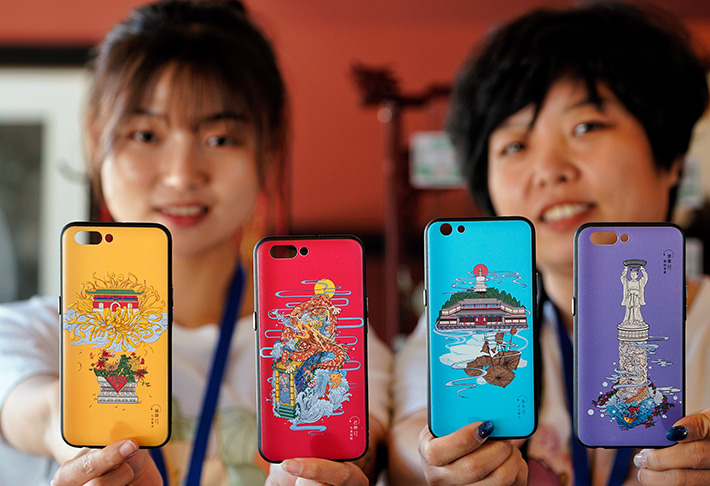 Cellphone shells printed with pictures related to China's 24 Solar Terms (XING GUANGLI)
When his masterpieces of engraved block printing were being exhibited, master craftsman Yang Luoshu was nowhere to be seen. At 91 years old, his health kept him from attending the event. But he still insisted on sending a congratulatory video from his village of Yangjiabu in east China's Shandong Province. After greeting visitors to the exhibition, he shared with them his most heartfelt wish: "I hope that all handmade crafts can be passed down from generation to generation."
It is not without reason that the master is concerned about this. In 2000, all of the families in his village - more than 1,000 - practiced the technique of engraved block printing. Today, only four or five are still involved in this handicraft. As the number of artisans dwindles, the technique is changing - and maybe not for the better.
"In the past, we used to stick the prints on our doors for Chinese New Year, and every year we would use new designs. Now, engraved block prints are just collectibles," said Yang Fujiang, the master's son, who chose to carry on his father's legacy.
Yang appears quite pessimistic about the future of his craft. Since there is no longer any need to renew the designs annually, sales are bad and his income has dropped. This explains why leading artisans are gradually turning their back on this ancient technique.
"Very few young people in my village want to carry on this craft. My father is worried and often warns us that we should never give up, no matter how little money we make," Yang told ChinAfrica.
This is a common dilemma faced by traditional manual arts in a modern society. China is no exception and is now exploring new ways to address this issue.
Pressing on
The exhibition of Yang Luoshu's works, held in March in the Yongxin Huayun Experience Center on Beijing's Qianmen Avenue, was an opportunity for the public to discover this craft, which has been inscribed on China's list of intangible cultural heritage since 2006.
"This is the fifth exhibition held in Qianmen as part of a project set up for representative inheritors of China's intangible cultural heritage. This project plays an important role in promoting the protection and transmission of traditional cultural techniques," explained Ma Wenhui, President of the National Association for the Protection of the Intangible Cultural Heritage, at the opening ceremony of the exhibition.
"We hope that these exhibitions will raise awareness among the public of the importance of safeguarding intangible cultural heritage, so that more people can actively take part in its protection," he added.
Many of the techniques on display have evolved over the years - from practical objects to art collectibles - as is the case with Yangjiabu engraved block printing.
"I think this process is inevitable. When this happens, we must take actions on two levels: First, we must pay more attention to the heritage, because it is a precious part of our culture. That's why we organize exhibitions to better understand their tradition and spiritual wealth," Ma told ChinAfrica.
"Then, we have to safeguard them as much as possible, by providing social support to ensure that such heritage is passed on from teachers to apprentices or through schools," he added. "For example, research institutes on intangible cultural heritage have been established in China. Protection areas are also a solution."
The Weishui National Cultural and Ecological Protection Area, approved by China's Ministry of Culture (predecessor of the Ministry of Culture and Tourism) in November 2010 in Shandong Province, is the ninth cultural protection area in China. Since the Ming and Qing dynasties (1368-1911), the Weishui River Basin, where the protection area is located, has been an important production center of folk crafts. In the middle and at the end of the 20th century, many traditional skills such as kite-making, engraved block printing, paper-cut, clay sculpture, cloth toy-making and embroidery sprung up there, attracting much interest in China and abroad.
"Colors, patterns, shapes and techniques of these crafts reflect the wisdom of the common people in an agricultural society, demonstrating their spirit, their emotions and their beliefs. It's part of their cultural expression," said Ma. "This heritage is born out of their life experience. It's unique, and it's our culture and our roots."
Covering 16,100 square km, the protection area in Weifang City aims to ensure the overall protection of Weishui River Basin's intangible cultural heritage by maintaining the balance and integrity of its cultural ecosystem and raising local cultural awareness. In a coordinated and sustainable manner, it will also help promote the economic and social development of the 8.679 million people who live there, including a number of ethnic groups such as Han, Manchu and Hui.
More rational use
To ensure adequate protection, it is critical to bring about a more rational use of intangible cultural heritage, said Ma.
"For example, we can draw inspiration from styles, patterns, ideas, colors and cultural contents produced in the past. Whether it's cultural form, content or connotation, everything can be reused in today's cultural industry," said Ma, "Creative design is not an issue, but the important thing is to use such heritage in a rational way to promote its commercial and economic development."
According to UNESCO, the creative economy currently accounts for 3 percent of global GDP and created 29.5 million jobs worldwide. It is an essential driver of sustainable development and an important factor in urban competitiveness. In Beijing, for example, the cultural and creative industry accounts for 13 percent of the city's industrial income.
On September 23, 2018, Ernesto Ottone Ramirez, Assistant Director General for Culture at UNESCO, and Li Yongjun, President of Yongxin Huayun Cultural Industry Investment Group, signed a new partnership agreement, according to which, both parties have decided to contribute an additional $4 million to a fund over the next five years.
Created in 2015, the UNESCO and Yongxin Huayun Joint Fund supports the protection of living cultural heritage and promotes creative economy in a way that is conducive to sustainable urban development.
"We must use the current momentum to make sure that the protection and creativity of intangible cultural heritage can prosper, turning it into an essential driver of sustainable development," Ramirez said during a visit to Qianmen.
Chen Wenjun, a hands-on practitioner of the creative culture industry, believes that the road to protecting intangible cultural heritage goes through consumption.
"Why must we protect this heritage? Because it has been cut off from reality, it no longer meets current needs and has therefore lost its market appeal. The only heritage that is truly protected is one that is consumed. This is a process of adaptation and commercialization in response to market needs," he told Faren Magazine.
Weifang City is also looking to make the most of this approach: It now actively promotes cooperation between its industries, such as kite-making, Liutuan silk and Yangjiabu engraved block printing, and major international fashion brands, including L'Oréal, Hermès and Armani.
However, some experts caution against excessive commercialization of intangible cultural heritage.
"In northwest China's Gansu Province, a cartoon was created featuring Tur Ye,
Beijing's colorful clay bunnies used in sacrifices to the moon god in traditional Chinese culture. But this representation has nothing to do with its original value related to moon god," said Liu Kuili, Deputy Director of the National Expert Committee for the Protection of Intangible Cultural Heritage.
In addition, fueled by stronger market demand, the spread of counterfeiting, knock-offs and imitation is inevitable. To address this, Huang Zhongshan, a researcher with the Beijing Academy of Social Sciences, put forward an industry-wide solution. According to him, culture departments, relevant Internet platforms and artists should join hands and put in place a certification system for intangible cultural heritage.
"In summary, the use of intangible cultural heritage must be based on its original, fundamental value. Otherwise, we risk damaging it rather than safeguarding it," said Ma.
(Comments to glj@chinafrica.cn)