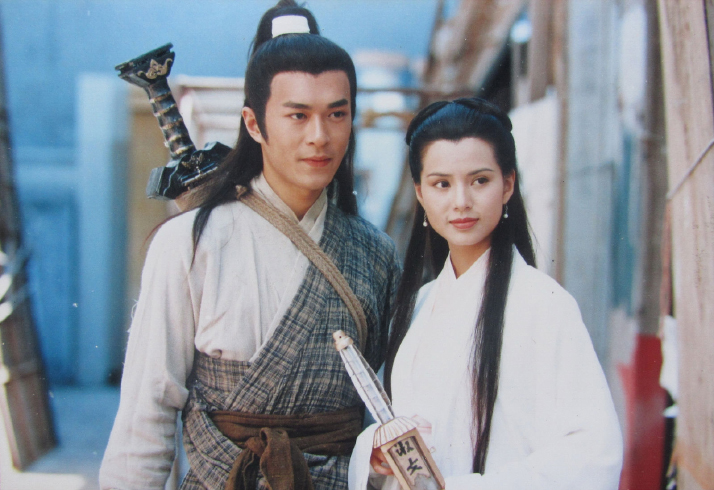 A still from the 1995 TV drama Return of Condor Heroes with Yang Guo and Xiao Long Nu as the hero and heroine (FILE)
There was an outpouring of grief across China on October 30 when fans of legendary wuxia (master of martial arts) novelist Jin Yong heard of his passing at age 94.
"He has left Jianghu behind, but his wuxia masterpieces will live forever," said one reader on social media, mirroring the sentiment of millions who mourned China's bestselling martial arts and chivalry storywriter.
Jianghu literally means rivers and lakes, while metaphorically, it refers to the world of martial artists, of thugs and heroes, beyond the reach of the imperial government.
Jin Yong, the pen name of Louis Cha Leung-yung, was born in Haining in east China's Zhejiang Province in 1924 and moved to Hong Kong in 1948 where he wrote the bulk of his novels.
Statistics from China's online shopping giant JD.com and online book retailer Dangdang.com show that orders of his novels spiked on the evening of Cha's death, while many online and offline retailers reportedly ran out of stock, as people rushed to buy his complete works.
More than meets the eye
Wuxia as a branch of Chinese literature has been around for centuries, but has been mostly sidelined and looked down upon by the mainstream literature world.
"The strong reaction to Cha's passing makes the whole Chinese society aware of the extensive influence of his wuxia novels. Meanwhile, China's literature research circles have increasingly realized that they treat popular literature like wuxia unfairly," said Long Qilin, Professor of literature at Guangzhou University.
In 1995, a Jin Yong wuxia research course was established at Peking University and since 2007, one of the novels, Fox Volant of the Snowy Mountain, has been included in middle school Chinese language textbooks nationwide.
Jin Yong stories have gripped generations from all walks of life since 1955 when he published his first book in serialized form in Ming Pao, a leading newspaper in Hong Kong, which he co-founded.
"Martial artists, swordsmen and warriors in Jin Yong wuxia novels reflect the images of heroes in ordinary people's hearts, what they admire and what they want to be. Readers can also find themselves in different characters in the books," said Ning Jiayu, Professor of literature at Tianjin-based Nankai University. "For some, they read them for entertainment, but for quite a few readers, they find an ideal world in these fantasies that they can't find in the real world."
"The first time I read Jin Yong wuxia novels, I was caught up in the stories and plots, since they are so interesting. Now, the more I read, the more deeply I am impressed by the novels," said Wei Hailun, a student and also a Jin Yong fan studying at Guangxi Normal University, south China's Guangxi Zhuang Autonomous Region.
Different readers have different reasons for being glued to these books. Cha once said, wuxia novels were a kind of entertainment, but he hoped to endow these books with some philosophy and personal ideas, and to express his views on society.
In his lifetime, Cha sold more than 300 million copies of his works across the
Chinese-speaking world, excluding electronic and digital versions. Multiple spin-off films, television series, comics and games have emerged from his original 15 novels written between 1955 and 1973.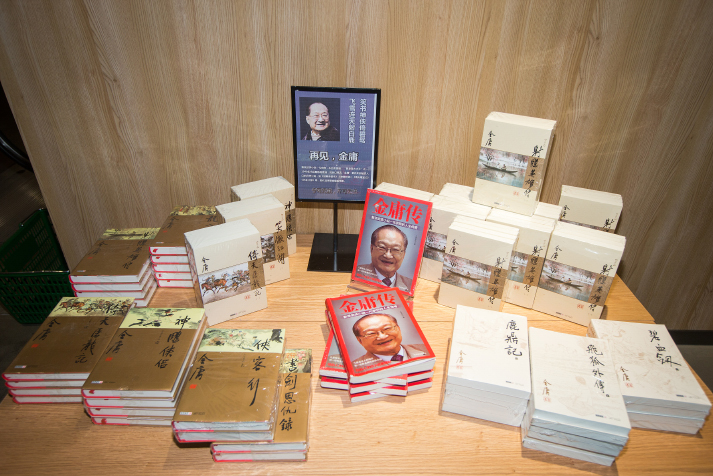 Books related to Jin Yong are displayed prominently at the Qingchunlu Book Center in Hangzhou, east China's Zhejiang Province, on October 30 (VCG)
Influence and inspiration
Where there are Chinese, there are Jin Yong novel readers. This is unexaggerated praise for Cha, one of the world's most-read Chinese writers.
Chinese President Xi Jinping expressed condolences on November 2 over the passing of Cha, according to the Liaison Office of the Central People's Government in the Hong Kong Special Administrative Region.
Ong Ye Kung, Singapore's Minister for Education, expressed his condolences on his Facebook page, commenting how his whole family enjoys reading Cha's books and how he has gotten to know a lot about Chinese culture and history through them.
Nga Kor Ming, Deputy Speaker of Malaysia's Parliament, also said on social media that he is a fan of Jin Yong novels, recounting how he would even forget to eat or sleep because he was too focused on reading the novels. He attributed his mastering the Chinese language to the novels.
Jack Ma, Chairman of e-commerce giant Alibaba, expressed his sadness on Cha's passing, saying that without Cha, he did not know if Alibaba could have come as far as it has. Ma, a fan-turned friend, uses Jin Yong as a corporate ethos, choosing one character, Feng Qingyang, as his avatar. The company's value system, Six Vein Spirit Sword, is taken from one of Jin Yong novels and represents customer first, teamwork, embracing change, integrity, passion and commitment.
In addition, many Chinese people living outside of China use Jin Yong novels to improve their Chinese language. Kungfu fiction set in ancient times also helps to strengthen their knowledge of Chinese culture.
Kai-Fu Lee, former President of Google China and also former Vice President of Google and Microsoft, began studying in the United States at the age of 11, during which he read Jin Yong wuxia novels at least five times. He said that it was due to reading these books that he did not forget Chinese after spending so many years abroad.
International reach
The influence of Jin Yong wuxia novels is not limited to the Chinese-speaking world, however, as the books slowly sneak into the English-speaking world.
A Hero Born, the first volume of the English edition of Legends of the Condor Heroes, translated by Anna Holmwood, a professional translator and literary agent in the UK, was released in February. The volume has since been republished seven times to satisfy the unprecedented demand from English-language readers. To date, the rights to the book's publication have been sold to seven countries including the United States, while British publisher MacLehose Press plans to publish the 12-volume trilogy of Legends of the Condor Heroes series.
One of the reasons it took more than half a century for the first story to be translated into English is the complexity of the language in Jin Yong novels, which integrates prose and poetry and makes extensive use of four-character phrases and other Chinese idioms, making translation a very daunting task.
Holmwood conceded that "there are a lot of references and things in his writing essentially impossible to convey in their wholeness in English because we simply don't have the knowledge of Chinese literature and the ability to express all the history and tradition in a completely different language."
Holmwood said that her primary hope is that the excitement of Jin Yong wuxia novels will encourage more people to explore the Chinese language and culture.
Cha said in a speech in 2005, "It does not matter to me whether I will become a historical figure. All I want is that after one or two hundred years, there will still be people reading my books."
(Comments to niyanshuo@chinafrica.cn)