Chinese investment in South Africa provides employment for local people (SHEN LU)
The South Africa Investment Conference held on October 25-27 in Johannesburg was seen as an overwhelming success. The first of its kind in the country, the event generated announcements of investment totaling $20.1 billion. That pledged amount will in turn yield thousands of jobs for the people of South Africa. This has brought the country one step closer to achieving its target of securing $100 billion in the next five years to drive economic growth.
According to insiders, the conference, as well as the investment drive, has helped enhance investors' confidence and conveyed the strong message that South Africa is a competitive and proven investment destination that cannot be missed.
Soliciting investment
The conference, which aimed to attract over $100 billion in new investments over five years, is part of the country's strategy of stimulating economic growth and creating jobs.
It is one of the three catalytic moves South Africa has taken in driving the strategy since Cyril Ramaphosa became the president of South Africa in February 2018 - the other two being the Economic Stimulus and Recovery Plan and the Jobs Summit.
South Africa has, in recent years, been confronted with some severe challenges that have impeded economic growth.
Figures from Statistics South Africa show that in the past 10 years, the unemployment rate in South Africa has increased from 21.5 percent to almost 28 percent.
Experts say with the release of the negative GDP growth in two consecutive quarters, South Africa has actually entered a technical recession.
The announced total of $20.1 billion is in addition to pledges of over $27.7 billion that South Africa has received from several countries over the previous six months.
The Economic Stimulus and Recovery Plan launched this September has addressed problems that might affect investment in sectors like mining, oil and gas, tourism and telecommunications - all considered to have great potential for growth, according to experts.
The much debated 2017 draft of Mining Charter, which the Chamber of Mines of South Africa said would jeopardize the viability of an industry that is already under significant economic pressure, has been withdrawn and a new Mining Charter gazetted.
In addition new visa amendments, including agreeing visa waiver agreements with more countries, were announced this September in a bid to boost investment and tourism.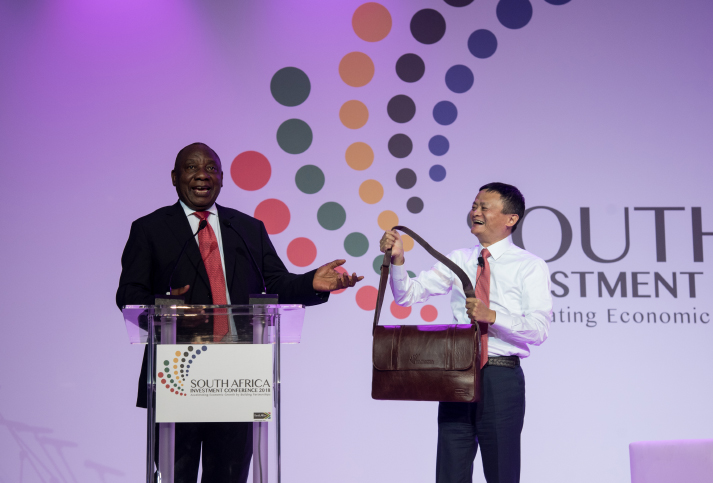 South African President Cyril Ramaphosa and Jack Ma, Chairman of Alibaba Group of China, at the South Africa Investment Conference (SHEN LU)
Opportunities offered
South Africa gives 10 reasons why investors should choose to invest in the country in the booklet The Case for Investing in South Africa, specially compiled for the investment conference.
The reasons given include that the country has rich natural resources, a young trainable labor force, affluent consumer base, favorable market access to other African countries and global markets, a mature and accessible legal system, advanced financial services, as well as world class infrastructure and logistics. Investors are encouraged to invest in agriculture and agro-processing, mining and minerals beneficiation, manufacturing, services and infrastructure sectors.
At the conference, each of the country's nine provinces offered different opportunities. For instance, the North West Province sought to expand its pharmaceuticals manufacturing, while focusing on mining and mineral beneficiation.
"Our prime focus sector is the mining and mineral beneficiation," Reao Ramang, investment specialist of the Northwest Investment Development Corp. said. "We have been trying to attract investment into the prime sectors, and we are also looking for funding for the expansion of manufacturing anti-retroviral drugs in our province."
Financial grants and tax and other incentives are offered, especially to those investing in special economic zones.
InvestSA, a division of South African Department of Trade and Industry, is responsible for the marketing and promotion of the projects and helps with information and facilitation. Its One Stop Shop services provide assistance to streamline the process of setting up a business.
"The One Stop Shop is to get all government departments to assist potential investors," Leslie Fick, Director of Special Projects of InvestSA said. "We help facilitate work permits and business visas, provide advice on tax incentives, and cut down the red tape to make sure that businesses are able to set up at their own pace."
The services are free, he added.
Chinese businesses
"South Africa boasts rich natural resources. It is a country with an enormous potential and growth momentum," noted Huang Shifang, Deputy Director General of China Council for the Promotion of International Trade Shenzhen Committee.
Huang said many enterprises in Shenzhen, south China's Guangdong Province, hold that the South African market is full of potential, and they are more than willing to come and invest.
Huang was in South Africa for a trade conference in Johannesburg from October 27 to 28. He was part of a group of 280 Chinese entrepreneurs mostly from Shenzhen, home to the first special economic zone in China.
"South Africa is rich in investment potentials," echoed Jin De, Africa Marketing Director of the Engineering Department of China National Cable Engineering Corp., who came to Johannesburg to take part in the investment conference. "And the good investment environment and a sound legal system make the gateway to Africa very attractive to businesspeople."
But Jin also said that some people are still a little concerned about the security situation and work permit problems.
Xu Changbin, President of the China Mall Group, has, since last year, been discussing with household products and small commodities manufacturers in China on how to invest in factories in South Africa.
"Since South Africa provides a series of incentives and preferential policies to investors, it is a good opportunity to set up factories in the country to prepare to enter the South African market, create jobs and help boost local economy," said Xu.
China has already become South Africa's largest trading partner and the main sources of foreign investment and tourists.
Statistics show that Chinese businesses have invested over $25 billion in South Africa, creating over 400,000 local jobs.
During Chinese President Xi Jinping's visit to South Africa this July, both sides reached a number of cooperation agreements worth $14.7 billion. When South African President Ramaphosa visited China this September, the two sides again signed multiple cooperation agreements. CA
(Reporting from South Africa)
(Comments to luanqi@chinafrica.cn)