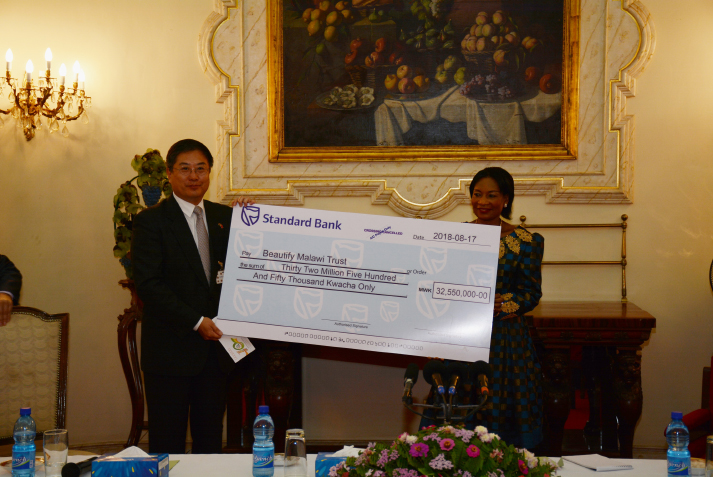 Malawi's First Lady Gertrude Mutharika receives a donation to assist girls' education on behalf of the Beautify Malawi Trust from Chinese Ambassador to Malawi Liu Hongyang on August 17 (EDWIN NYIRONGO)
When the Malawian Government introduced free primary education in 1994, Joyce Mhango, then 13 years old, was in the same class as her brother in Mzimba, a small town in the north.
However, when both were selected to go to secondary school, their parents panicked. They were both unemployed and could barely afford to feed themselves.
Eventually the parents found employment working in local gardens with the hope that they could save enough money for their children's school fees. For Mhango, this was good news because she wanted to fulfill her ambition of becoming a nurse.
"When I saw people turn back from the public hospital in my village because the only clinician there had gone on holiday, it pained me. This was the reason I vowed to continue with my education. The fact that my parents were eager to send us to secondary school gave me more motivation," said Mhango, now 37.
Hope crashes
According to Mhango, just days before secondary school enrolment, her parents had called to inform the two siblings about their future plans. She could not believe what her parents told her.
They first explained that although both her and her brother's selection to secondary school had made them proud, it was also a burden on them because of their financial position.
"We have done our best to find a solution. Because we could not find enough money for both of you [to attend secondary school], only one will go and it will definitely be the boy," Mhango's father told them.
Her dreams were further shattered when she was told to assist with her brother's tuition by marrying a man who would pay the family a dowry.
"That was the end of all my dreams of becoming a medical practitioner. I understood the financial situation of my parents. What I did not understand, however, was why they chose my brother to continue with his education and not me. It is something that haunts me till today, but it was out of my hands," said Mhango.
Culture reigns
A non-governmental organization, Civil Society Education Coalition (CSEC), said culturally, it was predictable that the boy would continue with education while the girl was told to withdraw. The organization blamed it on poverty.
"In such a situation where parents are forced to choose between a boy and a girlwho should continue with education, it is culturally obvious that they will choose the boy. This has been a big problem in the country which has affected many girls," said CSEC Executive Director Benedicto Kondowe.
The director said many people believe that if you educate a man, when he finds employment he will be able to support the whole family. But when you educate a girl, she will end up giving more help to her husband's relatives.
Kondowe said many girls find solace in NGOs who provide fees for their education which is commendable.
"But what we do not take into account is that women have passion and when there are problems in their parents' homes, they are quick to respond. That passion is rarely found in males," he said.
Goats to the rescue
Aware of the girls' plight, one organization is providing a helping hand. The Stephanos Foundation, a Christian charitable NGO operating in Malawi, has launched an initiative called Goat for Girls.
A household with a girl child is given two female goats and loaned a male goat. These girls are normally around 8 years old, so as they grow up, the goats reproduce and multiply, allowing parents to sell them for school fees.
The Stephanos Foundation Executive Director Clifford Kuyokwa said the program has helped a number of girls, especially in the southern district of Chikwawa, continue with their education.
"We were surprised that in many households, boys were going to school but girls stayed at home. When we enquired about the reason, we were told that due to poverty, the priority for education was given to boys. This is the reason we started the program," he said.
Caroline Alfonso is a 17-year-old who benefited from the program. She said she would have dropped out of school four years ago because her grandmother, who she lives with, could not afford her school fees.
Her grandmother Sophie Failose said apart from generating money for school fees, the animals also provide food for the house.
She said her granddaughter could not go to school because she would not be able to concentrate on an empty stomach. She therefore sold a goat and bought four bags of maize to solve the problem.
However, the Goat for Girls program is carried out in only one out of the 28 districts in the country. Another challenge is that many families could not wait for the goats to breed and multiply when money was needed urgently.
Instant help
The Beautify Malawi (BEAM) Trust, founded in 2014 by Malawi's First Lady Gertrude Mutharika, has been assisting girls in many ways, including the construction of hostels in some secondary schools. But it lacked resources to provide assistance in other areas such as school fees.
This prompted the trust to appeal for help. China subsequently responded by providing MK 32.55 million ($45,000).
Speaking at the donation handover ceremony in the capital Lilongwe in August, the first lady acknowledged the assistance China has been giving the BEAM Trust since its inception. It includes three refuse collection trucks and an annual My Clean School My Pride campaign sponsorship.
"With the funding, 300 needy girls will be given an opportunity to go to school. These girls would have faced an uncertain future and it is the country that would have lost in a big way. I say this because BEAM believes that education is the most sustainable way of beautifying our country," said Mutharika.
She outlined projects China has undertaken in Malawi, which included construction of the parliament building, international conference center and a stadium.
Presenting the cheque, Chinese Ambassador to Malawi Liu Hongyang, expressed satisfaction with the care and support BEAM is giving to girls. Liu told the Malawi News Agency that he had read about BEAM in some newspapers in Malawi.
"In the population of Malawi, there are 47 percent of young girls who drop out of school for various reasons and particularly, for early marriages," said Liu.
He said after becoming aware of the school-related efforts Malawi is making on the ground, especially for girls, he decided to increase the donation to get girls back into school.
Mutharika said in the past three years, BEAM had received MK 21 million ($29,000) a year from China toward the My Clean School My Pride campaign, but this year it has been increased to add efficiency to the organization's work.
(Reporting from Malawi)
(Comments to niyanshuo@chinafrica.cn)