2. Lekki Deep Sea Port started construction
On March 29, 2018, the Nigerian Lekki Deep Sea Port Project, constructed by China Harbor Engineering Co., Ltd., began construction in the Lagos Lekki Free Trade Zone. The seaport is expected, after completion in 2020, to be one of the deepest in West Africa with a carrying capacity enabling it to become the hub of port operations within the region. The promoters of the project also promised to provide a wide-access port channel that will enable the port to handle vessels which no other port currently situated in Nigeria can handle. In addition, it is expected to provide up to 170,000 jobs directly and indirectly.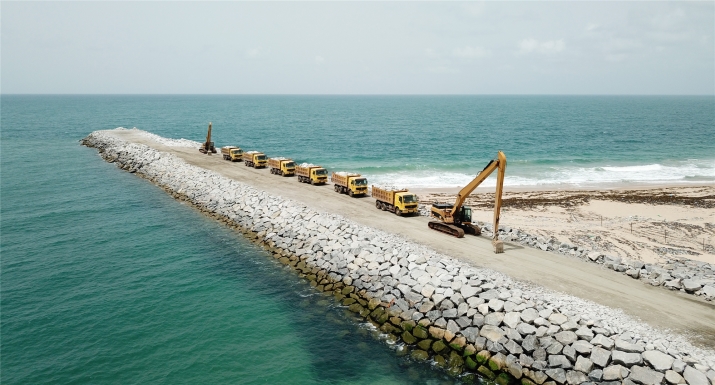 Lekki port under construction (XINHUA)
3. First overseas center for Beidou Navigation Satellite System opened
The China-Arab States BDS/GNSS Center, the first overseas center for China's indigenous Beidou Navigation Satellite System (BDS), was officially inaugurated in Tunisia on April 10, 2018.
"The center could serve as both a window to showcase the BDS, and a platform for promoting international exchanges and cooperation," said Ran Chengqi, Director of China Satellite Navigation Office.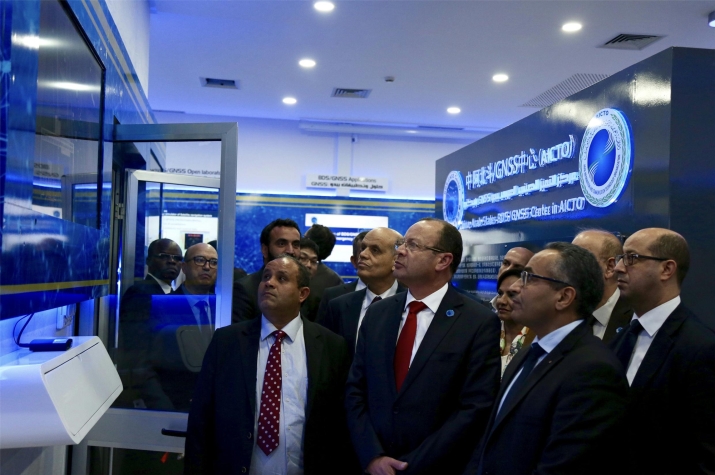 Mohamed Ben Amor (second left front), Secretary General of Arab Information and Communication Technology Organization, visits China-Arab States BDS/GNSS center on April 10 (XINHUA)
4.China, Burkina Faso resume diplomatic ties
China and Burkina Faso resumed diplomatic relations on May 26, after the West African country severed "diplomatic ties" with China's Taiwan region on May 24.
State Councilor and Foreign Minister Wang Yi and Burkina Faso's Foreign Minister Alpha Barry signed a joint communique on the re-establishment of diplomatic relations in Diaoyutai State Guesthouse in Beijing.
Wang said the resumption of China-Burkina Faso ties signified a step forward to a goal that all African nations will join in the big family of friendly cooperation between China and Africa.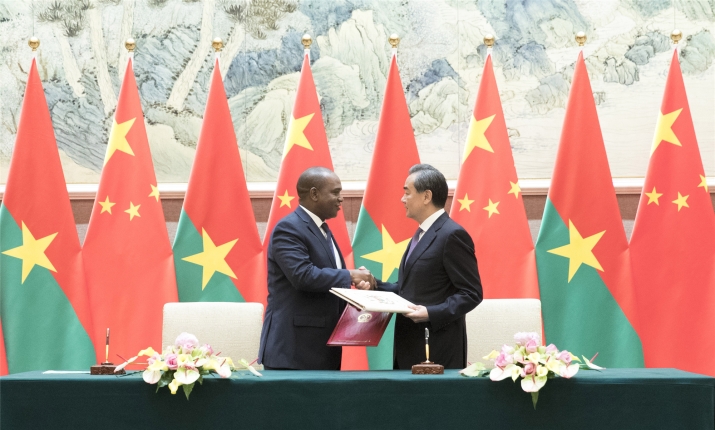 Chinese Foreign Minister Wang Yi and his Burkina Faso counterpart Alpha Barry (XINHUA)
5. Chinese President Xi Jinping visits African countries
Chinese President Xi Jinping paid a state visit to Senegal, Rwanda and South Africa and a friendly visit to Mauritius from July 21 to 28. This was the first African trip after Xi was re-elected as Chinese president in March, 2018. Experts believe the trip was a major diplomatic move China has taken toward African countries and promoted the ongoing development of China's relations with Africa.
Xi also attended the 10th BRICS Summit which was held in Johannesburg, South Africa, on July 25-27.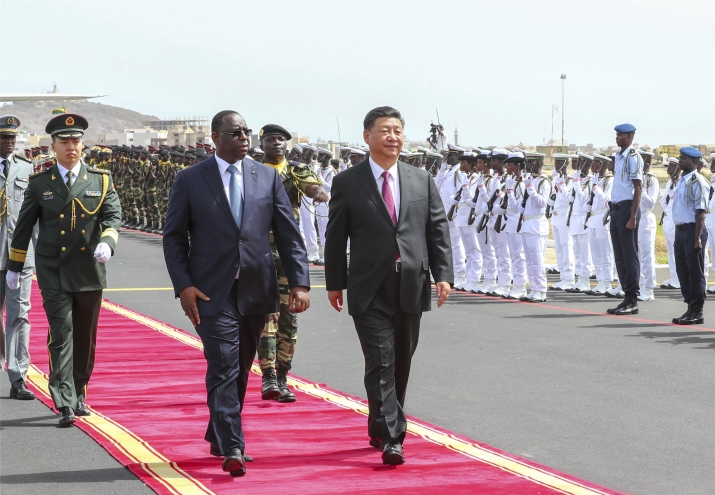 Chinese President Xi Jinping and Senegalese President Macky Sall inspect the troops during Xi's state visit on July 21 (XINHUA)
6. The Fifth China-Africa People's Forum held in Chengdu
The Fifth China-Africa People's Forum, under the theme of Pooling Strength from the People for Stronger China-Africa Friendship and Mutual Trust, was jointly hosted by the China NGO Network for International Exchanges and Sichuan Provincial Government in Chengdu, capital of southwest China's Sichuan Province on July 23-24.
In his congratulatory message to the forum, President Xi said the forum serves as an important bridge between the Chinese and African peoples, which has played an active role in promoting people-to-people exchanges between China and Africa since 2011.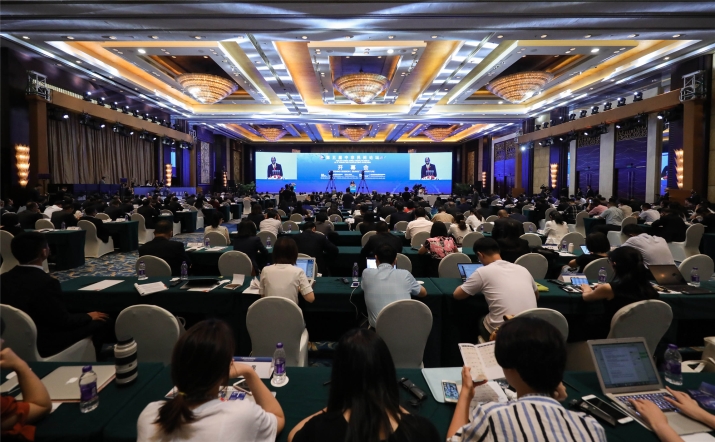 Launch of the Fifth China-Africa People's Forum (XINHUA)
7. China, Mauritius set to sign free trade agreement
China and Mauritius concluded negotiations on bilateral free trade agreement in Beijing on September 2, clearing the road for signing of the first free trade zone (FTZ) between China and an African country.
Witnessed by Chinese Premier Li Keqiang and Mauritian Prime Minister Pravind Jugnauth, minister-level officials from both sides signed a memorandum of understanding on wrapping up the months-long negotiations, leading to the first free trade agreement between China and an African country.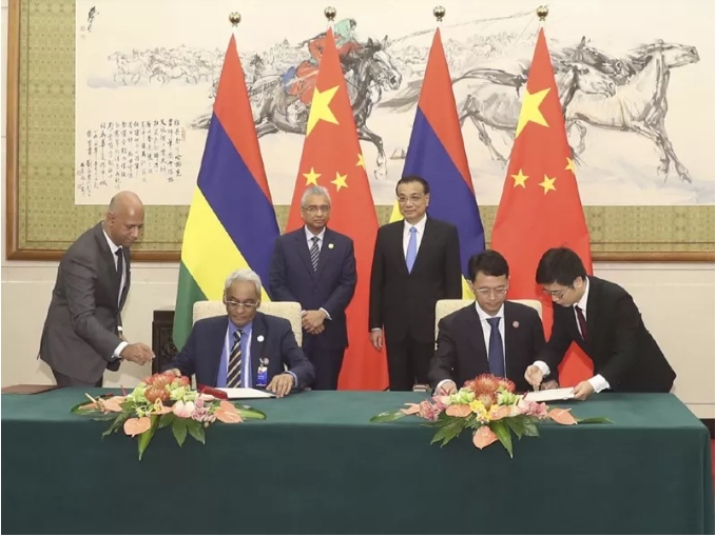 Chinese Premier Li Keqiang (third right) and Mauritian Prime Minister Pravind Jugnauth (third left) witness the signing of a MoU on free trade zone (PEOPLE.CN)
8. The 2018 Beijing Summit of the Forum on China-Africa Cooperation held
The 2018 Beijing Summit of the Forum on China-Africa Cooperation (FOCAC) was held on September 3-4. Delegates from China, 53 African countries with diplomatic relations with China and the African Union Commission (AUC), including 40 state leaders, 10 government heads, one vice state leader and chairperson of the AUC, attended the summit.
The summit adopted the Beijing Declaration - Toward an Even Stronger China-Africa Community with a Shared Future and the FOCAC Beijing Action Plan (2019-21).
Senegal succeeded South Africa as the African co-chair of the FOCAC.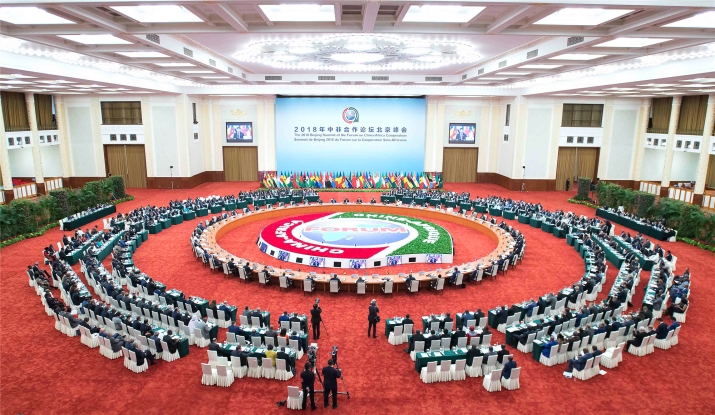 The roundtable meeting of the FOCAC Beijing Summit on September 4, 2018 (XINHUA)
9. First Electronic World Trade Platform in Africa launched
China's e-commerce giant Alibaba and Rwandan Government launched Alibaba's Electronic World Trade Platform (eWTP) on October 31, the first eWTP in Africa.
The eWTP initiative was proposed by Jack Ma, Executive Chairman of Alibaba Group, in 2016. It aims to promote public-private dialogue to foster a more effective and efficient policy and business environment to enable small and medium-sized enterprises to participate in cross-border electronic trade.
"I hope from today, the eWTP Rwanda can be able to support small businesses, young people and women here in Africa and sell their things to enable them to global buy, global sell, global deliver, global pay and global travel," Ma said at the ceremony.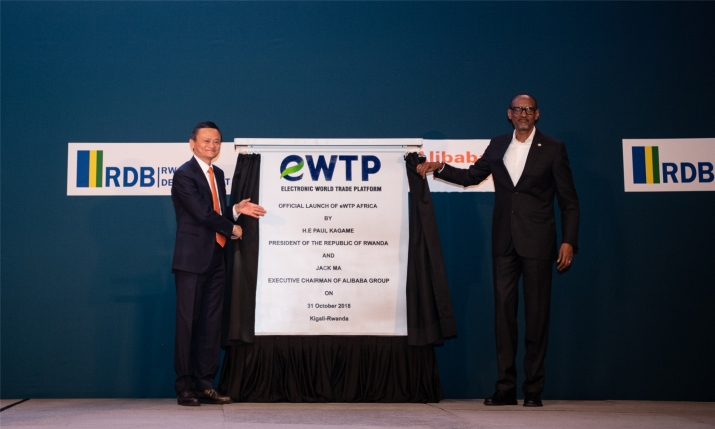 Alibaba founder Jack Ma (left) and Rwandan President Paul Kagame launch eWTP (XINHUA)
10. African exporters show up at the First China International Import Expo
The First China International Import Expo (CIIE) was held in east China's Shanghai on November 5-10. A total of 172 countries, regions and international organizations participated in the expo. More than 200 companies from over 40 African countries showcased their products and services, including South Africa, Kenya, Ethiopia, Nigeria and Egypt.
"The expo shows China is open wider for business, and it promotes trade partnerships and helps close trading gaps between China and Africa," said Kenyan President Uhuru Kenyatta who led a delegation of horticultural farmers and traders to China for the event.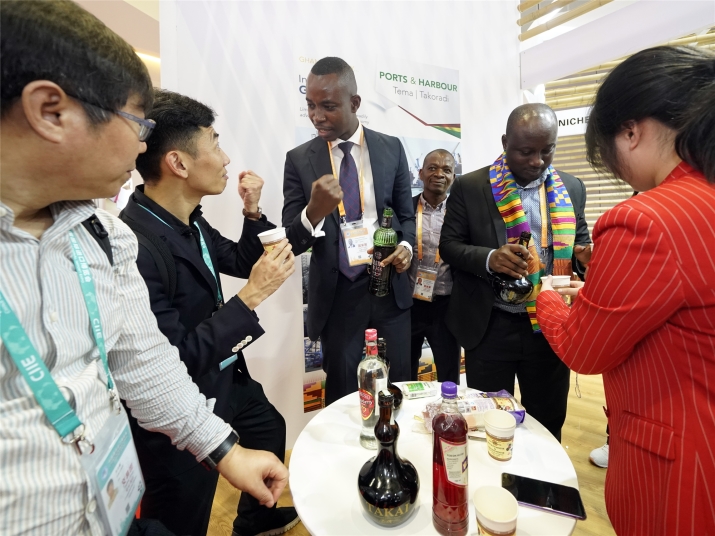 Chinese buyers visit the Ghana stand at CIIE (XINHUA)