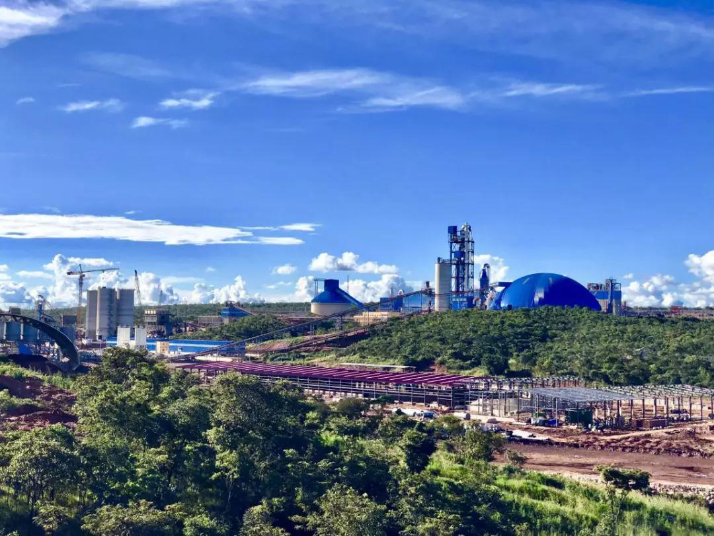 A view of CNBM-Zambia Industrial Park (COURTESY OF CNBM)
From Lusaka, the capital of Zambia, a road stretches southeastward for about 19 km, through a scenic landscape of small valleys surrounded by green hills, and ends at the gates of a huge industrial park. This is where the China National Building Materials Group (CNBM) decided to establish the CNBM-Zambia Industrial Park.
"Chinese companies operate very efficiently and have a good corporate culture. We can learn a lot by working shoulder to shoulder with our Chinese friends. I hope that the industrial park project will improve our livelihood," Alex Tend, Security Director of the CNBM-Zambia Industrial Park, told People's Daily, one of China's premier newspapers.
In October 2015, as an integral part of the Belt and Road Initiative, an industrial park project to be invested, built and managed by CNBM was put forward. At first, many villagers in the surrounding communities were afraid that the industrial park would harm the environment. However, as the project progressed, they gradually changed their minds and, like Tend, became enthusiastic supporters of the park.
Green focus
CNBM President Song Zhiping said his company has attached great importance to environmental protection issues, a critical concern for the inhabitants of Lusaka. Indeed, the Zambian capital is often nicknamed the "garden city" due to its many parks.
"We must focus on the local people and integrate ourselves into the local economic and social development by building long-term 'garden-style' factories in Africa," he said.
According to information provided by CNBM, the total area of the CNBM-Zambia Industrial Park and its associated mining sites exceeds 100 square km and its total planned investment is $500 million, to be divided into two phases. The first phase already saw the opening of a cement plant with an annual capacity of 1 million tons, as well as the creation of production lines for sintered bricks, concrete and aggregate materials, with a total investment of approximately $200 million. These facilities were put into production in June 2018, shortly before the official opening ceremony of CNBM-Zambia Industrial Park, which was held on July 26, 2018.
According to Zhang Yuanci, Managing Director of Mpande Limestone Ltd. (Zambia), a local branch of CNBM, strict environmental standards have been enforced throughout the park, including the implementation of a dust suppression system. As of now, the industrial park is also developing and testing new technologies such as thermal energy production and municipal household waste management, which will enable it to save energy, reduce emissions and lower raw material costs. In addition, a number of experiments have been conducted to bring the level of resource waste to a minimum. For example, soils that needed to be removed to open up mines are now being reused to produce high-quality sintered bricks. Fine sifted limestone powder, previously discarded as construction waste, is also being used for agriculture.
"The limestone powder, a by-product of our production process, could be a burden for other companies, but at CNBM, we collect it and reuse it to improve soil quality, and this has considerable social benefits," explained Zhang.
Edgar Chagwa Lungu, President of Zambia, visited and inspected the CNBM-Zambia Industrial Park on several occasions. Each time, he became more convinced that this project not only contributes to Zambia's economic construction, but also provides cutting-edge technologies in terms of energy saving and environmental protection.
"By focusing on the harmonious development of the industrial park and the surrounding environment, we will turn the CNBM-Zambia Industrial Park into a genuine factory in the forest," he said during one of his visits.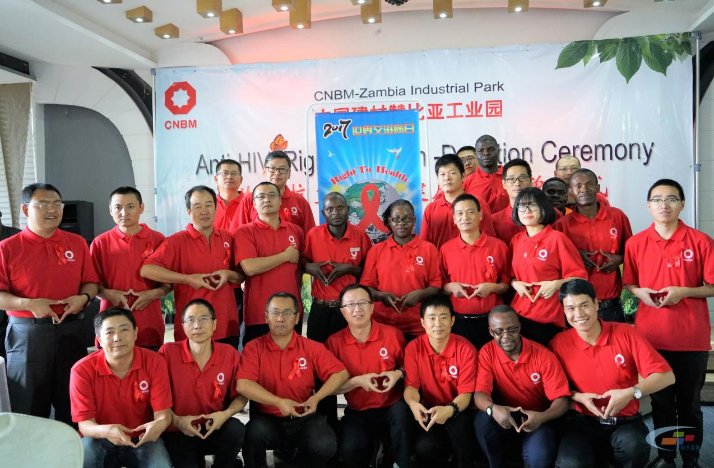 CNBM-Zambia Industrial Park staff at the Donation Ceremony for the Zambia AIDS Prevention and Control Foundation (COURTESY OF CNBM)
Taking roots
The CNBM-Zambia Industrial Park also attaches great importance to the quality of its products. In accordance with Zambia's regulations, the standards for the cement industry are the same as those of the European Union. After careful analysis and comparison, experts found that Chinese standards were actually superior to European ones.
On May 18, 2018, a conference to promote products of China's SINOMA brand, which are manufactured in the industrial park, was held in Lusaka. The conference was aimed at improving the image of this brand's construction materials on the
Zambian market.
Christopher Yaluma, Zambia's Minister of Commerce, Trade and Industry, said that the arrival of SINOMA products would promote healthy competition on Zambia's building materials market while helping it to open up to international business.
"We currently have 170 Chinese as well as 400 Zambian employees, who have been given high-level technology training at the park by Chinese experts. Our products are sold not only in the Zambian market, but also in neighboring countries, such as the Democratic Republic of the Congo and Malawi," Zhou Yuanping, Assistant Administration Manager of Mpande Limestone Ltd. (Zambia), told ChinAfrica. He added that since the CNBM-Zambia Industrial Park was launched, it had fully met its social responsibilities.
To fulfill its corporate social responsibility, in March 2017, the CNBM-Zambia Industrial Park invested $1.5 million to build a hospital and school in the Nachitete residential community, in addition to donating $42,000 to the Zambia AIDS Prevention and Control Foundation on December 1, 2017, the World AIDS Day. When a cholera epidemic unfortunately struck 11 countries in Southern Africa in January 2018, the industrial park took a number of preventive measures as required. As a result, not a single case of infection was reported in the surrounding villages or in the park. In addition, the CNBM-Zambia Industrial Park has invested approximately $6 million in the construction of a 9-km road, linking itself to other industrial parks in the southern part of Lusaka, which was officially opened to traffic on July 3, 2018.
According to Li Jie, Chinese Ambassador to Zambia, the CNBM-Zambia Industrial Park is an important Chinese investment project that provides both high-quality and affordable building materials. At the same time, it will lead to the creation of more than 2,000 local jobs, both directly and indirectly, and generate significant tax revenues for the country. It will also have a significant impact on the related sectors such as road transportation, materials packaging and services.
In 2018, Zambia ranked eighth best performing economy in Africa in the Ease of Doing Business Index, according to the World Bank's most recent report. "The business environment in Zambia continues to improve and Chinese investments in the country are for the long term," Zhou told ChinAfrica.
(Comments to glj@chinafrica.cn)