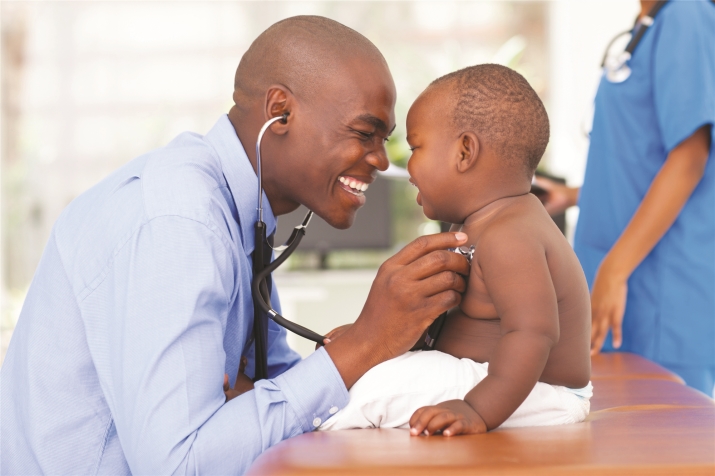 Children's hospitals are in great need in African countries (ISTOCK)
Sitting in one of the many waiting rooms of Diamniadio Children's Hospital (DCH), Aissatou Cissé patiently waits for her turn. That morning, she brought her two sick children from the Senegalese capital of Dakar all the way to Diamniadio, a new city being built at the other end of the Dakar Region.
Since her first visit to the DCH, she has been full of praise for the new institution. Like her, almost all the patients travel long distances to be there. This is the case of Ibrahima Ndiaye, who came from Rufisque with two sick students, as well as Fatou Seck, who traveled from Parcelles Assainies in Dakar. What Cissé appreciates above all else in this new healthcare institution is the modern equipment.
The DCH is one of the most visible results of Sino-Senegalese cooperation. It is one of the 10 completed projects of pediatric hospitals built by China in Africa. Its construction was co-financed by the governments of China and Senegal at a cost of 5 billion CFA francs ($9 million) and 500 million CFA francs ($900,000), respectively. Inaugurated in January 2014 by Senegalese President Macky Sall, the DCH effectively began operations in August 2012.
According to Abdou Cissé, head of Administrative and Financial Services of the hospital, the DCH has a capacity of 140 beds. It is a pediatric hospital that accommodates children up to 15 years of age in its four service hubs - the Pediatric Medical and Paediatric Surgery Unit, Hospitalization Unit, Medical Technology Center, and Technical and Support Administrative Services. The hospital's technical platform allows it - in addition to the care mission assigned to it as one of Senegal's public service hospitals - to conduct research and teaching activities.
Big patient turnout
The DCH was established as a level-3 health facility by state decree. Its special location in the center of Diamniadio's crossroads area made the hospital a reference institution for healthcare treatment of young patients in the area, in other regions of the country and even abroad. According to Cissé, the DCH, whose staff is "young and committed," also accommodates patients from neighboring countries and border regions, as well as from Dakar, where there is another children's hospital, the Albert Royer. The DCH boasts the latest generation of equipment and the best working conditions.
Despite all this, Moussa Gueye, head of Communication Services at DCH, said the rates charged are the same as those charged in all other public health facilities in the country, in accordance with the Inter-ministerial Decree No.738. According to Cissé, this decree is now obsolete since it dates back to 2005, and he hopes the Senegalese Government will update it in the near future.
Despite its isolated location of the DCH in Diamniadio new city, a wave of patients presents themselves at the hospital every morning. It accommodates about 200 patients daily. Such popularity among Senegalese patients is easily explained by the hospital's considerable assets. In addition, another major reason behind its success is that the hospital, unlike others in the country, does not refuse to treat any patient.
"We operate 24 hours per day. We are there for the people," said Cissé, who points out that this policy also has negative consequences, as some patients who have already been treated still owe them money.
Another asset of the DCH is its latest-generation equipment and the high motivation of its personnel. The level-3 hospital also acts as an institute for higher learning. To this end, agreements have been signed between DCH and Cheikh Anta Diop University in Dakar and the University of Thiès. Departments such as otorhinolaryngology, pediatrics and ophthalmology are now run by university professors.
Weak links
Officials of the DCH, like those of the Senegalese Government in general, salute the Chinese cooperation that made it possible to build this jewel.
"Since we started, our Chinese partners have dealt with preventive and curative services," said Cissé. In fact, the support of the Senegalese Government has been minimal and has hardly changed since 2012, he said. The hospital is responsible for 90 percent of its human resources. In other words, the Senegalese Government contributes only about 10 percent of the budget. Cissé therefore hopes the government will increase this subsidy, if possible.
In order to resolve some of the weak links, Cissé asked his Chinese partners to update existing equipment. He said the availability of spare parts, especially when it comes to laboratory equipment, is a crucial factor that needs to be better considered in the future.
"This is very important. Sometimes we are given equipment whose consumables are only available in China. Our local suppliers cannot provide them. On this issue, it would be beneficial if China would consult with us," he said.
Another request of the hospital is related to logistics. "We have huge difficulties in terms of transportation. More than 60 percent of DCH staff live in Dakar, 42 km away, and have to commute to work daily. Others come mainly from the cities of Mbour and Thiès, located about 40 km away. The hospital has to pay 2.5 million CFA francs ($4,500) per month just to cover staff transport." In addition, the DCH vehicle fleet includes only one functional ambulance.
Also with Chinese medicine becoming increasingly popular worldwide, Cissé believes more cooperation could be carried out between the Chinese doctors based in nearby hospitals and the medical staff at DCH.
Meanwhile, China regularly offers scholarships to DCH staff members to go to China for training. Moreover, Chinese partners are currently building a mother-child institute in one of the nearby areas of the DCH to strengthen maternal and child health facilities in Senegal.
(Reporting from Senegal)
(Comments to niyanshuo@chinafrica.com)