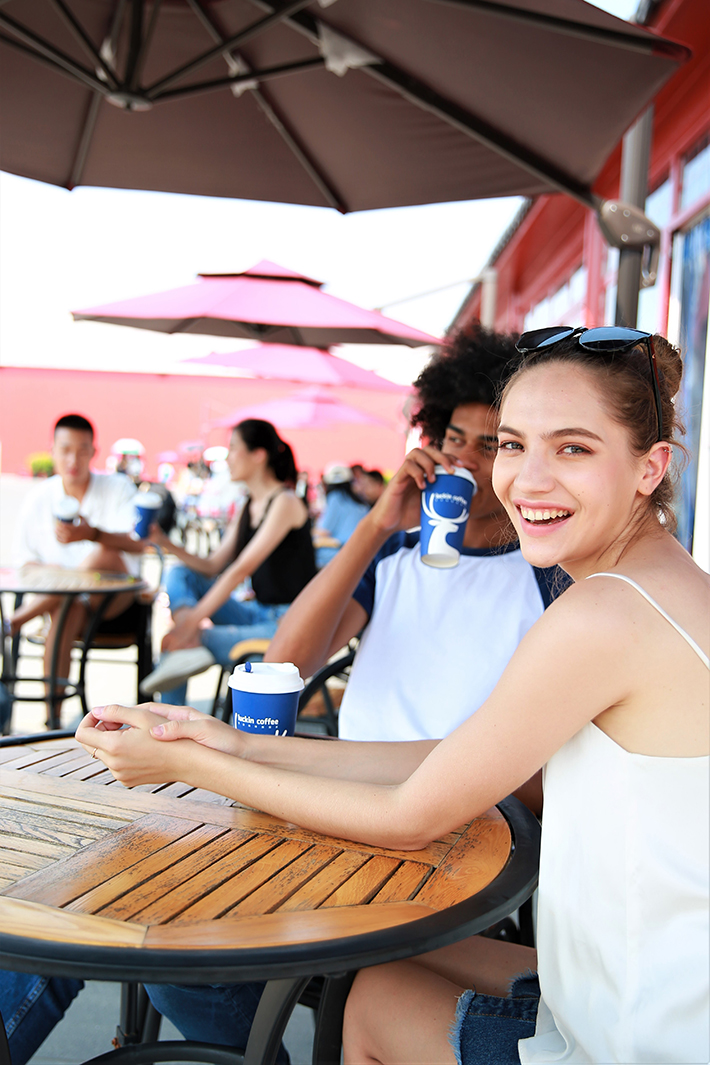 Tourists drink Luckin coffee in the Forbidden City (COURTESY)
Starbucks never expected that its dominant position in the Chinese coffee market would be challenged by a local company that was founded little more than a year ago. Since the launch of its first store in China at the China World Trade Center in 1999, the U.S.-based coffee giant has been the leading brand in the Chinese coffee market for 20 years.
Now there is a new kid on the block, with a blue deer logo. Luckin Coffee, founded at the end of 2017, is a homegrown startup that has exceeded all expectations. In January 2018, the brand declared an ambitious plan to open 2,000 stores by the end of that year. When it officially started operation on May 8 that year, the brand made a noteable presence in 13 of China's major cities, operating 525 stores.
At a press conference held in Beijing on January 3, 2019, Luckin released its operating statistics for 2018. As of December 31, Luckin had opened 2,073 stores, completing its target set a year ago. It took Starbucks 17 years to achieve a similar reach in China.
Speaking at the conference, Luckin Chief Executive Officer Qian Zhiya said that their plan for 2019 was to surpass Starbucks in the number of outlets and cups of coffee sold and become China's largest coffee shop chain.
Appeal to young people
Li Hui is a white-collar worker residing in Beijing who seldom drinks coffee. Recently, her friend sent her a link and invited her to try Luckin Coffee. "By accepting the invitation, I got my first cup of Luckin Coffee free of charge, and my friend also got a cup of coffee for free," she said.
Less than 20 minutes after placing the order, a hazelnut latte was delivered to Li in the lobby of her office building. She was delighted with the taste and serving temperature of her drink and has been hooked ever since.
Because coffee loses its flavor the longer it stands after being poured, efficiency is critical to delivering takeaway coffee. According to Luckin, it has reduced the time it takes to complete an order to an average of 18 minutes, and only 0.4 percent of the orders exceed the 30-minute deadline of delivery time. These achievements are inseparable from its densely distributed stores. Luckin's goal is to have a store visible every 500 meters in core urban areas.
Both take-away and in-store orders are placed on the Luckin Coffee app. In order to attract more people to use the app to buy coffee, Luckin provides various discounts. New users can get free coffee and discount coupons, and a free coffee is given for every two coffees bought and for inviting a friend to become a new user. With this app, customers can use coffee coupons to treat their WeChat (Chinese messaging app) friends, or put the coupons in a "red packet" and send it to a WeChat chat group. These features are attractive to Chinese young people like Li.
A research report released by Goldman Sachs in May 2018 showed that the rise of Luckin has been largely attributed to its popularity among young consumers. The report shows that 48 percent and 90 percent of Luckin consumers, compared to 22 percent and 71 percent of Starbucks consumers, are younger than 24 and 34, respectively. Goldman Sachs believes that these demographics have strong spending power and enjoy socializing, which helps spread word about the Luckin brand.
Coffee at any moment
The rise of Luckin is inseparable from its takeaway business, but its ambition is far beyond that. On September 19, 2018, Luckin's 1099th store opened in Beijing's iconic Forbidden City, attracting a large number of visitors. Luckin was not the first brand to open a coffee shop in the Forbidden City. In 2007, Starbucks shut down its Forbidden City shop that had operated for six years, after a debate about whether the culture Starbucks represents matched that of the Forbidden City. Luckin avoided any possible disputes by being low key and operating within an existing souvenir shop. There are no logos or signs indicating its presence except for the irresistible smell of coffee and visitors coming out of the shop with blue cups in their hands.
In addition to the Forbidden City shop, Luckin has opened shops in the Mercedes Benz headquarters in Beijing, Xinhua News Agency, China's top content platform Toutiao and other well-known institutions. Luckin also has temporary shops at major events such as the China Open tennis tournament, Beijing Marathon and Beijing International Film Festival. Unlike the traditional notion of the coffee industry to create a "third place" from home or the workplace, as represented by Starbucks, Luckin's branding strategy is to provide coffee at "any moment," either through delivery or in brick-and-mortar shops.
Balancing speed and quality
The rapid expansion of Luckin has been accompanied by widespread concern. Especially, after China's bike-sharing unicorn Ofo fell from grace in 2018, the capital-backed model of quick development was mired in doubt. Founded in 2014, Ofo expanded rapidly and became one of China's two major bike-sharing brands in just two years. In 2018, its inability to make a profit and failure to get enough capital support put it on the verge of bankruptcy.
Luckin's expansion is also heavily dependent on capital support. It started with 1 billion yuan ($147 million) of angel investment to develop the market. Then it raised $200 million in Series A (first round of financing given to a new business) in July 2018, and another $200 million in Series B (second round of financing) five months later. Luckin's total loss for 2018 was 800 million yuan ($118 million), largely due to the money being spent to subsidize consumers. Responding to queries about the loss, Luckin said it was within what was predicted and the loss will not stop the ongoing subsidizing for at least the next five years.
"The Luckin team is a rational and pragmatic team made up of business veterans. We are not going to be the next Ofo," Luckin's Co-Founder and Chief Marketing Officer Yang Fei told Iyiou.com.
Members of the startup team were mostly from UCAR, a $7-billion business in China's car rental market. Qian was the Co-Founder and Chief Operating Officer of UCAR. As an enthusiastic coffee lover, she spotted the opportunities in the coffee market and decided to form a new startup. The team understands that though the first cup of coffee can be delivered to the customers through innovative marketing, it is the quality of the coffee that keeps them coming back for more. To ensure the taste of their coffee, Luckin uses the finest Arabica coffee beans sourced from Ethiopia, and employs a team of World Barista Championship winners to refine its formulas.
Luckin directly operates all its shops and uses fully automatic coffee machines to ensure consistent quality. They remotely monitor equipment parameters of all the shops and have technical teams on standby for breakdowns. On the Luckin Coffee app, users can watch how their coffee is made through live videos.
(Comments to hufan@chinafrica.cn)