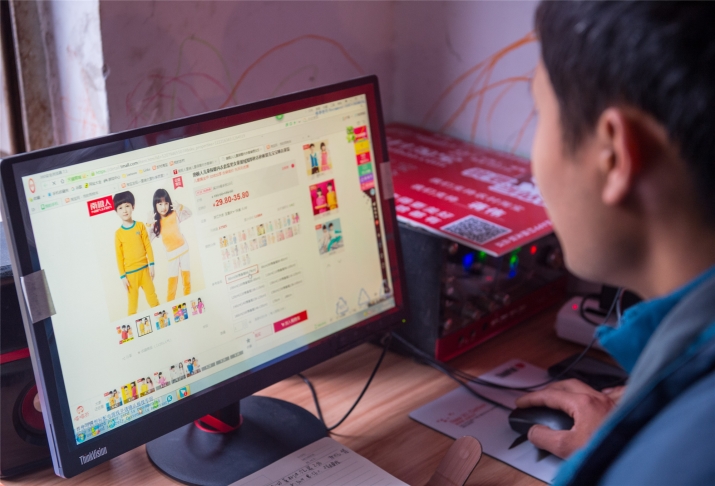 A netizen looks for clothes on an e-commerce platform in Chongqing, China (XINHUA)
Gao Difan, 27, was overjoyed with the Givenchy lipstick she bought herself as a Christmas gift via a daigou on Taobao, one of the most famous e-commerce platforms in China. A daigou is the name given to an intermediary who travels or lives abroad and buys products on behalf of people in China.
"I only bought it for 258 yuan ($38), while it is worth about 350 yuan ($52) in a store and 320 yuan ($47) on an online site. The purchase by a daigou helped me save a lot of money," Gao, an interpreter in Beijing, told ChinAfrica.
In China, many consumers bought foreign products via a daigou, who then sent these products to China by mail or took them back in their suitcase without declaring them to customs. By avoiding the import duty, these goods were cheaper compared to those found in stores in China. Due to inadequate laws and regulations in the field of e-commerce in China, it was difficult to determine whether the daigou model was legal.
However, entering 2019, daigous have found they could no longer enjoy big profits as before. After five years of drafting and revision, China's first E-Commerce Law came into effect on January 1, 2019. It clearly defines who e-commerce operators are and addresses the industry's long-standing problems. As e-commerce operators, daigous must comply with this law, and pay import duty while going through customs. Otherwise, they will face a fine.
Clearly defined
By law, natural persons, legal persons, or organizations that sell goods or services on the Internet are all e-commerce operators.
Previously, online stores of individual did not need to register as industrial or commercial operators. There was almost no threshold for small online merchants. According to the new law, merchants on e-commerce platforms and daigous who sell overseas products via social media, such as WeChat, must register and pay taxes in accordance with the law.
The E-Commerce Law also defines the responsibilities and obligations of e-commerce operators, such as checking and updating merchants' information on their platforms, formulating rules for services and transactions, and protecting intellectual property rights, consumers' rights and personal information of users.
With the rapid development of e-commerce in China, damage to the environment through packaging, storage, transportation and other links cannot be ignored. For these environmental issues, the law stipulates that the government must take measures to support and promote the ecological development of e-commerce.
According to Lao Guoling, a professor at Shanghai University of Finance and Economics, it is necessary to clarify the obligations of environmental protection in the e-commerce sector in this law, which has set the tone for sustainable development in the sector. Biodegradable packaging, environmentally friendly storage and transportation will be good places to start, said Lao.
Regulate the market
The clear definition of e-commerce operators and their tax obligations reduces the price advantage of daigous' goods and other small online stores. The law regulates market behavior, so it is supported by consumers and merchants.
"For consumers, it's better if the price is low, but should be reasonable. So if the e-commerce market is regulated, the price will gradually become more reasonable and consumers' interests will be better protected," said Gao.
According to Ge Jiangqiu, a professor at Fudan University Law School, the legislation and implementation of the E-Commerce Law is not intended to eliminate small online merchants or daigous, but to regulate the market and create a better consumer environment.
This law guarantees the safety of consumption and improvement of consumption environment, according to observers. E-commerce operators must establish a credit rating system, publicize the evaluation rules and provide consumers with the means to evaluate the products or services provided on their platforms. It is not permitted to remove or include false reviews to mislead consumers. In addition, it is clearly stipulated that all e-commerce operators must protect customers' personal information.
According to Ge, the clear definition of the tax obligations and other responsibilities of the e-commerce operators is conducive to encouraging healthy and fair market competition. The law also states that the government should deal with online and offline commerce on an equal footing, as the law sets consistent rules for both online and offline commerce.
Sino-African e-commerce
The law also regulates development of cross-border e-commerce regarding customs, taxation, inspection and quarantine at the border, settlement, payment, logistics and storage.
"The law is for all e-commerce operators, including cross-border traders. This is conducive to the healthy development of cross-border e-commerce," said Liao Xuhui, CEO of Amanbo, an online Sino-African import-export platform. It works with several countries such as Kenya, Cameroon, Sierra Leone, Togo and Côte d'Ivoire.
According to Liao, although the law has enacted regulations on cross-border e-commerce, it has yet to be practically implemented. "Cross-border e-commerce is not a single country business, but involves others. This leaves many difficulties for the implementation of the law," Liao told ChinAfrica.
According to Liao, China-Africa e-commerce is in its infancy, and the relevant laws and regulations still need to be improved. The new E-Commerce Law is a very good start and shows that the Chinese Government attaches importance to this sector, he said.
"Increasingly closer exchanges between China and Africa will play an important role in promoting the importation of products from Africa, especially agricultural products. I am sure Sino-African cross-border e-commerce will also experience rapid growth in the coming years," added Liao.
(Comments to lijing@chinafrica.cn)