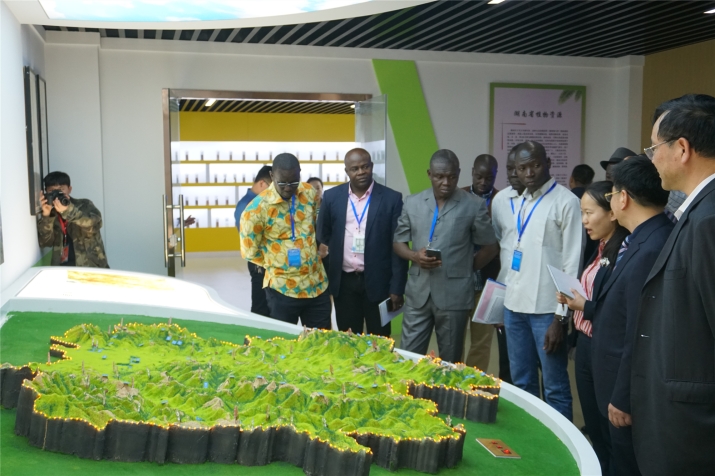 Burkinabe agricultural experts visit the Zoological and Botanical Specimen Center of the Hunan Biological and Electromechanical Polytechnic (COURTESY PHOTO)
May this year marks the first anniversary of the resumption of the diplomatic relations between China and Burkina Faso, after a 24-year hiatus. The positive impact of this historical event was not long in coming: Cooperation in the agricultural sector between the two countries has seen significant progress.
China's Ministry of Agriculture and Rural Affairs was quick to resuscitate its agricultural cooperation with Burkina Faso. Soon after the resumption of diplomatic relations, preparations were made to welcome the first delegation of Burkinabe agricultural experts to China.
"We organized a seminar and invited senior Burkinabe agricultural officials who had previously cooperated with Chinese agricultural experts in Burkina Faso to come to China, in order to enhance the effectiveness of our cooperation and to deepen mutual understanding and trust between our two countries," said Lin Huifang, Deputy Director General of the Center of International Cooperation Service (CICOS) of China's Ministry of Agriculture and Rural Affairs.
Sanou Gaoussou was one of the Burkinabe officials invited to attend the seminar in China. As the Coordinator of the Sino-Burkinabe Agricultural Cooperation Project at the Burkinabe Ministry of Agriculture and Water Resources Development, he arrived in Beijing on March 16, heading a group of 10 fellow experts. Together, they spent 12 days in China.
"To strengthen the capacities of officials at the Ministry of Agriculture and Water Resources Development of Burkina Faso is a good way to contribute strongly to the achievement of food self-sufficiency in our country," said Denis Kaboré, Second Counsellor at the Embassy of Burkina Faso in China.
A trip of discovery
Aware that the Burkinabe agricultural officials were most interested in learning more about rice planting and water conservation projects, CICOS made a point of including conferences and field visits focusing on these areas. In addition, the seminar also included sessions to teach participants about Chinese culture and language to enable them to better understand China.
According to Lin, the seminar also included field visits to Hunan Province, one of China's main agricultural powerhouses. During these visits, Burkinabe officials were able to conduct in-depth discussions on various aspects of agricultural development with local officials. They also had a chance to visit water conservation infrastructure and the Hunan Hybrid Rice Research Center, which was established by Yuan Longping.
Known as the "father of hybrid rice in China" and recipient of the first State Preeminent Science and Technology Award, Yuan is known for having developed super-hybrid variety of rice, including Xiangliangyou 900, breaking world yield records.
As he was preparing to leave China, Gaoussou said he learned many things during the seminar. "China has extensive experience and expertise in the fields of agricultural irrigation, mechanization and processing of agricultural products, which is exactly what we need. We must bring back what we have learned here to our country, in order to promote Burkina Faso's agricultural development," he said.
Kaboré said the training will pave the way for further cooperation among researchers and professionals in the field of agriculture and rural development in the two countries, "so as to ensure that all the Burkinabe people can benefit from our [cooperation] achievements."
Deepening cooperation
According to Gaoussou, agriculture is still one of the main pillars of the Burkinabe economy. It employs more than 80 percent of the working population and represents 30 to 35 percent of the national GDP. But the small scale of rural farmers and the low level of mechanization are some of the main obstacles on the development path of this critical sector.
"The agricultural cooperation between our two countries after the resumption of diplomatic relations is a major opportunity for us to remove constraints on our development in general, particularly in the agricultural sector," said Gaoussou.
One month after China's resumption of diplomatic ties with Burkina Faso, a team of nine Chinese agricultural experts arrived in the African country. Less than a year after their arrival, the nine agricultural experts have already completed a number of projects, working hand in hand with local officials, technicians and farmers.
Among their main achievements, the Chinese experts have completed the development of an irrigation system covering four hectares of land, built a rice seed production base and established six demonstration bases for new rice varieties. In addition, they have rehabilitated more than 2 km of irrigation canals and repaired 10 irrigation gates on the Bama plain, in the south­western region of the country.
In addition, the Chinese experts have also organized training courses to make sure their local counterparts were able to fully understand the new technologies. To date, they have produced 16 teaching materials on a wide range of subjects such as rice cultivation, irrigation and agricultural mechanization. Moreover, they organized 20 field technical training courses and nine large-scale training sessions, with a total of 926 participants including government officials, technicians and farmers.
"Burkina Faso needs Chinese cooperation and expertise to modernize its agriculture to meet the legitimate demands of its people," said Kaboré.
Looking forward, Gaoussou believes that the development of Burkina Faso's agriculture still faces a number of major challenges, including the underdevelopment of farmland and irrigation systems, high cost of agricultural inputs and equipment, regular pest attacks and inadequate storage and distribution infrastructure.
To help meet these challenges, China is already putting in place the second team of Chinese agricultural experts for Burkina Faso. The expected duration of this second mission is July 1, 2019 to June 30, 2021. This time, two translators and eight agricultural experts will be sent to the country.
According to the current plans, this second expert team will focus on four main areas: planning, demonstration, ancillary engineering and technical training. Their specific tasks will include assisting in the preparation of the national rice development plan, drafting a national plan to promote small-scale agricultural machinery, conducting demonstrations on irrigation technology and the use of new agricultural equipment in 13 regions of the country, completing the construction of five dams, developing 2,000 hectares of land and providing the technical training for more than 1,000 farmers and officials.
In addition, during their two-year mission, CICOS plans to invite 11 key officials from Burkina Faso's agricultural sector to participate in a 12-day seminar. A high-level advisory group composed of Chinese agricultural experts will also visit Burkina Faso for a period of six days.
"Burkina Faso believes in the common future that China intends to share with African countries and will do everything in its power to intensify its cooperation with China, mainly in important sectors of its economy, such as agriculture," said Kaboré.
(Comments to lijing@chinafrica.cn)