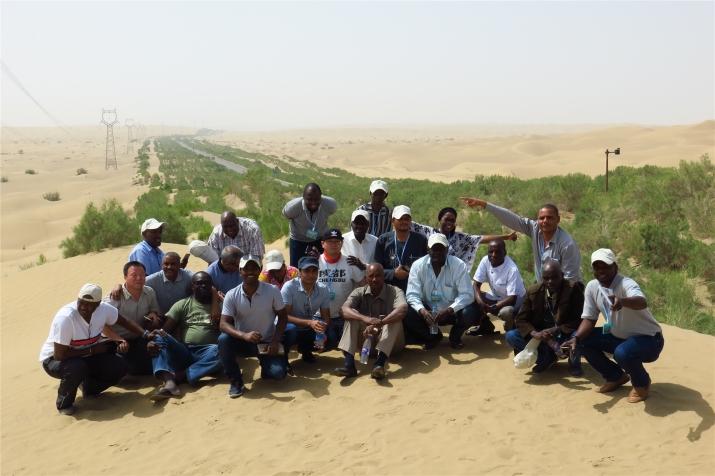 XIEG staff and African trainees during a visit to a project on desertification control in Xinjiang (COURTESY PHOTO)
Xu Xinwen, a 56-year-old researcher, is a warrior, but not in the conventional sense. He has been battling fearlessly for 21 years against a very different enemy – sand, in the desert in Xinjiang Uygur Autonomous Region, northwest China, which is home to the largest arid lands in the country.
A researcher of Xinjiang Institute of Ecology and Geography (XIEG) under the Chinese Academy of Sciences, Xu has dedicated much of his life to building China's Green Great Wall, a project initiated in 1979 aimed at planting a shelter belt from northwest to northeast China in areas vulnerable to severe sand hazards and soil loss. With an area of 4 million square km, the project has involved tens of millions of people like Xu in the fight against desertification.
Having garnered rich experience from this project, Xu is now part of the team cooperating in a similar project on the other side of the world, with a similar name - the Great Green Wall of Africa.
In 2007, under the leadership of the African Union (AU), 11 African countries, including Burkina Faso, Djibouti, Eritrea and Ethiopia, signed up to the Great Green Wall initiative. It is described as "an epic ambition to grow an 8,000-km natural wonder of the world across the entire width of Africa," according to the program's official website. Currently, more than 20 African countries joined in this project.
Xu became involved in the initiative when the China-Africa Joint Research Center was set up in 2013. As a participant of the center, XIEG established an office with organizations in Mauritania, one of the African Great Green Wall participating countries, to conduct research on the prevention of desertification. In 2018, XIEG set up a Pan-Africa Great Green Wall Research Center to provide technological support to the program.
"We are in a good position to provide support to Africa with our technology and experience gained in Xinjiang," Xu told ChinAfrica, adding that the similarities in the causes of desertification in Xinjiang and Africa make it possible to apply Chinese expertise in these regions.
Technological support
XIEG was established in 1998, originating from two institutes for desert studies and geology that were established in the 1960s. Since then, it has accumulated vast experience and technologies in desertification control and development of ecological industries.
Its technology was first introduced to Africa in 2009. Invited by the Libyan Government, XIEG provided a comprehensive solution for controlling typical sand hazards along a desert road in Murzuq, southwest Libya. This example became a landmark for the later introduction of Chinese desertification control technologies to Africa.
According to XIEG, after the launch of China's Belt and Road Initiative in 2013, more intensive cooperation was carried out with the African Great Green Wall countries.
In August 2017, XIEG provided a 14-day training course for some 20 trainees from these countries. During the training, Chinese techniques in Xinjiang's anti-desertification project along with hands-on field studies gave the trainees a deeper understanding of the solutions available. A progress report detailing the specific needs of the various African countries along the Great Green Wall was also compiled.
One month later, XIEG officially became a provider of technological support for the Great Green Wall initiative by signing agreements with related countries at the 13th Session of the Conference of the Parties to the United Nations Convention to Combat Desertification held in Ordos, north China's Inner Mongolia Autonomous Region.
Xu believes there is ample room for this cooperation. "Based on our investigations in Africa, our technology in desertification control is needed there, especially for the construction of the Great Green Wall," he said.
XIEG is now busy with a new national research program, started in 2018, to assist green cooperation with Africa. The program is dedicated to finding out technologies suitable for the building of the African Great Green Wall. It focuses on diagnosing key technical problems with the building of this Great Green Wall and assessing the suitability of China's technology, materials and products for desertification control in Africa.
The Kubuqi model
Chinese companies in the ecological industry might be a solution. With their success in developing the desert economy in China, they are seeking possibilities to bring ecological projects to Africa.
In October 2018, the Elion Resources Group, an ecological company based in Inner Mongolia Autonomous Region, another major area subject to severe desertification in China, signed a memorandum of understanding (MoU) with the government of the Oriental Region of Morocco in Oujda to address desertification in that region. The two parties were considering forest restoration and clean energy development as likely areas of cooperation, according to Elion President Wang Wenbiao.
In the same month, Elion signed another MoU with Nigeria's southern province of Imo on projects involving desertification control, agriculture and development of new-energy resources.
These cooperation projects followed the conclusion of the Beijing Summit of Forum on China-Africa Cooperation held a month earlier, in which China proposed green development, including desertification control, as part of the eight major initiatives to expand cooperation with Africa.
Wang said Elion's experience in desertification control gained in its 30 years of management of Inner Mongolia's Kubuqi Desert could be helpful in Africa.
Since its founding in 1988 as a salt producer in Kubuqi, the seventh largest desert in China with an area of around 14,000 square km, Elion has been contributing to greening the desert. In so doing, it has developed what is called the Kubuqi model, a sustainable approach of balancing a desert economy and environmental protection. By developing industries suitable for the desert, such as solar energy and licorice planting, as well as carrying out large-scale anti-desertification projects, the desert economy is thriving and the economic gains in return provide funds for further control effort.
"This model is suitable for regions where the environment is harsh, vulnerable or contaminated, as is the case of Africa," Wang told ChinAfrica.
Thirty years down the line, Kubuqi is a vastly different place. In 2016, vegetation coverage of the desert increased to 53 percent from 3-5 percent in 1988. The revenue generated has lifted more than 10,000 local people living in the desert out of poverty.
Balance is the key
Speaking on the prospects of China-Africa cooperation over desertification control, Xu said desertification is caused partly by natural factors such as the climate change, and partly by human activities. It is difficult for humans to change the nature, so it is impossible to solve desertification thoroughly at present, he said. But Xu remains optimistic that with proper control measures, the part of desertification caused by human activities can be addressed.
The success of initiatives in the Kubuqi Desert adds weight to his views.
In the distant past, the desert was once a fertile, lush land along the northern rim of the Yellow River, one of China's key waterways. Desertification only began with the influx of people into this area during the Western Han Dynasty (206 B.C.-A.D. 25). Intensified human activities transformed Kubuqi into a desert over the past two centuries.
This story is similar to events in Africa. Studies show that the massive Sahara Desert was covered with lush vegetation 10,000 years ago, until the presence of humans.
"For desertification control, the key is to find the balance between the limited resources in deserts, especially water resources, and the human need for these resources," said Xu. "If we plan reasonably, make rational use of resources, and live in peace with the environment, we will suffer less from desertification; otherwise, the nature will have its vengeance on us."
(Comments to hufan@chinafrica.cn)