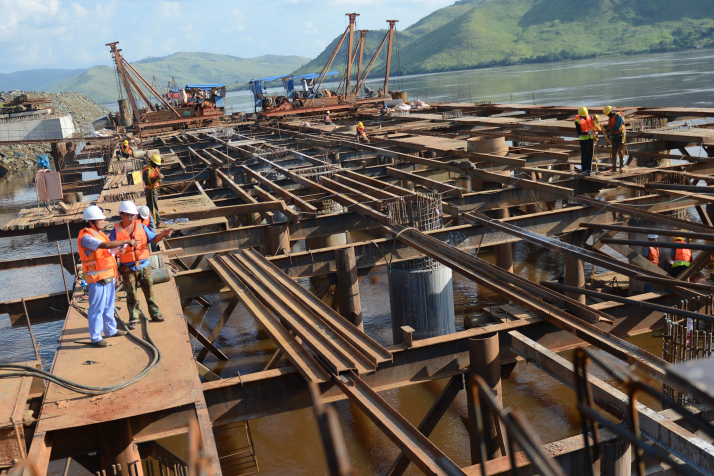 A port built by a Chinese company in Matadi, DRC (WANG BO)
Mpambe Tshombe, 76, has seen his country, the Democratic Republic of the Congo (DRC), emerge from being a Belgian colony, struggle through civil wars and evolve into a democracy.
Earlier this year, the country saw its first democratic transition of power since it gained independence from Belgium in 1960, when then President Joseph Kabila stepped down from office in January, following the inauguration of the elected former opposition leader Félix Tshisekedi. Tshombe said that his country had not known peace until very recently, and thinks that stability is bound to attract more foreign investors, including those from China. One infrastructure project that has caught his eye is the road expansion in which China is playing a major role.
"At least now I can transport my goods to Kinshasa smoothly without my vehicles getting stuck in muddy dirt roads for many days," said Tshombe. He cultivates sweet potatoes, cassava, yam and potatoes on about 40 acres (16.2 hectares) of land in North Kivu Province in the eastern part of the country.
Road connections
The African Union's (AU) newly appointed High Representative for Infrastructure Development, former Kenyan Prime Minister Raila Odinga applauded the move by China to invest in the DRC.
"The Central African country is rich in several mineral resources and a big chunk [of them] is exported. So the construction of 15,600 km of roads and highways by China within the next few years is welcome. Obviously, the DRC produces a lot of agricultural products as well, so transporting goods from rural towns to Kinshasa is a noble idea," Odinga told ChinAfrica.
According to Odinga, China and the DRC have several bilateral deals signed in the past years.
"So this has eased up the pressure associated with many challenges to development. As the AU, we are working closely with the new government of the DRC and other partners," he said.
Odinga confirmed that the construction work has begun early this year on the 2,340 km of highway connecting the mining city of Lumbubashi, located in Katanga Province near the border with Zambia, with Kinshasa. Lumbubashi is known to be a copper belt and is the headquarters of several mining companies. Odinga said that most roads are being constructed under China's Belt and Road Initiative.
"These are just a few projects under the initiative. Apart from China, many European countries have jumped on the bandwagon. So the future of the country is promising, but the citizens [also] have to make the right decisions for themselves toward the future of their country," said Odinga.
According to the World Bank, in 2018, the DRC had a total road network of 152,400 km, with 7,400 km being classified as urban roads. But experts say this is inadequate for a country of over 2.3 million square km, and endowed with a plethora of mineral wealth that covers about 60 percent of the total land mass, according the World Bank.
"Overexploitation over the years, not by locals but by European powers, coupled with domestic strife, has been a setback for the country. But with good promises for future political stability, the country is headed in the right direction," said Professor Germano Mwabu, a World Bank consulting economist for Africa.
According to Odinga, there are also proposals for a railway system that will be funded by China. The railway system is supposed to connect Kinshasa to Lumbubashi and from Lumbubashi to Katanga Province, measuring almost 5,000 km.
"You have to realize that the DRC has a large land mass. All the internal problems it has faced over the decades have been challenges for investors and development, hence the high cost of building and rehabilitating the existing road network," said Odinga.
Remaining optimistic
Mwabu admits that he does not know the exact figure of foreign direct investment in the DRC, partly because of civil wars that have plagued the country since 1960.
"The DRC has been at civil war for most of its existence as an independent country and so it's been difficult for many economists to get accurate data. But there is a big possibility that the total amount of investment can be even higher than that of any [other] African country. We are busy compiling a report on all foreign investments in the DRC," said Mwabu, adding that one thing he is sure of is that China is the biggest investor in the country.
According to him, Chinese investments are mainly in infrastructure such as roads, dams, stadiums, hospitals, energy (mostly hydropower) and real estate. Some of the Chinese companies contracted by the DRC Government to build major infrastructure projects in the country include China Railway Group, SINOHYDRO Corp. Ltd. and China Wu Yi Co. Ltd. More economic inputs in the DRC are scheduled to take effect in several months' time, according to Mwabu.
According to Dr. John Mbaku, a Cameroon-born economist and currently a nonresident fellow at the Global Economy and Development Africa Growth Initiative, there is a sense of optimism in the country now. He was in the DRC recently to carry out several economic research projects.
"The road network in the DRC is expanding and that already gives it a great future. The roads will link several mining towns to Kinshasa and other urban centers [which should see] commerce thrive. The country is currently the 19th largest economy is Africa, but it could be one of the wealthiest in the world," said Mbaku.
According to the United States Geological Survey, the DRC has over $24 trillion worth of untapped minerals such as cobalt, coltan and lithium. The development of this rich resource has been hampered in part by the lack of transport infrastructure.
But Mbaku admits that despite the impressive road projects currently being undertaken, more roads need to be built in the Central African country and that additional input will take about 10 to 15 years to reach fruition.
"A lot of progress is being made, and the peace that we have [recently] witnessed augurs well for the DRC," he said.
His sentiments were shared by Onkoko Kweyu, spokesperson for the communication section of the DRC Embassy in Kenya.
"The Belt and Road Initiative will expand connectivity in our country. The DRC is in need of 440,000 km of roads in the next 10 years. Our land size is massive. Our population is over 80 million. Most of the roads being built by China will link us with other African countries. So far, over 15,000 km of roads are being constructed and that is a good start," said Kweyu.
(Reporting from the DRC)
(Comments to niyanshuo@chinafrica.cn)