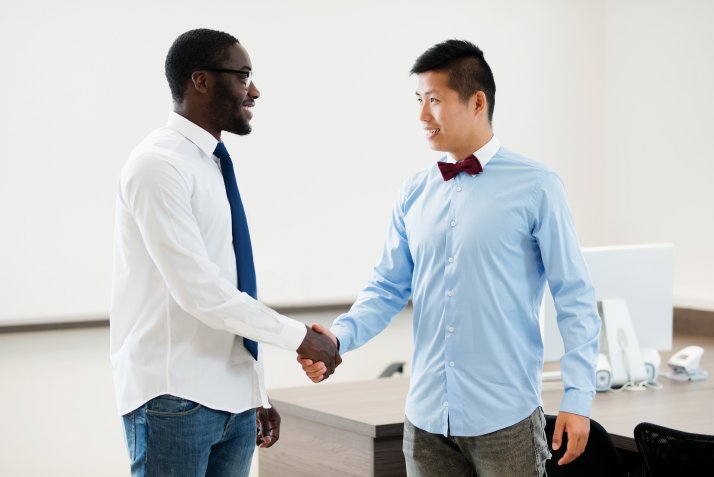 More and more African people choose to start businesses in China (HELLORF)
The growth of the Chinese market is a global phenomenon and for any businesspeople wanting to advance and increase their operations, whether in services or products, it is the market to enter.
But entering any foreign market is not plain sailing, and African businesspeople are often faced with a raft of challenges in a market environment that varies greatly from their own.
China has entered a new era and Chinese people are more confident and ambitious, requiring higher quality products and a better standard of living. In these circumstances, anyone who wishes to do business in China needs to look at the country differently.
China opportunity
Compared with other markets in the world, China presents many attractive opportunities to African businesses, due to its huge and diversified demands, rapid economic growth and development trajectory.
China's retail sales are estimated to grow by about $6 trillion from now to 2030. It is the world's biggest market for online retail sales and represents more than 30 percent of the global market in luxury goods, automotive, consumer appliances, mobile phones and spirits. In the past 20 years, China's importation of meat has been growing at a compound annual growth rate (CAGR) of 16 percent. The annual value of meat imports is over $10 billion and continues to rise. Clearly, Chinese consumers require more protein and are eating healthier than ever before.
Many other hot commodities present enormous opportunities as well. For example, the importation of fish grows at a CAGR of 14 percent (value greater than $6 billion), fruit at a CAGR of 20 percent (value greater than $5 billion), and vegetables at a CAGR of 18 percent (value more than $1.8 billion). In addition, the importation value of beverage and spirits exceeds $4.8 billion, and pharmaceutical products importation value is more than $20 billion every year.
Looking at such a strong consumer story, how could African countries adapt to fit into this picture?
China strategy – four steps
China's market is huge and attractive, but complex as well as competitive and highly regulated. The challenges faced in doing business in China, a country which includes 34 provincial regions, is often similar to doing business in Africa. Different provinces, municipalities and autonomous regions in China have their own unique business environment. Companies entering China must formulate and execute a clear China strategy, so as to meet the needs of the local environment. In this regard, there are four steps to be considered by aspirant African businesspeople:
First, analyze the market and prioritize the opportunities. This requires solid market research and analysis, so as to understand the business environment and issues, and get a holistic picture of the competitive landscape, government policies and regulations. It is crucial to identify the customer segments and understand the targeted customer buying behavior.
If your business is in fast moving consumer goods (FMCG) or business-to-customer areas, it is especially important to consider online retail sales. This is because China has successfully
developed a vibrant online ecosystem that utilizes its own unique platforms, such as Alibaba, JD.com, WeChat shop, and hundreds of other similar platforms to grow domestic FMCG businesses. For business-to-business players, it needs to be clear whether it is appropriate to choose distributorship models or direct sales models. Through the examination and integration of these market realities, businesspeople will be able to identify, evaluate and prioritize the different opportunities and develop the appropriate strategies for their own unique business, products and services.
Second, identify, select and preliminarily engage with clients and strategic partners. In this process, by narrowing down the universal list to a shortlist of targets, it is important to develop relevant filters to identify and evaluate potential key customers, partners, investors, and other players.
When seeking a good partner for industrial products, it is vital to conduct proper due diligence reviews on potential partners. For example, the future partner's market position in terms of industrial ranking, company brief, shareholding structure, management team, financial capability, credibility and reputation, operational qualification, and supply chain management must be carefully assessed. This will boost the probability of success and will assist in risk mitigation.
While in this process of target identification, evaluation and selection, it is important to prepare documents, such as marketing collaterals and information memoranda, in anticipation of the coming business engagements. It is important to get the messaging right in order to maximize the chances of having good outcomes from your engagements and meetings.
Third, well arrange the direct engagement with the preferred targets. In other words, it is strongly recommended to visit China and meet directly with relevant target customers, potential partners and stakeholders. It is important to note that the meetings need to be with the right person at the right level.
As such, it will take some time and effort to find and talk to the right person, but it will be rewarding if you are able to engage with a decision-maker or at least an influencer. During the meeting, remember to design the conversation structure well – and always take careful meeting minutes because it is useful for post-trip assessments and to plan next steps. Always rely on your own qualified and trusted interpreters and translators and prepare appropriate gifts. This will create the right atmosphere and leave an impression with the Chinese host that you appreciate Chinese culture and hospitality. This small detail often adds much value in building business relationships.
It is also advisable to leverage your relationships and network to meet with your embassy in China, along with companies from your own country, relevant business councils and other stakeholders. These are regarded as trusted parties in your China ecosystem, and it is very useful to learn from someone who is trusted and also experienced in China.
Fourth, always remember to follow up systematically. A thank-you letter will be a natural follow-up tool. It is important to customize the letter to every company that you met with. The meeting minutes will be quite useful at this stage. What's more, the minutes would help in your strategy review and guide the process of further engagement. The importance of this step should never be underestimated. In fact, the commencement of the real business starts from here.
These four steps provide a good departure point and a systematic process for people who would like to do business in China. In addition, it is important to form a "team A" from your available resources that consists of professional and experienced executives, instead of a "team B." This team will have the required skills, such as business acumen, experience, language ability, cultural astuteness, technical knowhow, negotiation skills, flexibility, as well as all the relevant capabilities to adapt to a new environment.
It may not be easy to enter the Chinese market, but the prize for success is large – and China is open for people who are prepared for it.
(The author is director of The Beijing Axis, a China-Africa professional services company based in Beijing)
(Comments to niyanshuo@chinafrica.cn)