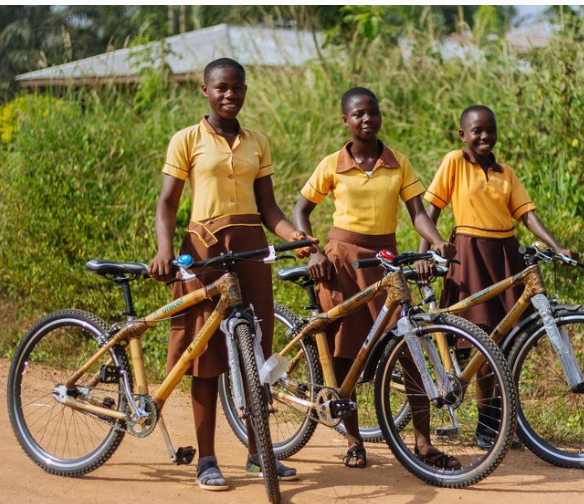 Bamboo bikes produced by Boomers International (COURTESY PHOTO)
In Apaah, a small community in the Ashanti Region of Ghana, Issac Boadu's dream of becoming a university student and an architect will soon materialize. That is once he gains admission to Kwame Nkrumah University of Science and Technology, one of Ghana's premier institutions of higher learning, later this year.
Boadu will finance his own tuition from savings he has made over two years from working with Boomers International, a bamboo bicycle manufacturer located in his community. He hopes to secure admission to a distance learning program in order to keep his job while pursuing his studies.
When Boadu finished his secondary school education four years ago, he thought it would not amount to much because his parents could not afford to support his tertiary education.
"I knew my parents couldn't afford to send me to university. My expectation for my own future is very low," he said.
This is the story of many young people, like Boadu, who are living in various deprived communities across Ghana, where a lack of economic empowerment means the death of their aspirations.
Boadu's fortunes changed when a friend told him about a new company that was using bamboo to make bicycles in his area.
Intrigued by the news, he asked his friend to take him to the company to see what the bamboo-bicycle fuss was all about.
"When we got there, I saw young men like me working on the bikes. I got interested and successfully got employment there in 2016," he said.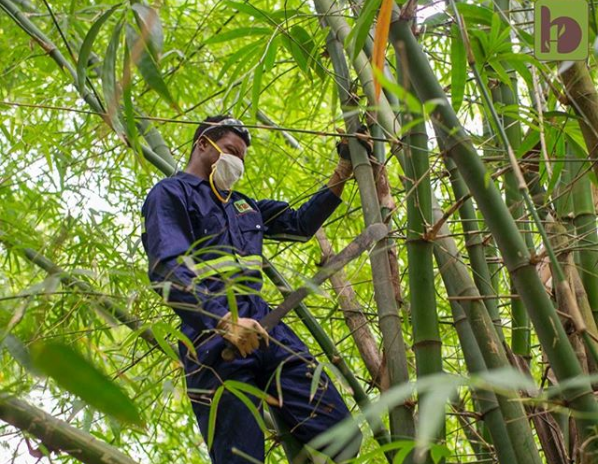 A local farmer harvest bamboos for Boomers Internationa (COURTESY PHOTO)
Rural opportunities
In 2009, long before Boadu was employed at Boomers International, Mkwabena Danso, Co-Founder of the Yonso Project (named after the district where he is based), which was geared at providing opportunities for rural folks through sustainable development activities, conceived the idea of using bamboo to make bicycles.
Under the Yonso Project, young people of Apaah who were school dropouts, were trained to make bicycles from bamboo. The project, according to Danso, was important in economically empowering the youth and helping curb the menace of migration from the rural community to the urban centers.
Danso said the project was well received and it wasn't long before the bamboo bicycles were gaining attention in the market. This, he said, encouraged him to go commercial in 2014 to produce the bikes on a large scale. He launched Boomers International that year and currently works as the chief executive officer (CEO).
"When the company went commercial, we absorbed most of the people trained from the Yonso Project. However, commercializing the project did not change the focus of providing economic freedom to many rural folks," he said.
Nana Oduro Boahen, Chief of Yonso District, is excited about Boomers International story and how it has given locals in his community a chance to see that they can rise above any bleak situation if they persevere.
"The CEO of Boomers International is from here [Yonso], so the youth especially have a great example to follow," he said.
Boahen was hopeful that the technical skills Boomers International is sharing with employees will go a long way in helping them in their personal lives.
He confirmed that bamboo groves are now being protected by people in his community, who would have destroyed them in the past to farm the land.
Community engagement
Danso said his company is first and foremost a social enterprise committed to dealing with serious issues affecting his community.
"The goal is not about me or my personal gains and achievements. It is about the good of the community," he stressed.
He told ChinAfrica that he realized living in the rural areas was less stressful than living in the big cities, however, most youth were migrating to the urban centers for greener pastures because there were not enough economic activities to keep them at home.
When asked why he chose bamboo to make bicycles, Danso said the idea was to find natural resources in their community to use as a catalyst for creating sustainable development ventures.
"Bamboo is abundant in Apaah and we discovered that it had a lot of tensile strength, twice as much as steel and was environmentally sustainable," he added. Only the bike frames are made from bamboo.
The bamboo goes through a long process of harvesting, chemical and heat treatment, selection, frame wrapping with sisal strips, sanding and inspection.
Boomers International makes a variety of bicycles, including children's tricycles, electric bikes, mountain bikes, hybrid bikes, normal city bikes and road bikes. The bikes have been well received in various markets in Europe and North America.
Since the company's inception, it has successfully crafted over 4,000 bamboo bicycles that have been sold internationally. Currently 120 bicycles are made every month.
The company also makes bicycle trims and other accessories from bamboo for export.
Though bamboo bicycles have existed for some time in other markets, for a developing country like Ghana, to be a forerunner in reintroducing them speaks volumes for what Ghana, and Africa in general, can offer the world.
Speaking about the uniqueness of the bamboo bicycle, Walter Agbeko Kudzodzi, a Ghanaian communications consultant, told ChinAfrica that he bought the bike out of curiosity and has not regretted the purchase.
According to Kudzodzi, since he is an outdoor person, he opted for a mountain bike which he has enjoyed from the time he made the purchase back in 2015.
"Comparatively, there is no big difference between the normal bicycles and the bamboo ones, but the novelty of it is the attention it gets from people. When I am on my bamboo bicycle, it makes me feel special," he said.
One of the biggest fans of Boomer bikes is Britain's Prince Charles. While on a visit to Ghana in November 2018, the prince, an avid promoter of environmental sustainability, said he had heard so much about the bikes and was going to buy one.
The prince said Boomers International was one of the finest solutions for combating the effects of climate change.
Social responsibility
Boomers International employs 40 young people and has an additional casual staff of 20 who harvest the bamboo and make the fiber for wrapping the bicycle frame, and 200 farmers who cultivate bamboo.
"To ensure that standards are maintained, I often work closely with my team through the entire manufacturing process, from the harvesting of bamboo through the final assembly of bicycles," said Danso, who learned the art of making bicycle from a friend in the business, and called the company Boomers International after the word "bamboo".
Commenting on the social impact the company has had on the community, he is delighted at how lives are being improved directly and indirectly in the community. Almost all the company employees are now independent and could put food on the table at home.
One of Danso's rural community projects launched in 2017 is providing free bamboo bicycles for pupils in the community, with priority given to girls. Also a school construction project, which he spearheaded, will be commissioned in September for the community.
"We provide bicycles for the pupils to increase basic literacy. We do not want distance to be an impediment to accessing basic education," he said.
The whole idea is to eventually transform the rural areas through investment so they are places that are attractive for youth to stay.
To make the business more sustainable, Boomers International hopes to reclaim a 20-hectare area over five years to cultivate bamboo. Each year four hectares will be cultivated. In addition, the company will roll out a bamboo agroforestry program to train people how to grow bamboo.
Danso said his company will also provide free seedlings to the trainees and buy bamboo from them once they mature.
"We cannot wait to be the pioneers of Africa's first bamboo village," said Danso.
(Reporting from Ghana)
(Comments to niyanshuo@chinafrica.cn)