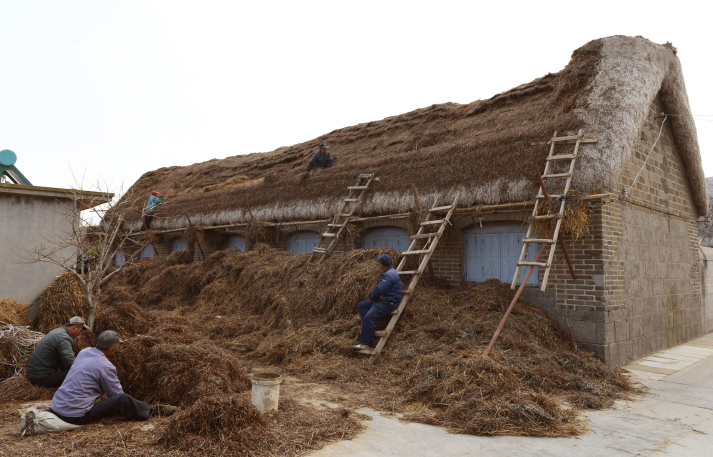 Villagers in Dongzhudao repair a seaweed-roofed house (COURTESY PHOTO)
From outside, Dongchudao Village in the eastern part of east China's Shandong Province appears just like another fishing village. But, a closer look reveals something unusual: the roofs of houses - they are topped with seaweed rather than tiles that are normally used.
The village of Dongchudao in Rongcheng City currently has 650 houses of this type. The oldest was built more than 300 years ago. The use of seaweed as a building material has allowed these houses to withstand sea winds and rain for hundreds of years. Today, they have become the symbol of an ecological home, in addition to generating significant revenues through tourism.
At the Shandong Day celebration of 2019 Beijing International Horticultural Exhibition on June 20, Dongchudao's seaweed-roofed house was the focus of Shandong's promotion programs and attracted numerous visitors.
Nature's gift
"The seaweed roof should be at least 40 cm thick on average and the layers should be well compressed to make it water proof and ensure that rain water flows down the roof," said Wang Shujing, a craftsman from Rongcheng specialized in the repair of seaweed roofs. According to him, the durability of a house depends mainly on the tightness of the seaweed.
"If the seaweed is well laid, the house will last for the rest of your life. A house with a roof made of seaweed will remain intact for 100 to 200 years," he explained.
Li Wentao, Professor at the Qingdao-based Oceanic University of China in Shandong, has been studying the ecology of seagrass and the restoration of seaweed-roofed houses. The roof edges, tilted at 50 degrees, allow the rain water to flow quickly, while reducing the pressure of snow accumulation, according to the expert.
"Some roofs might also be covered with fishing nets, which is another method of protection against the wind discovered by local fishermen," said Li.
In addition to rainfall, these houses must also withstand the strong sea wind. According to Cheng Luoqian, a seaweed roof repairer in Rongcheng, once the seaweeds have been laid on the roof, a layer of mud must be applied to fix them on the spot and prevent the sea wind from taking them away.
According to Li, the seaweed used for roof building is collected from the sea at the depth of five to 10 meters. Five tons of seaweed are required for each house. A form of seaweed called diatom has a very strong ability to resist corrosion. After it is dried, it is still flexible, making it an ideal building material.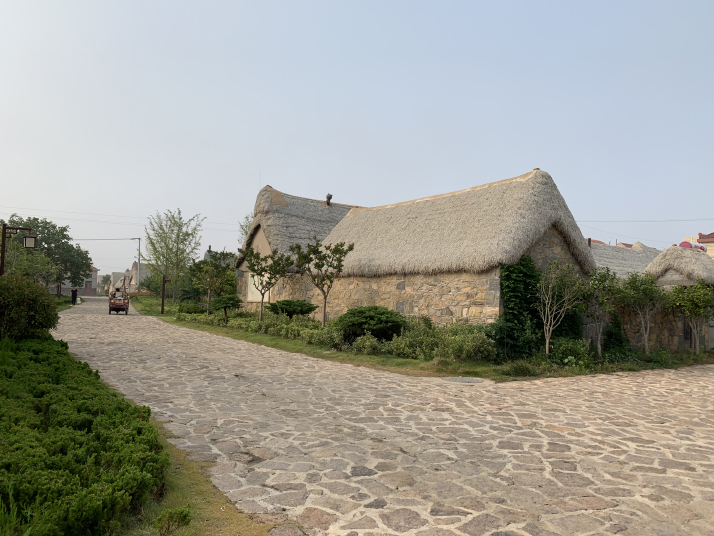 Seaweed-roofed houses in Dongchudao Village in Shandong Province (LI JINZHONG)
Preserving tradition
The seaweed for building houses is totally processed by hand, according to the description of the houses, which is on the list of intangible cultural heritages of Shandong Province. However, the mastery of this art is mostly lost, with fewer and fewer artisans practicing it.
In order to strengthen the protection of seaweed-roofed houses, the Rongcheng Government has put in place protective measures for over 500 villages and more than 90,000 homes. Each year, special funds are allocated for restoration work. In addition, two-month courses are organized to teach these unique techniques.
In the long term, houses with seaweed roofs can only be preserved if people are able to live there, according to Li. In order to improve the living conditions of the inhabitants, the Rongcheng Government has introduced natural gas, heating and tap water systems in these traditional houses. Facilities for the treatment of garbage and wastewater have been operational since 2009. At present, all of the houses have modern facilities, which have greatly improved the quality of life.
"The exterior remains the same, but the interior is totally different. A heating system has been installed and I no longer need to use traditional methods to keep warm," said Xu Qinglai, a resident of Dazhuangxujia Village, Rongcheng. Like him, many local villagers hope to keep their traditional home while developing their village.
"The houses with seaweed roofs are a precious asset bequeathed by our ancestors. The protection of these houses does not clash with our rural development. We have preserved and renovated over 250 seaweed-roofed houses in our village, and have built new modern buildings. Villagers can choose to live in these traditional houses or in modern buildings. We respect their choices," said Xu Qinghai, Secretary of the Communist Party of China (CPC) Dazhuangxujia Branch.
The Rongcheng Museum also features an exhibition that shows the process, tools and building materials of the seaweed-roofed houses, telling the story that unites these exceptional homes with the sea and local fishermen.
Green economy
"To protect and develop houses with seaweed roof, it is necessary to explore new methods, such as the opening of B&Bs and rural museums to attract tourists," said Li Bo, Curator of Rongcheng Museum.
Yandunjiao is another village in Rongcheng. In addition to having many houses with seaweed roofs, this place also serves as a winter resting place for more than 1,000 Siberian swans. This has given the local government an opportunity to develop cultural tourism. Thousands of tourists now visit the village to watch the swans, sample local fish and stay in traditional houses.
"Today, I earn about 100,000 yuan ($14,200) a year, which is almost twice as much as before," said Qu Kai, a villager who works in tourism. In order to enrich the tourists' experience, the houses have been renovated and equipped with drainage pipes, tap water, modern toilets and WiFi.
At present, Yandunjiao has more than 40 restaurants and hotels. The place attracts 100,000 tourists a year, generating revenues of nearly 10 million yuan ($1.4 million).
"Houses with seaweed roofs kept in museums and fishing villages are a form of static heritage. We must inherit this valuable asset to bring it back to life by combining protection with appropriate development and use. These ancient fishing villages with unique cultural charm have a great cultural value for future generations," said Zhang Ruiying, Director of the Publicity Department of the CPC Rongcheng Committee.
(Comments to lijing@chinafrica.cn)