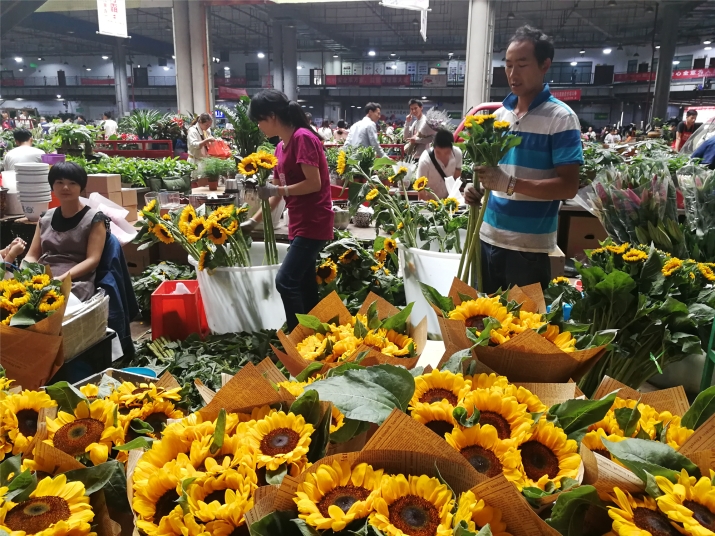 Farmers sell flowers in Dounan Flower Market (GE LIJUN)
When Hua Zhongyi started growing gladiolus bulbs in his vegetable field, he never imagined that one day his initiative would become a huge industry worth 38.6 billion yuan ($5.46 billion).
It was in 1982 that Hua, who then worked at Chenggong District Bureau of Agriculture of Kunming City, Yunnan Province in southwest China, went to Foshan City in south China's Guangdong Province to buy gladioli seeds and grow them in his hometown in Dounan, a small town in Chenggong District. A few months later, his daughter was selling gladioli in downtown Kunming.
Hua's gladioli have since been considered as the "starting point for commercial flower cultivation in Dounan Town."
Built in 1998, Dounan Flower Market currently has 117 major flower categories and more than 1,600 varieties. As a leader in the domestic fresh cut flower trade, Dounan accounts for more than 70 percent of the Chinese flower market and has become the pricing center for fresh cut flowers in China. The flowers are exported to more than 50 countries and regions, with the floral economy employing more than 1 million people. Today, Dounan Flower Market is the largest in Asia.
The geographical advantages of Yunnan Province have contributed to the rapid development of the flower industry in the region. With a suitable topography and strong ultraviolet rays, Yunnan is one of the most fertile areas for flower growth in the world. Dounan Town, located near the Dianchi Lake in Kunming, is characterized by fertile soil, a warm climate, and river valleys where flowers can bloom all year round.
After more than 30 years of development, Dounan's flower industry is transforming and upgrading.
"In terms of flower plantation, high technology and investment are still in their infancy and are not yet widely used. In addition, the comparative advantage of flower plantation is decreasing, as the rise in the prices of flowers is relatively low compared with the plantation industry as a whole. More importantly, counterparty trading and auction transactions are increasing, but they do not keep pace with the growth of e-commerce transactions," said Qian Chongjun, Executive President of Yunnan Dounan Flower Industry Group, which operates in Dounan Flower Market.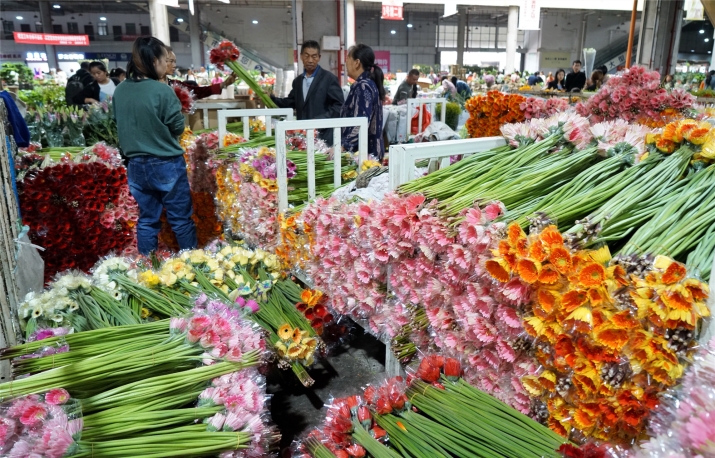 Fresh cut flowers in Dounan Flower Market (QIN QING)
Embracing the Internet
In recent years, the rise of e-commerce has stimulated the development of the flower industry and the sales channels have diversified.
According to Qian, the current business model of Dounan Flower Market is mainly based on counterparty trading, supplemented by auction transactions. But the flower transactions made through e-commerce platforms are growing. Thanks to the fast development of e-commerce in China, more and more e-commerce platforms enter Dounan and sell fresh cut flowers on the Internet. So far, the three types of transactions represent 70 percent, 10 percent and 20 percent of the total, respectively.
In 2018, the per-capita consumption of fresh cut flowers in the country was $2.6, which is well below the world per-capita annual consumption level of $30. The domestic market for flower consumption therefore has great growth potential and e-commerce transactions will significantly expand the market, according to Qian.
In May 2015, two young people established a company Flowerplus in Shanghai and created a namesake official account on Wechat. They buy fresh cut flowers from Dounan Town and sell them via the social media app. So far, Flowerplus has attracted 12 million followers. According to data provided by Zhang Yu, Vice President of the company, in 2018, Flowerplus bought 360 million flowers and sold them in more than 200 cities throughout the country, achieving an annual turnover of 1 billion yuan ($142 million). Nearly 10,000 flower growers have been cooperating with Flowerplus for many years, among whom, more than 1,000 have signed contracts.
In addition, Big Data technology will be used in the future to optimize flower production. Dounan Flower Market has accumulated massive data thanks to its 20 years of development. "For example, we can learn when and what kind of flowers sell at a higher price. Big Data technology will serve as a compass for our production," said Qian.
"There must also be standards for transactions on e-commerce platforms. Making the standards is a major task for this year," Qian revealed that his group will also create an e-commerce platform that will be available to customers by the end of this year.
"This trend is a new challenge for our growers and is also a new opportunity. In the future, we will have to cope with the challenges together through expanding cooperation, experience sharing and the use of Big Data technology. We must take this path if we want to continue," Qian told ChinAfrica.
At present, the average planting area of ​​a Yunnan flower grower is only 5.6 mu (0.37 hectares), which is a small scale; so they rely on counterparty trading. However, the industry is moving more and more toward e-commerce transactions, which has the advantage of removing the intermediate links, and is more efficient and more transparent, according to Qian.
Generating tourism
In the past, Dounan was mainly a commercial and industrial zone, with little tourism resources. But this has changed over the past two years.
In April 2017, Dounan was selected by Yunnan Provincial Government to build itself into a flower town. The project will revolve around the core functions of e-commerce and logistics development, and, at the same time, encourage tourism development by creating a landscape of flowers. Visitors will be able to experience a "floral journey."
"The flower industry is generating tourism. We welcome more than 1.5 million visitors every year," said Qian.
Building on the construction of Dounan into a flower town, Chenggong District, where Dounan is located, launched the International Flower Innovation Center in 2019, in order to promote the transformation and modernization of the flower industry. Among other things, it will cooperate with internationally renowned seed companies to introduce new varieties and technologies.
In addition, early this year, Chenggong District and Yunnan Academy of Agricultural Sciences signed a framework agreement for cooperation in the field of science and technology to jointly promote development of flower industry.
"Transformation and modernization are an opportunity. If you take this opportunity, you will be stronger. If you do not, you are bound to lose," Qian said.
(Comments to glj@chinafrica.cn)