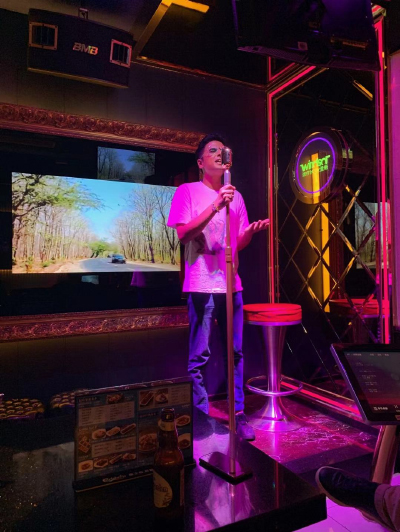 What? You haven't been to a KTV bar yet? I asked a South African friend, who is working in China, while chatting on WeChat.
It sounds a bit egotistic, but at home in Cape Town, I am fairly used to karaoke - it's a passion, a pastime and sometimes a way to vent.
I saw my year-long trip to China no differently. I soon learnt karaoke, or KTV, in China is a private affair.
"The culture is different. You go into a room with your drinks, close the doors and sing," my local bar owner informed me.
This was a shock. Why would you pay to go into a room and sing to yourself and a few friends?
I could tell this is a country obsessed with amateur singing. Around many corners in airports and even offices, you will find telephone booth-like facilities set up with microphones and touch screens.
A while later, I found a kindred spirit, a foreign journalist who is equally passionate about karaoke. I was more than ready to join him, and so we organized a singing get together in Beijing. I had prepared a litmus test for our karaoke venue: Do they have food and do they have Earth, Wind and Fire? Over our pre-excursion discussions, I had learnt that KTV is an outing that includes food and drinks. Our first stop that night passed the Earth, Wind and Fire test, but not food.
I suggested a spot I had heard of in Chongwenmen and we headed there.
It was a large multiplex of karaoke rooms and we were ushered to the third floor. As we made our way there, the sounds of Chinese songs and air fresheners wafted out of the many booked rooms. Everyone was having their own private parties.
The experience was hi-tech and luxurious. Touch screen buttons on the walls could adjust the volume and sound effects or summon the fuwuyuan (service staff).
The stage was the most fascinating part of the experience, with its old-fashioned metal microphone. It was a professional stage for an intimate audience. We sang to our hearts' content that night. We sang group songs, we sang solos. We let loose, knowing there was no one around who could make us feel embarrassed. The easy-to-use catalogue is a far cry from the flip-files I page through in Cape Town, but I managed to find a few songs of Mariah. After the allotted time, the system played our last few songs and then took no more requests.
A while later, I arranged another karaoke outing to a place in Guomao, which is now a favorite.
Similarly, we negotiated a price and were given a room for three hours with a food and beverage tab. It seemed like a scene out of a Las Vegas resort: smartly dressed patrons and hospitality staff equipped with two-way radio sets zipping down corridors attending to every need. A short robot fuwuyuan passed us in the corridor and greeted in Chinese.
This spot was cozy, and had an irresistible music catalogue. It passed the Earth, Wind and Fire test. Within minutes, we were able to navigate the KTV system to find anything from Shania Twain to Eddy Grant, using an English-language interface.
Oddly, after our time was up, the music kept going. We asked the nearby staff if we could keep singing for another two hours. No one objected. KTV is one of the few places that are open very late in China.
Weeks later, I was having a beer outside a supermarket one hot evening. It was 1:00 a.m. and a Chinese friend called me to ask if I wanted to join her and her friends. Where were we going to? The very same KTV in Guomao. Why? It was still open.
This was an opportunity to experience KTV with local people. We shared drinks, cut fruit and nibbled on the snack platter.
I enjoyed listening to my new friends singing difficult Cantonese songs. They also sang famous love songs of Chinese pop music.
We all shared a love for Abba; they liked Westlife a bit too much and everyone let me get away with some Katy Perry and Mariah. We left after 5:00 a.m. when the sun was out. If you are looking for something that is open late in China, try KTV.
Yes, as a laowai (foreigner), I do miss singing for the masses. KTV in China is still a treat: a night out of indulgence where you can sing whatever you want, for as long as you can afford.
So, to borrow a phrase from Shakespeare: If music be the food of love, sing on, however you choose to.
(The author is a South African living in China)