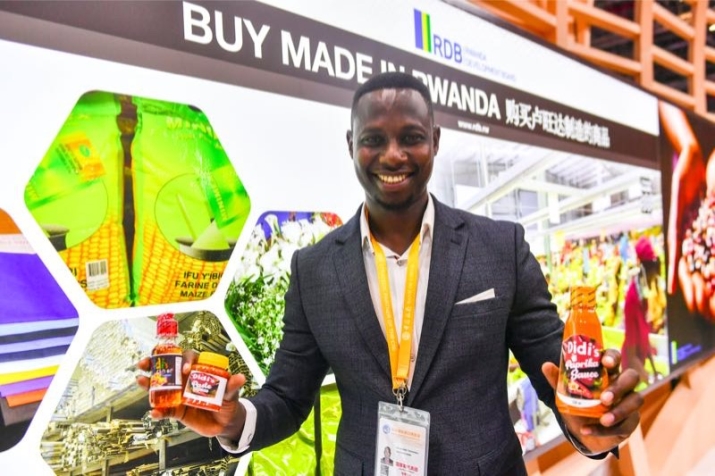 Dieudionne Twahirwa showcases his products at the Second CIIE in Shanghai on November 8 (BRIDGET MUTAMBIRWA-HWASHENI)
The ongoing Second China International Import Expo (CIIE) in Shanghai is seen as an economically emancipating opportunity for Africa to promote made-in-Africa products to the international market.
Diedonne Twahirwa, Managing Director of Gashora Farm, a chili producer in Rwanda for export to China, told ChinAfrica that the CIIE offers a platform for him to expand his business and introduce more Rwandan chili products to the world.
"I want to expand my supply of chili to China and the expo allows me to introduce more chili products to China, not just dry chili but chili oil as well, (and) I hope to introduce more of our products in the future," said Twahirwa.
On September 13, the Rwandan chili company struck a hot $500 million deal to sell dry chili to China in five years, after attending the first China-Africa Economic and Trade Expo in central China's Hunan Province in June. "This is the second time I've participated the CIIE. At the first time, I learnt about the Chinese market and used it as an opportunity to expand in Asia. After participating in the first expo, I realized that China was the best option for me to expand. Fortunately, I managed to seal a deal to supply chili to China," said Twahirwa.
Tahwirwa can now tell a success story from the expo, but he explains that it was not easy to penetrate into the Chinese market at first.
"Besides getting the right paperwork in order to export, we also had challenges in shipping. We had to first understand and study the Chinese market as it is different from other international markets we supply to. We had to study and know the best times to supply and when the demand is higher, but I'm glad that we have mastered all this."
Twahirwa said Gashora Farm has to supply chili worth between $20 million and $100 million annually depending on how much they produce and is confident that his company can ensure the supply of $100 million. "The good thing is that China continues to stress it is opening up more to trade with African countries, not just Rwanda, hence this is an opportunity African companies should take, especially through similar expos. These expos are an eye-opener and a clear doorway for African business people to trade with China."
Twahirwa said the consumer market in China is huge and requires a huge supply and that works to his advantage. He also said the media plays a great role in promoting trade exchanges between Africa and the rest of the world. "I think the media is really helping me in promoting my products internationally. When people read about our products through international media platforms and hear of our success stories they develop an interest in what we produce and know we exist, so in turn I will make sure my market plan and supply continues to meet the demands of all our consumers."
Last year, Twahirwa secured a deal to export 1,500 barrels containing 37,000 liters of chili oil valued at $2 million from Rwanda to China. The agreement was reached on the sidelines of the First China International Import Expo held in November 2018 in Shanghai.
To support its local companies, Rwanda looks at Chinese expos as an opportunity to market local products as well as establish business partnerships. The country is known for exhibiting products including chili oil, French beans, coffee, tea and handicrafts at similar Chinese expos. In 2018, the World Bank ranked the country at 29th globally in the ease of doing business rankings.