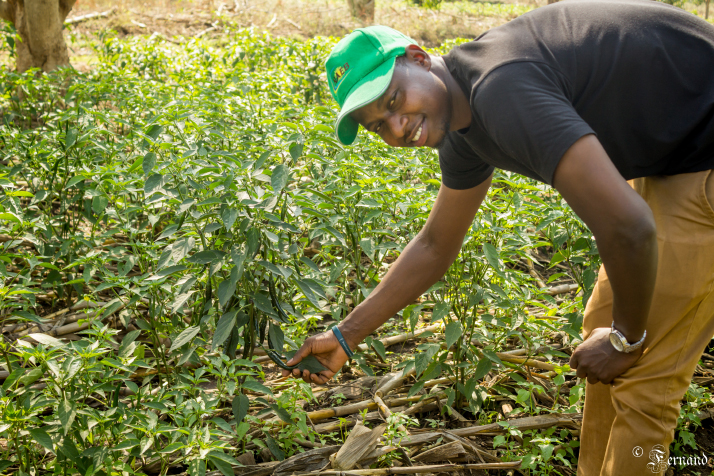 Dieudonné Twahirwa, Managing Director of Gashora Farm, at the chili farm (HUDSON KUTEESA)
Rwandan farmers are feeling positive right now after a local chili company struck a hot $500-million deal on September 13 to sell dry chili to China.
Starting October, the five-year deal will see Rwanda's Gashora Farm supply 50,000 tons of dry chili, worth up to $100 million, every year to GK International Enterprises Co. Ltd., a Chinese trading company.
Gashora Farm is Rwanda's leading chili company dealing in exporting fresh and dry chili to different markets around the world.
The deal is timely as Rwanda looks to reinforce agricultural exports. According to the 2018-19 report recently issued by the National Agricultural Export Development Board (NAEB), there was a decline of 9.7 percent in the country's agricultural export earnings in 2018-19 fiscal year compared to the previous year. Tea export revenues decreased by 5 percent from $88 million to $83 million, along with coffee revenues which also dropped slightly from $69 million to $68 million. When the latest deal is implemented, chili is expected to fetch more revenue than tea, or coffee, the two major export crops for the East African country.
Deal background
Dieudonné Twahirwa, Managing Director of Gashora Farm, disclosed that he landed connections for the deal during the First China-Africa Economic and Trade Expo in central China's Hunan Province on June 27-29 this year.
Twahirwa told ChinAfrica that while attending the expo, where the farm had a booth to showcase their products, they were approached by a representative of GK International. The representative took some samples to his decision makers who liked them and arranged a meeting to plan a trade deal.
The two companies met later at the Rwandan Embassy in Beijing and signed the lucrative deal that has raised optimism for the Rwandan agricultural sector.
Twahirwa said Gashora Farm has to supply chili worth between $20 million and $100 million annually, depending on how much they can produce. He said he is confident his company can meet the maximum supply of $100 million value.
"We can produce the $100 million worth of chili because the main requirement is land and it is available," he said.
Gashora Farm has 40 hectares of land, in addition to a large number of private contributing farmers who own about 200 hectares, and Twahirwa believes the deal will create jobs and a reliable market for local farmers.
"It is a big market and we won't benefit from it alone. We will work together with others. We have over 1,000 farmers who supply us with chili. We are going to provide them with inputs as well as technical support so that we can raise the production [levels]," he said.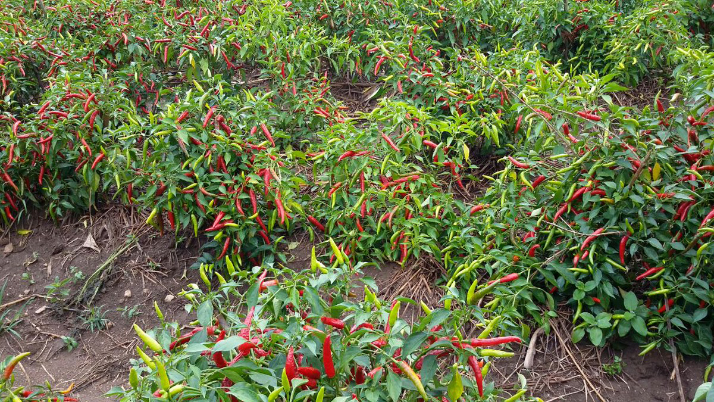 Gashora Farm has about 40 hectares of land where chili is grown (HUDSON KUTEESA)
Inspiring the youth
Twahirwa has been in the agribusiness for nearly five years and, apart from running his business, he is also vice chairman of the Rwanda Youth in Agribusiness Forum, which brings together young people aged 18 to 35 in agribusiness. The forum has 2,200 members categorized into five clusters, namely, crop production, agro-processing, input and other agro-services, ICT (information and communications technology) for agriculture, and livestock production.
He uses his success story to motivate others and attract more youth into agriculture.
"Some youth do not like agriculture [as a career] because they don't see the opportunities in it. But once they are exposed to agricultural practices, they are able to enjoy the benefits and get jobs," he said.
Boosting 2019-20 targets
The NAEB anticipates agricultural export revenues to increase to $656.7 million in the forthcoming 2019-20 fiscal year, and the chili deal will form a large part of this projection.
Ambassador George William Kayonga, Chief Executive Officer of NAEB, said that 2018-19 fiscal year once again marked a new route for his institution, as it started implementing regulatory instruments that will be centered on being more market-driven and more knowledge-intensive.
"Our institution looks forward to working more closely with concerned stakeholders with optimism and enthusiasm to be a world class agriculture and livestock commodity export development enterprise through innovation," said Kayonga.
Agriculture is the main economic sector in Rwanda with 70 percent of the population engaged in agricultural production, and around 72 percent of the working population employed in agriculture.
Statistics from the Food and Agriculture Organization of the United Nations show that the agricultural sector accounts for 33 percent of the country's national GDP.
Fortunes from Chinese Expos
The chili deal is not Twahirwa's first engagement with the Chinese market. Last year, he secured a deal to export 1,500 barrels, containing 37,500 liters of chili oil valued at $2 million, to China.
The agreement was reached between Kai Jiang Xian Zi Wei Food on the sidelines of the First China International Import Expo in November 2018 in Shanghai.
Rwanda looks at Chinese expos as opportunities to market local products as well as establish business partnerships. The country has been represented at different Chinese expos ranging from China Import and Export Fair to China International Import Expo, exhibiting products including chili oil, French beans, coffee, tea and handcrafts.
In October last year, the Government of Rwanda and China's e-commerce giant Alibaba launched the eWTP (Electronic World Trade Platform), a development aimed at, among other things, opening doors for small businesses in Africa to take part in cross-border electronic trade. According to Chinese Ambassador to Rwanda Rao Hongwei, in the past five years, more than 50 Chinese companies have registered in Rwanda with an investment value of $250 million.
"Practical cooperation has been thriving through various joint projects ranging from infrastructure, agriculture, light manufacturing and mining to health, digitalization and human resources," said Rao.
Among other things, RwandAir, which is Rwanda's national carrier, launched its maiden flights between Kigali and Guangzhou in June this year, a move that is said to further facilitate bilateral trade and personnel exchanges.
Rwanda looks to be steadily improving its local investment environment. In 2018, the World Bank ranked the country at 29th globally in ease of doing business.
Sources from Ministry of Commerce of China show that in 2018, China-Africa trade reached $204.2 billion, up 20 percent year-on-year, and China has been Africa's largest trading partner for 10 straight years.
(Reporting from Rwanda)
(Comments to niyanshuo@chinafrica.cn)