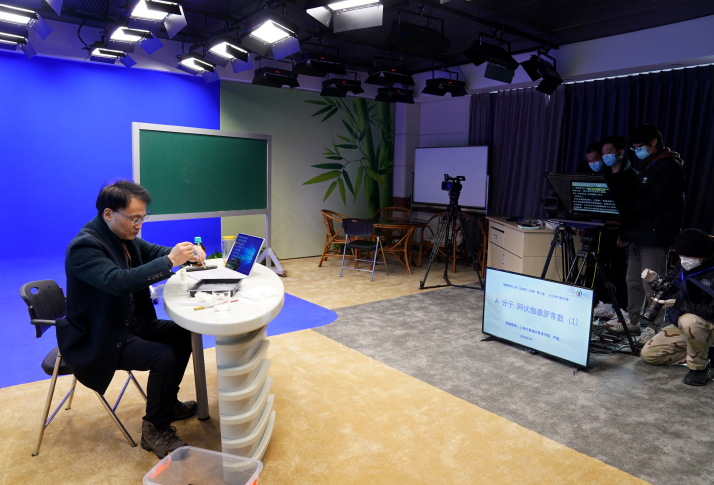 High school teacher Yan Ming records a physics class in a studio in Huangpu, Shanghai, allowing his students to take lessons online on February 19 (XINHUA)
Gao Di, a 28-year-old translator living in Beijing, has not been to a supermarket for nearly three months. She buys all the vegetables and fruits she needs online. To comply with the social-distancing measures, each time the package arrives, she will pick it up at a specially designated mail collection place at the gate of her residential coummunity, instead of receiving it on the doorstep.
"In the past, I rarely bought fresh foods online because I was worried the products might not be fresh. But since it became difficult to go out during the epidemic, I started buying through apps specializing in the sale of such products, such as Hema Fresh. The purchases are usually delivered an hour later," she told ChinAfrica.
After the COVID-19 epidemic gripped China on the eve of this year's Spring Festival holiday, staying at home became a new normal, a part of measures to effectively combat the epidemic and reduce the virus spread.
With most people avoiding going out, many e-commerce platforms for fresh produce experienced a surge in daily visits and sales. According to statistics released on March 30 by Chinese search engine Baidu, in the past three months, the average number of daily searches for the brand Hema Fresh increased by 33 percent compared to the preceding three months. And JD.com registered a 300-percent jump in sales of meat and eggs year on year between late January and late March, according to the statistical data released by the e-commerce giant.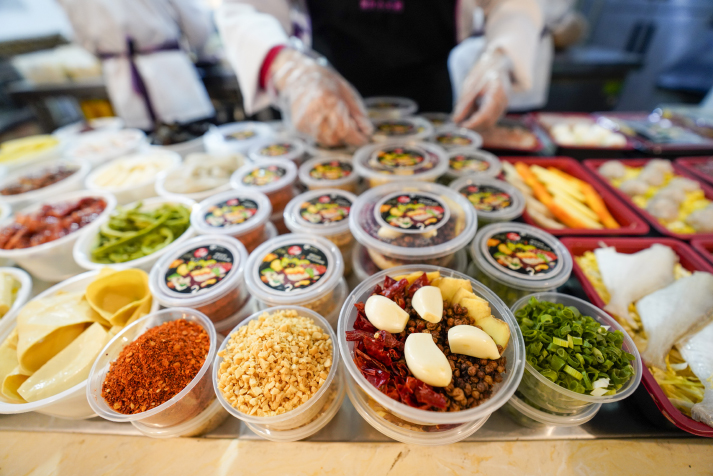 A restaurant in southwestern Chongqing sells ingredients for Chinese hot pot on March 13 (XINHUA)
Online jackpot
This surge was not limited to buying fresh foods online; many other Internet-based industries also saw a rapid growth in demand for their products and services.
Having been forced to suspend all classes due to the epidemic, schools and educational institutions in China turned to online courses. A public WeChat account, operated by a former English teacher named Zhao Anwen, became a popular resource for learners of English in colleges throughout China. During the epidemic, his public account published new English lessons recorded by teachers every day. In just one month, the number of subscribers to his account increased six-fold, reaching over 120,000.
"While the epidemic delayed the start of the new school semester, we may provide students with high-quality learning resources by leveraging online platforms, so that they could still learn from the best teachers without leaving home. As a result, our account on WeChat has grown considerably," Zhao told ChinAfrica.
According to iiMedia Research, a Chinese institution specializing in research and data analysis, nearly 300 million people in China have benefited from online education since the outbreak of the COVID-19 epidemic, including teachers and students. For the first time in history, online education was promoted and rolled out across the country, marking an important milestone in the development of this emerging sector.
Online medicine is another area that saw a sharp increase in demand, as people avoided visiting hospitals during the past few months. According to Wang Tao, President and Chief Executive Officer of Ping An Healthcare & Technology, the medical consultation application Ping An Good Doctor has recorded more than 1.1 billion visits since the outbreak of the epidemic, with the number of daily consultations increasing nine-fold.
Chen Qiulin, Deputy Director at the Health Industry Development Research Center of the Chinese Academy of Social Sciences, said the online medical industry has huge development potential as the public is becoming more used to receiving medical care online.
Behind the screen
Some industries, including video games, remote work applications and short videos, have also turned to the Internet to mitigate the negative impact on their growth.
"Since people cannot go out as often as before, they have to go online for entertainment, leading to a rapid growth in the consumption of online services. This special period has promoted the development of e-commerce and made people more accustomed to receiving educational, cultural and entertainment services through online channels," said Zhao Ping, Director of the Research Department on International Trade at the China Council for the Promotion of International Trade (CCPIT).
Many of the offline businesses severely affected by the epidemic, such as restaurants, cinemas, fitness centers and retail stores, have tried to save the day by resorting to online platforms as well.
Lin Qingxuan is a Chinese brand of cosmetics that was mainly sold in shopping centers in China. Previously, its offline sales accounted for 75 percent of the total sales. "During the Spring Festival holiday, less than 10 percent of the 337 chain stores across China were open and sales fell by more than 90 percent," said company founder Sun Laichun.
In order to reverse the sharp decline, Sun encouraged his employees to maintain relationships with old customers and seek new clients through online social platforms such as WeChat and Weibo. In addition, the brand also used livestreaming on Taobao, an e-commerce site of Alibaba Group, and other e-commerce platforms. According to Sun, the brand not only survived, but its sales in the first half of February increased by 145 percent compared to the same period last year.
According to statistics released on March 30 by Alibaba, the number of livestreaming companies on Taobao created in February increased by 719 percent compared to January, and the number of jobs openings in the livestreaming sector grew by 132 percent year on year.
While online economy has made life and work much easier during the epidemic, it remains to be seen whether this spurt is temporary or it will continue after the epidemic. Zhao from the CCPIT is cautiously optimistic. As long as the quality of services continues to improve and satisfy consumer demand, the online services sector will have a huge potential for growth in the future.
Lao Guoling, Professor at the Shanghai University of Finance and Economics, believes that following the continuous development of digital infrastructure in China and changing consumer habits, some industries can expect rapid future growth, including the distribution of fresh produce, online education and online medical services.
(Print Edition Title: Shaping a New Economy)
Comments to lijing@chinafrica.cn