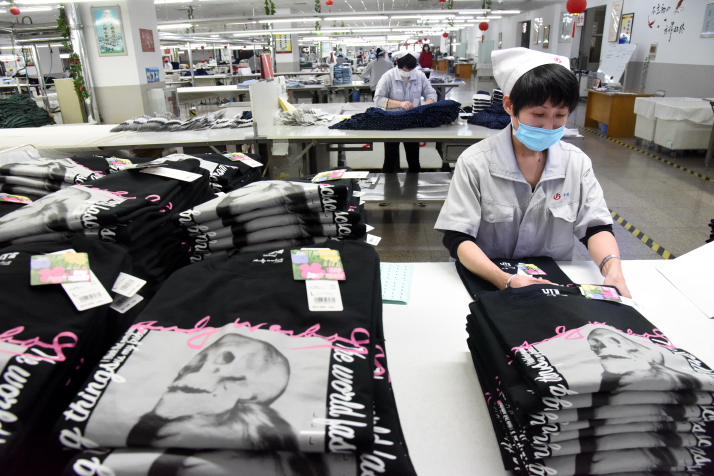 Employees rush to finish foreign trade orders in Qingdao, Shandong Province, on March 29 (XINHUA)
For the first time in its history, the oldest biannual trade fair in China will take place entirely online. At an executive meeting on April 7, China's cabinet, the State Council, decided that the 127th China Import and Export Fair, also known as Canton Fair, will be held online in the second half of June. This will allow both Chinese and foreign merchants to place orders and do business without leaving the comfort of their home.
As the COVID-19 pandemic continues to spread worldwide, China's foreign trade has been severely disrupted. To help businesses overcome the current and coming challenges, the State Council decided to create 46 new integrated pilot zones for cross-border e-commerce. These are in addition to the 59 that already exist in China.
According to some experts, the new measures launched at the meeting are both a continuation of and a complement to the previous policies aimed at stabilizing the country's foreign trade.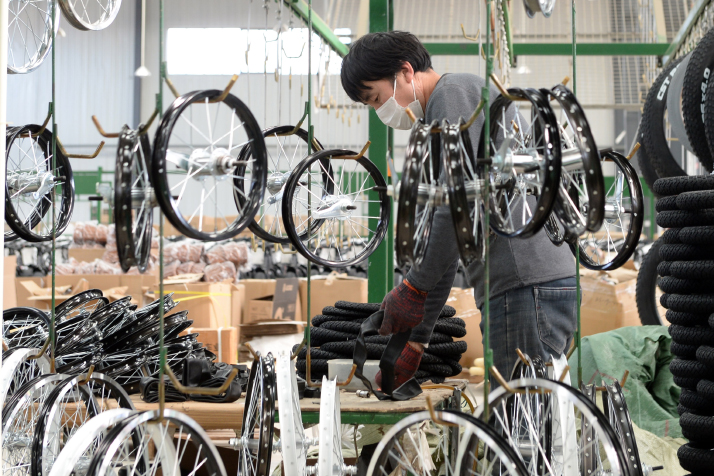 A worker busy with work at a bicycle production line of a company in Wuhe County, Anhui Province, on March 11 (XINHUA)
Policy tools
According to statistics from China's General Administration of Customs, in the first two months of 2020, the total value of Chinese import and export of goods was 4,120 billion yuan ($584 billion), a decrease of 9.6 percent year on year.
"In general, what we see is a drop in orders," said Bai Ming, Deputy Director of the International Market Research Department at the Chinese Academy of International Trade and Economic Cooperation of the Ministry of Commerce. Due to the pandemic, many businesses have suspended their operations for the time being, so such a drop in orders is to be expected, he said.
Faced with this situation, all levels of government in China have launched a series of measures to support businesses involved in foreign trade. On March 24, an executive meeting of the State Council stressed the importance of maintaining the stability of supply and industrial chains, as well as the need to resolve in a timely manner all difficulties encountered in the resumption of work and production in the field of manufacturing. In particular, firms must ensure the production and export of key products and components that play a critical role in the global industrial chain.
In order to minimize the impact of the COVID-19 epidemic on foreign trade enterprises, China's Ministry of Commerce and other relevant departments have urgently formulated policies focused on the use of financial, fiscal and credit tools to help companies keep their markets and secure orders. All of these tools are allowed under the WTO rules.
Guangdong, Zhejiang, Henan, Gansu and some other Chinese provinces and cities have successively implemented an array of specific measures. On March 30, southwestern China's Chongqing put forward 12 policies to help local businesses resume production in an orderly fashion, strengthen financial support, reduce logistics costs, facilitate access to international markets, expand legal aid and optimize export duty remission services, among others.
Many places have even helped local export companies sell their products in the domestic market. For example, a number of municipal governments in eastern China's Zhejiang Province have signed strategic cooperation agreements with Pinduoduo, a Chinese e-commerce platform, giving companies better access to the market via the Internet.
Self-help
"All orders from Europe due for delivery before the end of June have been canceled," Sun Chengming, Chairman of Haiyang Jinyuan Enterprise Development, said anxiously.
Sun is not the only one in this situation. Faced with the sudden withdrawal of orders, many Chinese foreign trade companies have to find solutions on their own. According to Zhou Dewen, Honorary President of the Wenzhou Small- and Medium-sized Enterprises Promotion Association in Zhejiang Province, there are two main solutions: One is to switch to the production of face masks and other epidemic prevention materials or equipment, and the other lies in boosting domestic sales with the help of e-commerce platforms.
"Our orders have been postponed, but the mask trade is going very well. It is estimated that between 1,000 and 2,000 businesses in Wenzhou have gone into mask production," said Zhu Chenghua, President of the Midpoint Group. In the meantime, many companies in Wenzhou have quickly switched to e-commerce, including shoe manufacturers. As early as March 8, Qian Jinbo, President of Red Dragonfly, began selling shoes through livestreaming on Taobao, an e-commerce platform of Alibaba Group.
According to the Ministry of Commerce, as of March 30, 75.6 percent of the main foreign trade companies across the country had resumed 70 percent of production. In Hubei, the epicenter of the epidemic, the rate of production resumption in this sector was more than 50 percent.
In the Bengshan Cross-border Electronic Commerce Industrial Park in eastern China's Anhui Province, the rate of work resumption has reached more than 90 percent. Seven companies in the park have applied for 6.1 million yuan ($863,000) in loans from China Construction Bank to resume work and production. At the time of writing, the loans have been approved and paid out.
Bengbu Xingxue International Trade, a company located in the park, specializes in the production of auto parts. After the COVID-19 outbreak, sales stagnated. The firm had to find another way out and quickly.
"We have adjusted the structure of our products and started to focus on household products, pet supplies and daily necessities," said Tian Xingchao, Director of Operations at Bengbu Xingxue. The company has also expanded its distribution platforms, which has significantly improved sales, he said.
Lian Ping, Chief Economist at Zhixin Investment, said that the impact of the international market on China's foreign trade performance during the next two quarters should not be underestimated. Consequently, the country should increase its capacity to produce anti-epidemic materials as much as possible. In addition, trade cooperation with the countries located along the Belt and Road Initiative should be enhanced. In recent years, the total volume of imports and exports between China and these countries has grown steadily. This is a potential that can be tapped into, he noted.
(Print Edition Title: Remedies for Commerce)
Comments to glj@chinafrica.cn